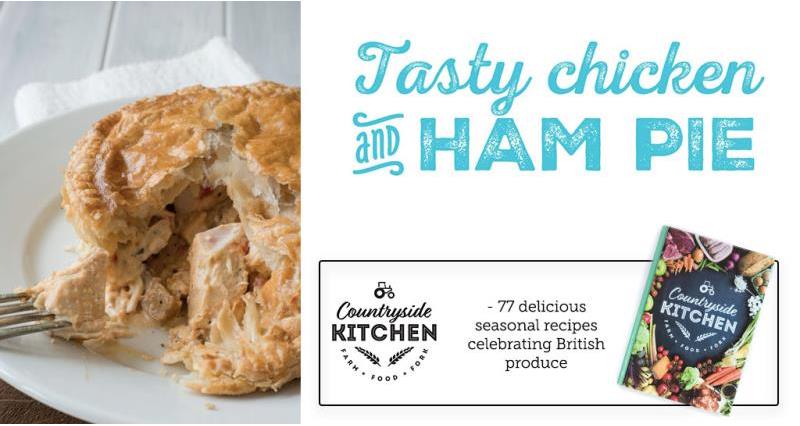 The British pie epitomises warm and hearty, home-cooked food. If you're looking for the perfect pie recipe to try at home have a go at this tasty chicken and ham pie. Serve with seasonal veg. (You'll find a list of seasonal British produce in the Great British Larder.)
Serves: 4–6
Preparation and cooking time: 1 hour 45 minutes
Ingredients
1 whole chicken and 6 boned thighs
1 slice gammon
1 large leek, finely chopped
75g butter
3 level tbsp plain flour
600ml milk
150ml (approx.) strong chicken stock (from poaching)
2 tbsp mascarpone
1 pack ready-rolled puff pastry
1 egg, whisked
Method
Roast the whole chicken and poach the thighs in chicken stock until cooked.
Take all the chicken off the bone and cut into chunky uneven pieces.
Cut the gammon slice into strips and dry fry or oven cook until lightly cooked.
Sweat the leeks in butter – but do not let them colour.
Add 75g butter.
Add the flour and gently cook for 1 minute.
Gradually add the milk and stir until thickened.
Add the chicken stock that the thighs were cooked in and stir until thickened.
Stir in the mascarpone, chicken and ham, then leave in the pie dish to cool.
Set the oven again to
180°C/fan 160°C/350°F/gas mark 4.
Cut the puff pastry to fit the pie dish. Use any trimmings to attach to the lip of the dish with water.
Crimp edges and then brush with the egg.
Bake for 15 minutes, then reduce to 160°C for a further 30 minutes.
Buy your copy here!