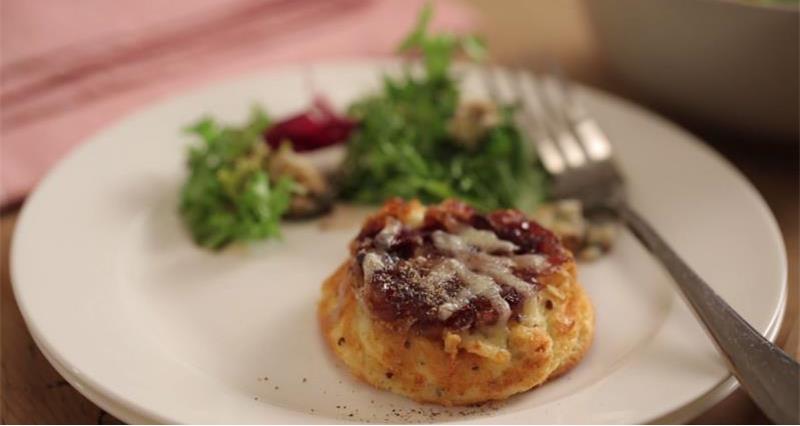 Serves: 6
Preparation time: 20 minutes
Cooking time: 15 minutes
Ingredients
1 large onion, sliced
1 tbsp olive oil
50g sugar
40g butter
40g plain flour
225ml milk
4 eggs, separated
175g Cheddar cheese, grated
50g grainy mustard
Salt and freshly ground black pepper
Method
Preheat the oven to 180oC/fan 160oC/350oF/gas mark 4.
Lightly grease six 8 x 4cm deep ramekin dishes. Line the bottom of the dishes with a circle of greaseproof paper.
Gently heat the oil and cook the onions for 10 minutes until translucent, add the sugar and turn the heat up to caramelise the onions. Keep to one side.
Melt the butter, stir in the flour to make a smooth paste and cook for 1 minute.
Gradually stir in the milk, bring to the boil then reduce the heat to simmer and cook for a further minute.
Beat in one egg yolk at a time; add 100g of the cheese, mustard, salt and pepper.
Beat the egg whites in a clean bowl until stiff, stir into the cheese mixture.
Divide the onions between the ramekin dishes, then spoon the mixture on top of the onions. Bake for 20 minutes. Leave to cool, then remove the soufflés by running a bladed knife around the edge of each dish.
Place the soufflés onto a baking sheet and sprinkle over the remaining cheese.
Bake for 15 minutes until golden brown.
Serve with a rocket salad.
---
NFU Countryside has put together a fantastic collection of recipes for our recipe book called 'Countryside Kitchen.' The book, which contains recipes and some of the stories behind the growers of the raw ingredients retails at £15.95 plus P&P. Members can buy the book for £7.95 plus P&P.
Buy your copy here