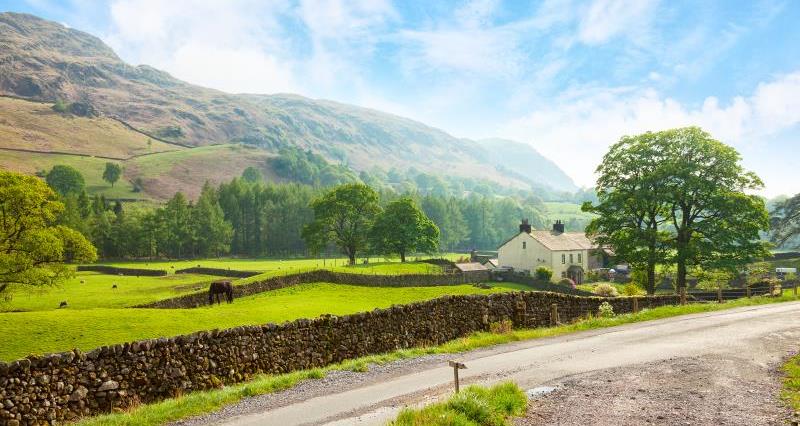 Looking to get out in the countryside for a spot of adventure and wildlife watching? Lorna Maybery gets behind the wheel of a motorhome in search of a wild experience
Never have I been so happy to see a farm shop. I'm in a muddy field, battling the rain, determined to continue my hillside ramble despite the increasingly inclement weather. My son's forlorn face lights up as he spots the buildings ahead and the thought of a hot chocolate with all the trimmings in the farm café spurs him on through the gate and to the relatively dry haven of the gravel car park.
There's a reason why the Lake District is so named – it gets plenty of water, enough to fill several lakes and keep them topped up – so I shouldn't be surprised that in April we should be soaked during an exploration walk – amidst one of the wettest springs in living memory – near Kendal. We set out from the secluded woodland setting of the Kendal Caravan and Motorhome Club site where we were staying in a motorhome hired from Swift Go, to Sizergh Castle, via the farm shop.
The adventure really started when I collected the brand new Swift motorhome from the new Swift Go hire depot in Stockport. The hiring side of the Swift business is a new venture which allows customers to hire vehicles in a range of sizes for three or more nights. They come fully equipped with everything from cookers and microwaves to wifi and mean you can get off the beaten track and explore to your heart's content without sacrificing comfort and style (see panel below for more information).
So having parked the motorhome in the idyllic club site, we went looking for more adventure, and sort of found it.
Fortunately, the mud-spattered look is perfectly acceptable in the farm shop and café where we sup hot drinks then browse the cheese and cold meats sections, tempted with a hard cheese made using milk produced locally. We venture back outside for a quick hello to the dairy cows responsible for our new purchase, who were feeding in their sheds, patiently waiting for warmer, drier weather so they could be turned out for the summer months.
As the rain fades to a drizzle, we head along country lanes to Sizergh, a medieval house and estate run by the National Trust. Being intrepid explorers, we embark on a wildlife walk around the estate, following a route I had downloaded from the internet. It's simple to understand and takes us through fields that, in the summer, are bursting with wild flowers, bees and butterflies. The rain eases for a time, giving us the chance to enjoy views over Morecombe Bay. Hawthorn trees nearby are the perfect nesting sites for a number of birds and on drier days, buzzards are a common sight circling above.
The Lake District is no less beautiful for the rain and the mud – in fact, it simply adds to the adventurous nature of the location. And if, like us, you are in search of wildlife and excitement, it has it all in abundance.
Messing about on boats
A patchwork of fields lined with dry stone walls built by past generations of farmers and craftsmen is synonymous with the area and everywhere you look lambs were gambolling enthusiastically. Spring is definitely close by and by the following day, it declares itself, with bright sunshine and light winds – perfect for a boat ride on Lake Windermere.
You can board one of the large cruising boats that regularly criss-cross the lake, but where's the adventure in that! Instead, we take out a small motorboat and set off on our own journey of discovery. From the middle of the lake you get a very different perspective on the world around you – the hills seem to loom higher, the sky is more dramatic, and the bobbing of the boat without the motor has a calming, almost cathartic effect, lulling you into a false sense of your own ability.
"I could easily climb those hills," I declare, pointing in the distance, only later realising they're much steeper and higher than they looked from the water! I'd save it for another day. Instead, we head for the Lakeside and Haverthwaite railway station at the top of Lake Windermere to catch the last steam train of the day and indulge in a couple of hours of nostalgia.
We chug through the countryside spotting swans, ducks and moorhens gliding on the water and sheep contentedly grazing on the hillsides, unfazed by the shrill of the train's whistle and the clickety-clack of the wheels on the rails. Beautiful Cumbrian scenery unfolds slowly all around us, little changed from when this type of transport was the only way to travel.

Wildlife encounters
We had explored by boat and train, but we hadn't yet managed to spot much of the wildlife. So we head to Foulshaw Moss Nature Reserve, run by Cumbrian Wildlife Trust, in search of England's largest bird of prey – the osprey. Signs on the road announce they had just returned to the reserve so we park up, have a quick chat with the warden to get directions, and then head along the easily-accessible boardwalk to where half a dozen people wielding large cameras are staring into scopes and lenses.
With the naked eye it's impossible to see across to the nest site – in the name of conservation the public is not allowed any closer. But birdwatchers are always keen to share their finds and they are happy to let us look through their scopes for a glimpse of these magnificent birds.
We can see the pair, one high up in the nest and the other, probably the male, sitting in a lower branch, unaware he was being spied on by at least a dozen eyes. It was fantastic to see these birds back here ready for another breeding season and you can follow their lives through the reserve's osprey cam at cumbriawildlifetrust.org.uk/
osprey-cam.
We are inspired by this sighting and ready for another wildlife experience so head through a maze of narrow lanes to the small village of Ayside, where we have pre-booked a Predator Experience. Here you can embark on a hawk walk with the birds flying freely around you, or enjoy an introduction to different types of falcons, hawks and owls in the bird of prey experience.
Or, like us, you can try the fox and wolf encounter, an unforgettable hour where we walked alongside two wolf hybrids while their owners, Dee and Dan, explained their social structure and the art of canine communications. They are always on a lead, but we are able to hold the lead for a time under supervision.
Equally as rewarding is the chance to meet frisky red foxes Flynn and Todd, rescued six years ago and now relatively tame. We stand in their enclosure as they scamper around, chasing the food being thrown to them by Dee (pictured).
Full of mischief and highly entertaining, they run around our feet, curious about, but unperturbed by the strangers in their den. It's so rare to get this close to one of Britain's most recognisable mammals and a real thrill to enjoy their company for a short time.
Forest adventures
Feeling enthused by our close encounter, we head off into the wilderness of Grizedale Forest where you can quickly get away from the crowds and immerse yourself in the natural surroundings.
You can hire bikes and tackle trails that are graded from easy through to really tough – but as the bike centre is in a valley, whichever route you choose you will still have to cycle uphill to begin with. It works both ways though and the exhilaration of an off-road descent will leave you with a natural high for the rest of the day.
There are also plenty of walking trails of varying difficulty and we also enjoy a pleasant stroll through the trees to the den building area where you are free to use your imagination and the fallen sticks and branches on the forest floor, to build the den of your dreams. A bit of team work and some manual labour foraging for suitable construction materials and we have put together a den big enough for one. It's a proud moment!
If being up in the trees is more your fancy, then there are a couple of activities to try. There's a Go Ape at Grizedale Forest, which looks full-on scary, and then there's the Treetop Trek at Brockhole. This is the Lake District Visitor Centre, which is home to a number of activities such as archery, laser shooting and pony rides, as well as the Treetop Trek and the Treetop Nets.
We head here to tap into our adventurous spirit as tree-top beginners. There's a full trek which takes you high into the trees and the mini-trek for anyone who is a bit daunted by the idea, but still wants to have a go.
Safety talks and strict harness checks ensure you are in no danger, but, even so, the experience will test your nerve as you wobble across rope walks and balance on wooden platforms. The finale is a zip wire ride from the top of a tower, 200m across the car park and play area, which is heart-stoppingly fantastic.
Keeping with the treetop theme, Brockhole also has Treetop Nets, a first for the UK. It involves 1500m2 of giant trampolines, walkways, slides and tunnels all surrounded by 3m high walls of netting and suspended 9m off the ground. It's incredibly good fun for all ages and genuinely hard work (for the grown-ups at least). You can stay on for two hours, but after just one, my legs have had enough!
Whether you visit in search of adventure or want to be inspired by the stunning landscape and the abundance of wildlife, the Lake District really does have that cliché of something for everyone.

Motoring home
If you like the idea of a nomadic break, then a motorhome might suit your purposes. It gives you the flexibility to move from place to place, without forgoing comfort and ease of use. I drove a Swift 4-berth motorhome, which I picked up from Swift Go, in Stockport, after leaving my own car in their secure car park. It was easy to handle and manoeuvre and reasonably smooth to drive. Inside, it's a masterclass in compact living, with clever storage ideas and foldaway beds and tables. Kitted out with mod cons such as a microwave, oven, and television and with its own toilet and shower, you have everything you need. The motorhome includes a welcome pack of basic foods, full bedding and towels which makes packing a lot easier.
The Caravan and Motorhome Club site we stayed in sits inside the National Park, close to Kendal in an idyllic setting among woodland. The scent of wild garlic fills the air and the peace is only broken by the gentle rush of water from the nearby river. The services are top-notch and the location is as natural as they come.
Further information
Swift Group is the first UK motorhome manufacturer to provide a hiring service through its Swift Go brand based at Pear Mill, near Stockport, Greater Manchester. Swift Go will have a fleet of 70 models this summer. For a week's hire for a family-sized motorhome, sleeping four, prices start from around £700 in low season rising to £1,255 in high season. Motorhomes can be hired for three nights or more. Visit: swiftgo.co.uk
The Caravan and Motorhome Club has more than 200 club sites and 2,500 privately-owned places to stay in the UK and more than 230 sites across Europe.
Great offer!
Join the Caravan and Motorhome Club to save 15% off motorhome hire and get free collision damage waiver (worth £15 per night) when booking with Swift Go – one of the Club's exclusive member benefits. To find out more, visit: camc.com or call 01342 326944.
Visitor attractions