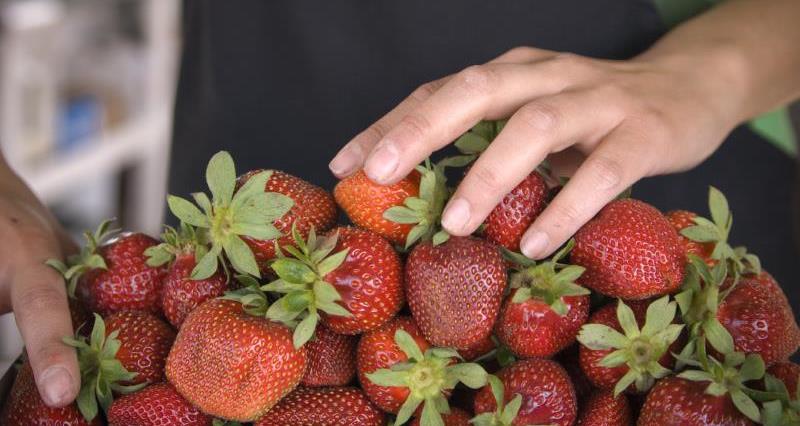 Warmer days and lighter evenings mean only one thing - summer is finally here! With that comes the official start to the British strawberry season, welcome news to strawberry lovers around the UK.
This summer, strawberries are sure to take the centre stage on supermarket shelves, as British strawberry growers have released the news that this year's crop is going to produce bigger, sweeter and juicer strawberries than seen in the last few years.
The cold start to the year, mixed with the recent warm days and cooler nights, has led to a slightly later start to the strawberry season. This has resulted in slower strawberry ripening and means this year's British strawberries are packed with more flavour than ever before.
Some very berry stats...
Over the past year, more than 137,000 tonnes of strawberries were sold in the UK
UK shoppers spent more than £1.3 million on the classically British berry between April 2017 and April 2018
Berries now make up a remarkable 22 percent of all fruit sold in the UK
The value of the berry industry is now over £1.2 billion
Fresh berries are now the most popular fruit item in shoppers' baskets
Strawberries...good for your health
Dr Emma Derbyshire, British Summer Fruits' public health nutritionist, explained: "Berries are a great healthy snack that offers an abundant source of vitamins, minerals and phyto (plant) nutrients all of which have been linked to a wide range of health benefits. New research from the University of Reading has revealed that consuming berries in the morning could sustain or improve cognitive function for up to six hours after consumption. Snacking on punnets of berries this summer is a great and easy way to boost our fruit intake and improve concentration and cognitive performance."
Just nine strawberries (108g) provides your recommended daily amount of vitamin C
Strawberries are low in calories, sugar and contain no fat so are an ideal everyday health snack to enjoy straight from the punnet or in a variety of recipes
Find out more about British strawberries at www.seasonalberries.co.uk