One out of every three mouthfuls of our food depends on animals like bees and pollination taking place. It is almost impossible to over-emphasise the importance of the service pollinators, such as bees and butterflies, perform for us.
Several studies have highlighted the importance of protecting pollinator's existing habitat and providing food such as wildflower fields so they can thrive. Through the voluntary Campaign for the Farmed Environment, farmers have planted nearly 10,000 football pitches-worth of flower habitat.
JUMP TO: WHAT IS POLLINATION | WHAT IS A POLLINATOR | 10 TYPES OF POLLINATORS | FARMERS MAKING A DIFFERENCE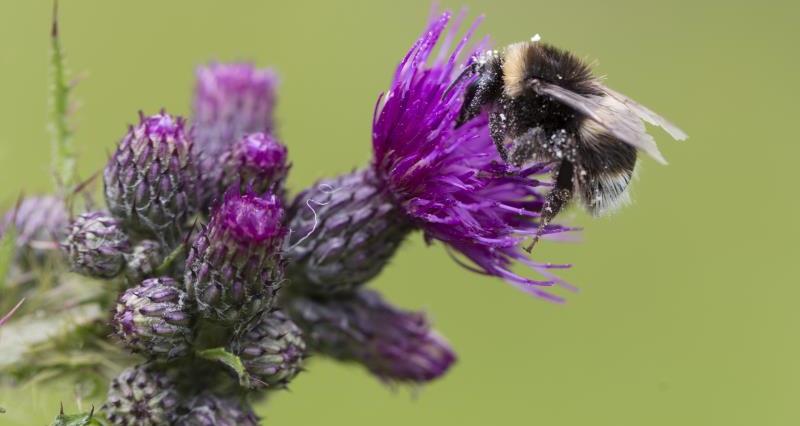 Pollination occurs when pollen is moved within flowers or carried from flower to flower by pollinating animals such as birds, bees, bats, butterflies or moths, or by the wind.
The transfer of pollen in and between flowers of the same species leads to fertilisation ensures that a plant will produce fruit and seeds.
In Britain we have more than 1,500 pollinating insects and they are very important to our ecosystem, providing a fertilisation service to many of our crops and wildflowers. Bees are probably the insect we most associate with pollination, but there are many more busy transferring pollen from one plant to another by trapping it in the hairy filaments of their bodies or on their wings. They come in all shapes and sizes and range from the hummingbird hawkmoth to the Small Skipper butterfly.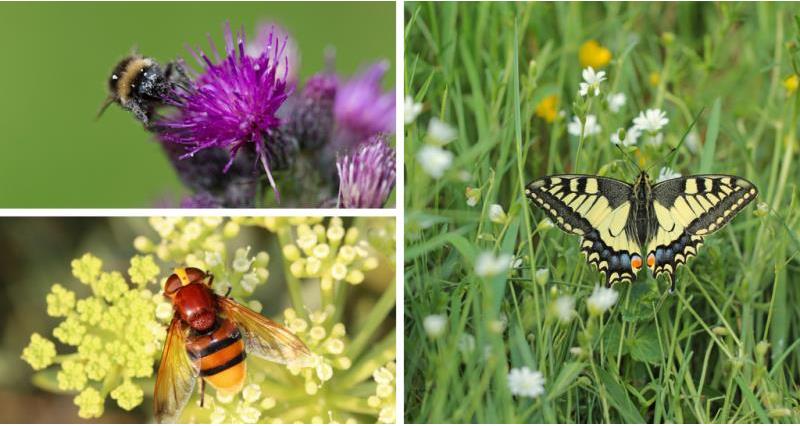 Honeybee
Tree bumblebee
Red mason bee
Buff-tailed bumblebee
Ruby tailed wasp
Swallowtail butterfly
Red Admiral butterfly
Brimstone butterfly
Red soldier beetle
Hornet hoverfly
Britain's farmers are working hard to encourage pollinators. Many rely on pollinators for their crops and so work hard to ensure the insects have plenty of sources of nectar before and after harvest. This involves planting margins with wildflowers, maintaining hedgerows and setting aside areas for flower meadows. Here's what some farmers around the UK are doing on their farms to make a difference:
---
Farm: Lower Hope Cherries, Herefordshire
Farm manager: Emily Cliff
Crops: Cherries and apples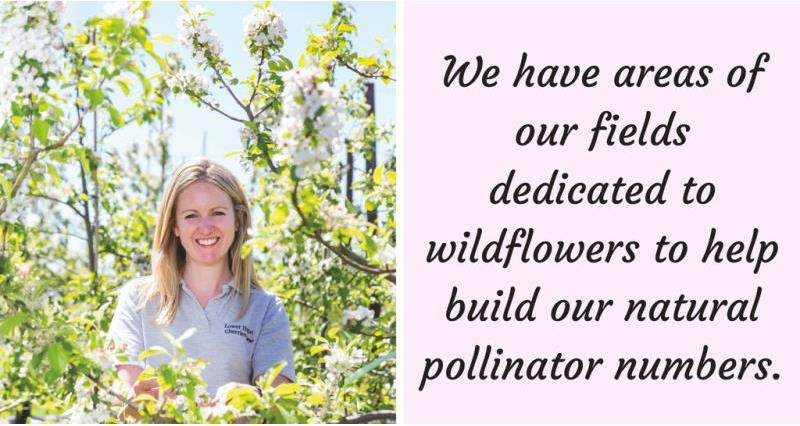 Caring for the environment is important to Lower Hope Cherries and it has just entered into the government's mid-tier Countryside Stewardship Scheme.
As part of this, it's working to increase the numbers of pollinators on the farm and to encourage them to stay once the cherries have been pollinated.
Although the cherries are covered, they tunnels are vented which improves air circulation and allows insects easy access to the cherry blossom. Once they have feasted, it's important for the farm to give them other sources of food so they don't just disappear. To this end last year, Emily and her team have planted a number of wildflower areas.
"Because we have blocks of orchards we also have areas in our fields that are not used for production, so we're dedicating those to wildflowers now," Emily explains. "We've just entered into the mid-tier Countryside Stewardship Scheme, so as part of this we will have more going on this year to help our natural pollinators.
"When our cherry blossom is out we are providing a very short, sharp burst of food for a lot of these insects and then this drops off, so by having wild flowers that come out later than the blossom – and throughout the summer – the insects still have a food source. This will help us to build our natural pollinator numbers.
"We have planted nectar-rich mixes with flowers such as cosmos, harebells and buttercups, and then there will also be plants to attract the birds, too.
"We are just developing a mix that works best on our soil, to ensure we have a nice range of flowers that won't out-compete each other."
---
Farm: Rectory Farm, Buckinghamshire
Farmer: George Eaton
Crops: Mixed farm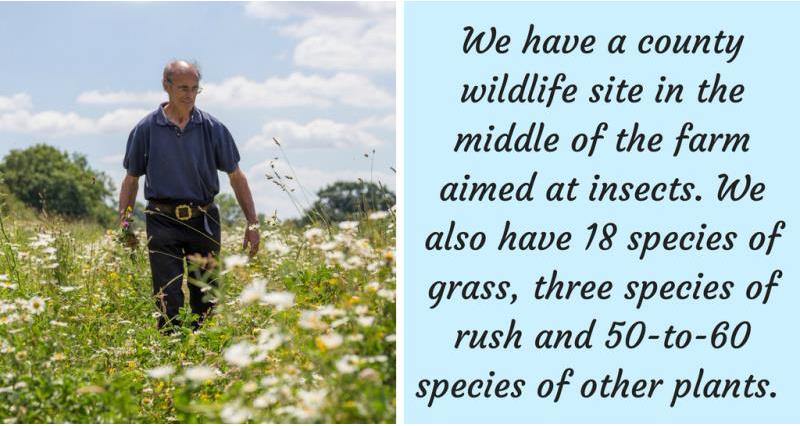 "I have always been very keen on conservation and nature and we have been in Countryside Stewardship for 25 years," says George.
"Our food production happens in the middle of the field, we're intensive and I make no apology for that, and that's fine because I'm producing food. But all the arable fields have margins around them and that's where we do our conservation work."
A variety of wildflower seed mixes have been used on the farm and it's also a trial site for Kings Seeds, who plant different mixes and then analyse the results to see if they are fit for purpose. Wild flowers found on George's margins include black medic, wild carrot, ladies bedstraw, selfheal, bird's foot trefoil, knapweed, clover, oxeye daisy, yarrow and campion, all fantastic for pollinators.
In the middle of the farm there's a county wildlife site, which is a local classification similar to an SSSI. "This meadow has always been grass because it's close to the river. This site is aimed at insects and we have got 18 species of grass, three species of rush and 50-to-60 species of other plants.
"We have done a lot of surveys around the farm so we have a pretty good idea what we've got here in terms of wildlife," he adds. This includes 23 different invertebrate species and birds nesting on the farm such as skylarks.
---
Farm: Over Norton, Oxfordshire
Farmer: Mike Kettlewell
Crops: Mixed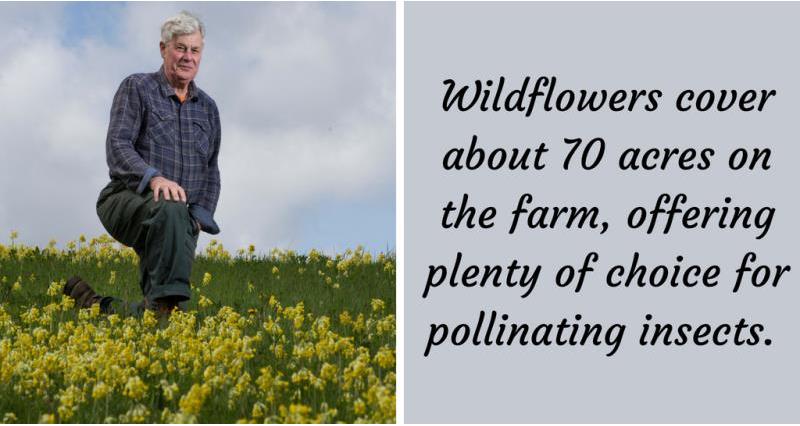 Alongside farming, the main focuses of the farm are sustaining the birdlife and ensuring they thrive throughout the winter months, and maintaining wildflower meadows to encourage pollinators and other wildlife.
Mike is particularly proud of his cowslips, which provide a swathe of golden yellow bobbing heads that add a warm glow to the green monotone of the field in spring. The farm is in a Higher Level Stewardship scheme and this particular section of the field has been left as meadow for 18 years.
"It's better and better each year and this year the plants are particularly good," he says, standing among the carpet of delicate yellow flowers, careful not to step on any. "The other part of this field has now been left for two years," he adds, pointing up the hill. "I scattered some cowslip seeds there and already there are plants coming through and they are slowly spreading.
"Once the cowslips go over, we get spotted orchids and also the more unusual bee orchids, as well as a good mix of other flowers, including oxeye daisies, birds foot trefoil, scabious, knapweed and hawkbit."
Wildflowers cover about 70 acres on the farm, offering plenty of choice for pollinating insects. Some of the land is grazed for a few days and then nature is left to its own devices. Mike also plants wildflowers in the margins around the fields. As part of the Stewardship Scheme, these have to be a minimum of six metres wide, but many on the farm are wider. In the summer he spreads cornflower annuals including corn cockle, cornflower and corn marigold and these bring in both birds and insects.
Mike is also pleased that pollinators are benefiting from all their work, including a rare butterfly that seems to have made itself at home.
"We think we have a small breeding colony of purple emperors which is rare. Two years ago, my wife, Sarah, found a moribund male on a footpath and photographed it and last summer in our buddleia there was a female. We have lots of salix, which they breed on, and oak trees which they fly around, so we have the perfect environment. We will keep an eye open for them this year."
---
Farm: Vine House Farm, Lincolnshire
Farmer: Nicholas Watts
Crops: Arable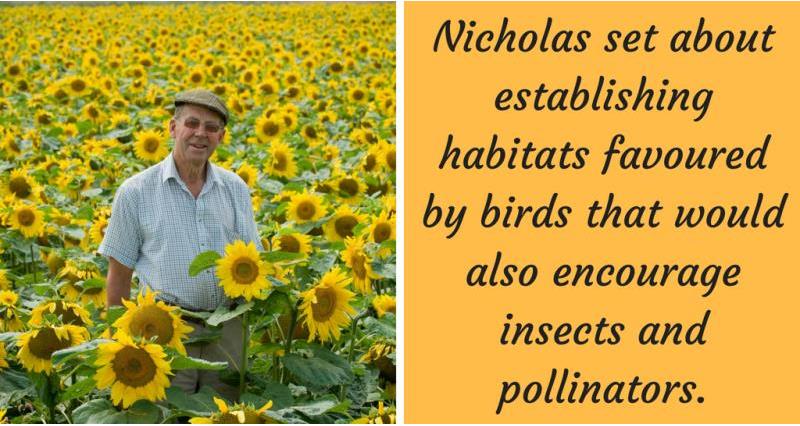 Nicholas has a long fascination with wildlife; even as a schoolboy he'd spend his time photographing the birds and other creatures around his fenland home. His real passion is for birds but he knows that birds need insects and so set about establishing habitats favoured by birds that would also encourage insects and pollinators including creating wide grass margins, many of which are filled with wild flowers.
"Many insects are plant specific," he adds. "The privet hawk moth only feeds on privet, the cinnabar moth only feeds on ragwort. If there's a field with no weeds, there's less to draw the insects."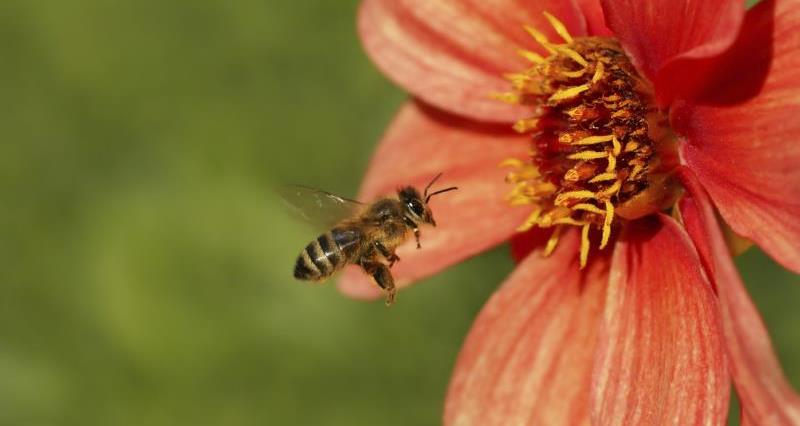 Seven things you can do to attract bees to your garden and help them thrive, from choosing purple flowers to creating a 'bee bath' to provide easy access to fresh, clean water. Read more.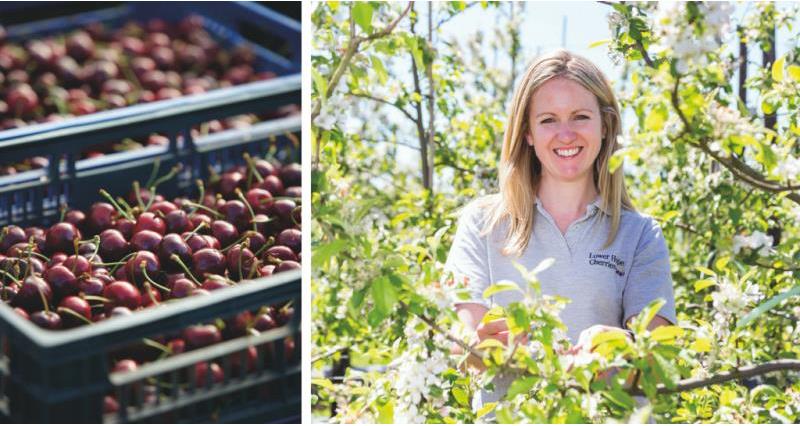 Read how bees are helping the managers of a Herefordshire fruit farm to increase their cherry crop. Read more.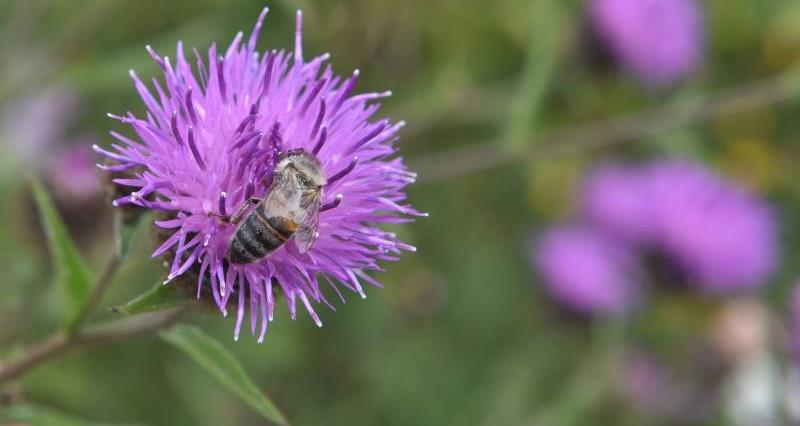 Read how bees are helping the managers of a Herefordshire fruit farm to increase their cherry crop. Read more.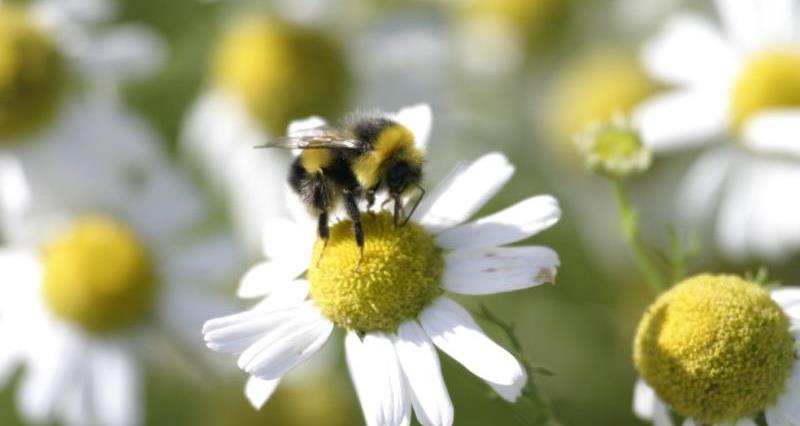 More than 480,000 bees were identified and recorded in this year's Great British Bee Count run by Friends of the Earth. Taking place in May and June, from the Shetland Islands to the Isles of Scilly, the findings will contribute to the national Pollinator Monitoring Scheme – the first comprehensive health check of Britain's bees and other pollinators. Read more.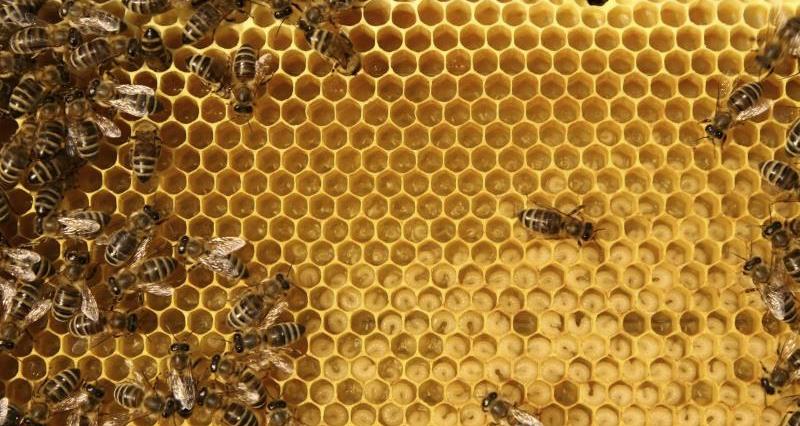 Countryside magazine spoke to Steve Benbow, author of The Urban Beekeeper, about life as a commercial beekeeper, from the Shropshire Hills to hives on the roof of Fortnum and Mason in London. Read more.