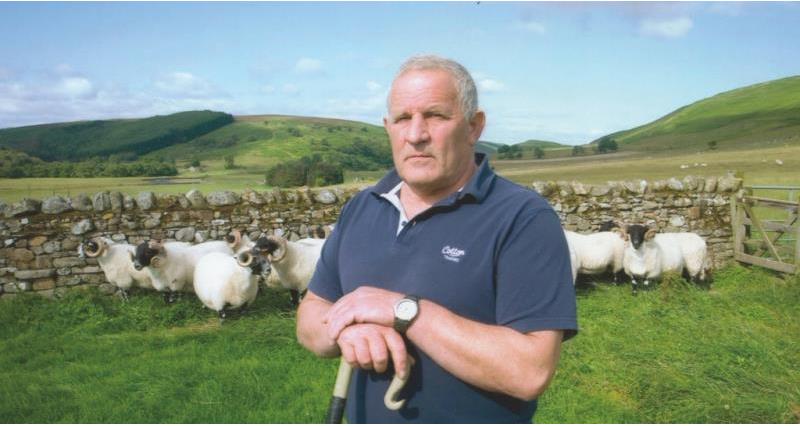 In the latest in a series of Countryside magazine features highlighting the part farmers play in protecting and enhancing the environment, Northumberland hill farmer Graham Dixon tells Tim Relf how he is working with his local community to avert the devastating impact of flooding.
Flooding isn't a new problem in Graham Dixon's part of the world. A photo taken in 1909 shows his local village of Alwinton and the surrounding fields under a deluge of water. But the widespread flooding that's been seen nationwide in the past decade has prompted him to take action.
He's installed a series of 'leaky dams' on his upland farm, controlling the flow of the 'Hosedon Burn', helping prevent issues downstream.
The small wooden dams are a simple concept. They allow water to pass through them for most of the time but, once the water level rises to a certain point, they slow the flow and divert water onto the flood plain, rather than letting it barrel downstream.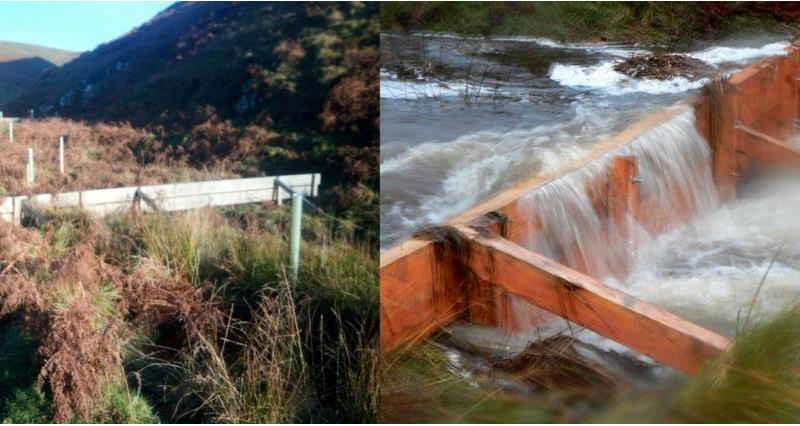 Leaky dams: The simple larch panels are unobtrusive on Graham's farmland (left), but play a key role during heavy rainfall (right)
The design and installation of the 'leaky dams' was very much a partnership, involving the expertise and skills of a range of people. Also key to the project was Graham's landlord, civil engineer Peter Kerr of Riverworks, Davy Livingstone Fencing Contractors, Alex Fraser who was doing a catchment hydrology-related MSc at Durham University and Northumberland County Council.
The first 15 dams were installed in 2016 and were put to the test during Storm Angus which hit during November of that year and brought four inches of rain in 14 hours.
"There was no flooding in the village, so we considered that a result," Graham says. "We think they reduced the volume of water going through the village by almost a third. The hills around here rise to about 1,200ft, with very steep sides, so we see incredibly fast run-off into the valley bottom. This farm gets an average of about 27 inches of rain a year, but we are witnessing much more extreme rainfall situations now than historically. Over the past five years, the risk has been once or twice a year.
"The burn is totally innocuous-looking most of the time, it's only about three metres wide in the village and you'd never imagine it could cause an issue, but during flash-floods it could easily wash a car away."
"There are a few houses in the village that flood frequently and the roads often get washed up. The community couldn't really do much, other than barricade their doors when the water approached. No-one blamed us for the problem because they understood that when it rains hard and you've got 45 degree hills, you get run-off, but we wanted to help."
Local knowledge
Involving farmers is key to the effectiveness of any such scheme, Graham says.
"There's no substitute for local knowledge, so our input is vital. After all, we see the burn every day. It was also important that we used locally sourced natural materials and that we didn't impede the movement of migratory fish.
"If we want more people to do work like this, it's also important that it doesn't disrupt their farming systems. We gave a lot of thought to the practical consequences of different locations. We made sure, for example, that the location of the dams allowed for established shepherding practices, such as the safe movement and gathering of sheep."
While the principle is transferable, the exact construction has to be tailored to the precise environment and the topography, he says.
"What works in one place won't work in another. You certainly can't have someone in an office miles away designing these schemes remotely. For it to be sustainable, the people on the ground have to take ownership of it – and this means managing and maintaining it, as well as building it."
While Graham has received financial support from the government, he estimates this project has cost about £20,000 and, while that's "peanuts" compared with big flood defence programmes, it would be too much for many farmers to finance unsupported.
"If farmers are going to buy into the concept, it's vital that they're adequately and fairly remunerated for such work and that all the agencies involved take a pragmatic approach."
Riverworks' Peter Kerr, who specialises in designing natural flood management schemes, agrees such small-scale projects can be very cost effective and is confident they have a big future.
"They're not a solution in every circumstance, but they could be 10 times cheaper than building a concrete flood wall so they're very much part of our toolkit and we could see a lot more of them.
"We can't go on simply building higher and higher walls. It's sometimes hard to measure the exact effect – but schemes that slow the flow of water and hold it on the hillside for longer intuitively make sense." Peter Kerr, Riverworks
Financial support for farmers is key, though, Peter says. "Up until now they've often relied on farmers' goodwill – even a relatively small payment could really incentivise it."
Graham now hopes others in his region will be inspired to do similar work. "The Hosedon is a tributary of the River Coquet and that has a massive catchment area, running down to the town of Rothbury, which also floods. I'd love it if we could do the whole area.
"There has been a direct benefit for us because flooding was causing erosion on the lower parts of the farm but I saw this as an opportunity to demonstrate another way we can contribute positively. We do so much more than producing food. We maintain the landscape, we produce biodiversity and we provide access and recreation, to name just a few things. But we need to be proactive in providing solutions to the big issues that society faces – and flooding is very much one of these."