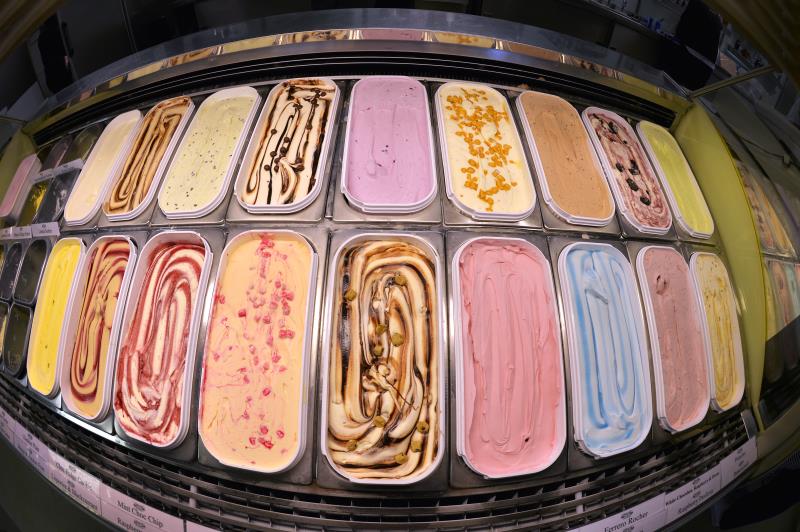 A dairy farming family who turned to ice cream making to tempt visitors into the countryside have seen their business named among the top 20 free visitor attractions nationwide.
Cheshire's Ice Cream Farm has in the space of a few years transformed itself into a theme park that last year saw more than 821,000 people flock through its gates - propelling it into the top 20 most visited free attractions in the country for the first time, alongside the likes of the Science Museum, Brighton Pier and the Serpentine Gallery.
Last year the business drew almost as many as the Museum of London, according to the Visit England's annual survey.
Rides and attractions now include the world's largest purpose built ice cream parlour and Europe's largest indoor sand and water play area. A giant ice cream tree, a mini JCB digger for children to scoop sand and the Strawberry Falls crazy golf course, decorated with giant sand castles and oversized candy canes, also thrill the throngs.
But how did this remarkable transformation happen? James Rudman visited Cheshire to find out. He writes:
Think of the largest ice cream parlours on the planet and rural Cheshire might not readily spring to mind as a possible location. Somewhere in Italy or the USA, yes. But just outside Tattenhall, a small village south-east of Chester? Surely not.
Well think again. Here you will find a £4 million redevelopment of a former dairy farm site that is home to The Ice Cream Farm family entertainment centre and includes a new, 1,000 square metre structure housing what is thought to be one of the world's biggest, purpose-built ice cream parlours.
It will serve up to 48 different flavours produced the Fell family's Cheshire Farm Ice Cream business, which started 30 years ago as a sideline to running their dairy herd.
About 600,000 litres of ice cream are now made annually in an onsite factory using around 200,000 litres of milk and cream from the neighbouring farmer's dairy herd. The arrangement still means Cheshire Farm Ice Cream is made using milk from cows grazed on fields surrounding The Ice Cream Farm and factory, although the Fells sold their herd 12 years ago and milking is no longer done on site but at their neighbour's nearby dairy.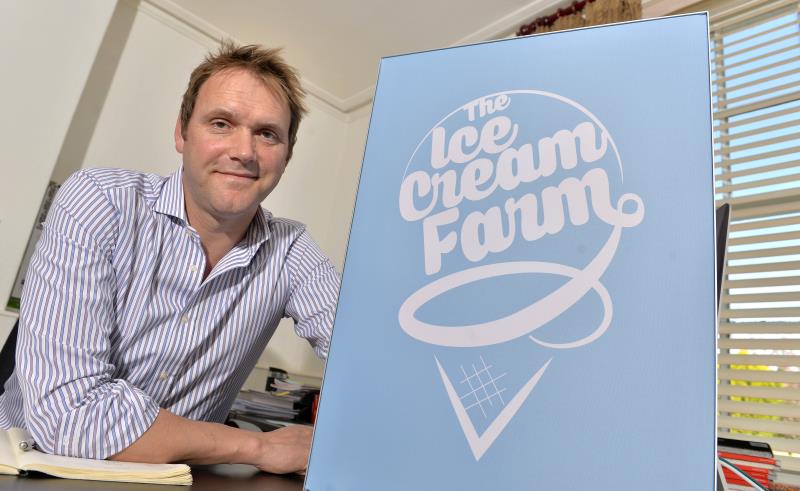 The Fells, NFU members, are keen to continue highlighting the farming connections of the family, their ice cream and The Ice Cream Farm, which aims to encourage people's interest in visiting the countryside by offering an attraction aimed mainly at young families from the Chester, Liverpool and Manchester areas and the Wirral.
'We have naturally moved into another sector, and are more of a family entertainment centre now. But we certainly don't want to lose our roots of where we come from, where the product comes from and we want as much as possible to get that across to the people who visit,' says Jonathan Fell, one of the four family directors of Cheshire Farm Ice Cream and The Ice Cream Farm.
Following its major redevelopment and expansion, The Ice Cream Farm, which attracted 525,000 visitors in 2014, will continue to include agricultural elements, with rare breed and other animals for visitors to see and some education on the countryside and farming.
Among new or expanded facilities targeted for the opening on 21 July is Honeycomb Canyon, Europe's largest indoor sand and water play area, constructed in part of the Fells' former milking parlour. They will also include: a coin-operated quad bike track for toddlers; four JCB excavators providing digging experiences: a refurbished indoor soft play area, a miniature golf course, ice cream-making opportunities, children's party rooms and a retail area.
The creation of more all-weather and indoor attractions aims to help boost footfall and boost visitor numbers year-round.
'We are a destination now and people want to come to the rural area for a day out, and if they can have a bit of family entertainment and a treat of ice cream at the same time, then it all fits. The main pull, if you like, for people coming here is that we are still a free-to-enter attraction, so it's the visiting public's choice of how much money they spend,' says Jonathan, who believes there is the 'gap in the market for The Ice Cream Farm.
'We know that 98 per cent of people that come do buy an ice cream. So long as they do that, we are happy.'
Forty per cent of the ice cream operation's turnover currently comes through the tourism side. The 60 per cent contribution from the wholesale side comes from ice cream sold to retailers, hotels and restaurants around the country.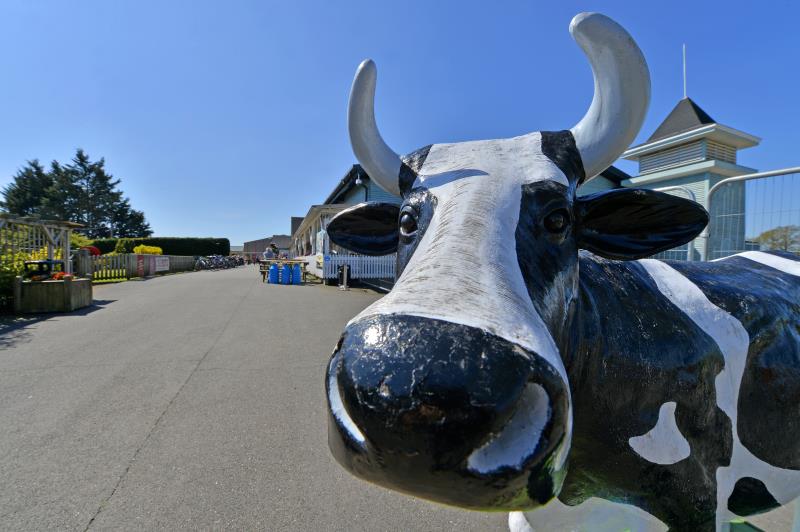 The farming backstory...
It's been a 30-year journey taking the Fells from dairy farming to purely focusing on ice cream making and rural tourism.
It was in 1980 that Tom Fell, Jonathan's father, bought a 200-acre dairy farm at Wrenbury, near Nantwich. He and his brother had previously run their father's Lancashire farm in partnership.
After his first three years in Cheshire and keen to upsize, Tom took on a tenancy with the Bolesworth Estate for a 300-acre tenanted farm at Tattenhall with a state of the art dairy unit and brand new buildings.
Shortly after Tom moved to Drumlan Hall Farm with wife, Margaret, and sons Jonathan and Graeme, milk quotas were introduced. Considering various ways to add value to excess milk, he decided to produce real dairy ice cream. He went into partnership with a former Wrenbury neighbour Peter Thomas, and installed a small ice cream production facility in one of the farm's unused buildings. Production started in 1985.
'We bought a book on how to make ice cream,' recalls Jonathan. Help and advice was received from flavour houses and ice cream equipment suppliers keen to see small producers operating.
While the partnership was dissolved after two years, Tom continued ice cream production. A little ice cream parlour was opened on the Fells' farm, which is in 'a touristy type area with nice countryside around' on the Cheshire Plain and near Beeston Castle, Jonathan explains.
As footfall increased, a small tearoom was added and some farm buildings adjusted to enable visitors to view the cows and calves better. Subsequently, a gift shop and dining area were created.
Retailers and pub and restaurant owners started enquiring about the ice cream, so the business added wholesale orders to its direct sales to farm visitors.
A new factory unit was built around 2000 after the business won an airline contract, and this boosted the manufacturing capacity side. The factory is where milk collected by tanker from the neighbouring farm is pumped into the pasturising room. Double cream, sugar and various other ingredients designed to go into frozen products, are added. Pasturised, then aged overnight, it is then frozen and packed that same day.
'The whole process is less than 24 hours from the cow,' says Jonathan, who explains the Fells look as 'local as we possibly can' when sourcing ingredients.
Now aged 43, he joined the business in 1987, spending the first five years working in the factory before taking charge of the wholesale side. His brother Graeme, 45, also a director and responsible for the production operation, joined the family concern in 2007 after being involved in manufacturing since leaving university.
In 2008, the Fells renegotiated their tenancy agreement to just cover the ice cream factory, the farmhouse and visitor attraction site with associated paddocks for farm animals. The ice cream parlour and coffee shop were refurbished and new animal housing was created. The following five years saw income from the visitor side increase by 330 per cent.
Two years ago, following the neighbouring farmer's decision to switch milking on site to his new dairy nearby, the Fells negotiated a deal to take over the entire 10-acres of the farm complex to gain access to the farm's yard and other buildings. This opened the way for The Ice Cream Farm's major revamp.
Business future
Cheshire Farm Ice Cream is a good business with 'very good brand' recognition and 'nearing capacity' on production with room for expansion if demand increases, says Jonathan.
But the sector's growing competitiveness meant the Fells wanted to develop The Ice Cream Farm and maximise its tourism potential. 'Luckily, we had the chance to expand and basically do what we are doing now but do it much bigger and better,' explains Jonathan, who, together with Graeme, looks after the day-to-day running of the family's enterprises while their parents Tom and Margaret, both aged 70, remain active within the business as directors.
He describes the £4 million investment in The Ice Cream Farm as the 'biggest thing that our family is probably ever going to do'. The construction project, which is being managed by the Fells, took two years of planning and design work. Getting planning permission was not straightforward, but the family did a lot of research to ensure the plan was within local policy constraints.
The Fells' diversifications have already brought local employment benefits with the 35 full-time and regular part-time staff and another 50-60 seasonal part-timers coming from within a five-mile radius. Jonathan feels more farmers should consider rural tourism diversifications but they would need to their research and analyse their location and the target market.
'So many farmers are probably sitting on fantastic, picturesque properties in lovely parts of the country that could diversify into tourism. There are plenty of people who want to go out into and learn about the countryside, so there are lots of different avenues that farmers or landowners could look at for changing what they do.
'People want to drive out to the countryside and I think we should make it available for them. If there are extra reasons to come out to the countryside, like family entertainment, then all the better.'