Can we have a truly homegrown Christmas? Our challenge this year is to find out if great British food can deliver our festive fare.
At Christmas time, let's admit it, we like to eat. A lot. There's no other time of the year when we give ourselves permission to dine so abundantly and indulgently. From smoked salmon and bucks fizz for breakfast, to Stilton and port for supper, the days are punctuated by huge meals and inexplicable bouts of peckishness only satisfied by a gammon sandwich.
In the days leading up to Christmas the supermarkets are a battleground and despite the fact that the shops are only shut for one day, most of us are guilty of a little bit of panic buying. What, after all, could be worse than running out of cream / chocolate / sherry at 8pm on Christmas day?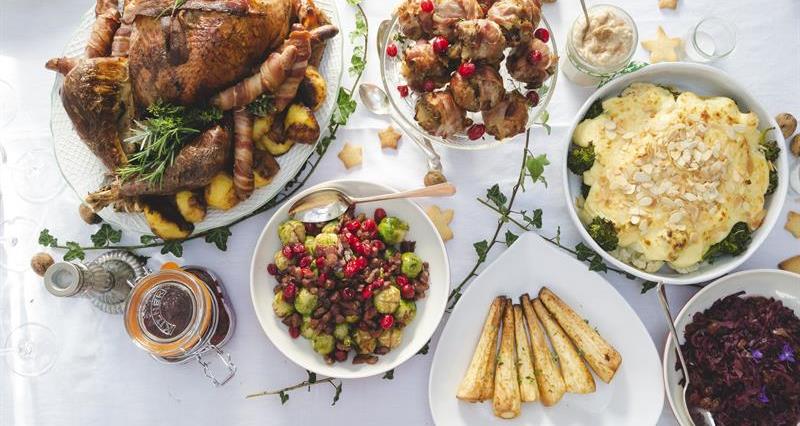 Using expensive and ostentatious imported food has long been part of the tradition of opulent dining and general showing-off at Christmas. This is reflected in festive food's liberal use of exotic fruits and spices – at one time so highly prized international trade relied upon it. Today, we still rely heavily on imports for our Christmas meals, often buying foreign produce without realising there may be top-quality, local, home-grown alternatives.
Now, more than ever, British farmers and producers bring us some of the finest food in the world. Farm shops, farmers' markets and online selling give us access to the best of everything British. So when better than Christmas – a time of year that invites us to fully indulge in the good stuff – to take a step back and have a think about really buying British? Is it actually possible to create our familiar Christmas feast (and all those extra little treats we indulge in) using only British ingredients? Where could we substitute our favourite imports with British alternatives? And what imports can we really just not live without?
Picture the scene: smoked salmon for breakfast, a Christmas lunch kicked off by prawn cocktail, swiftly followed by roast turkey or goose, stuffing and sausages, roast potatoes and parsnips, carrots and sprouts, cranberry sauce, a honey-baked gammon, Christmas pudding with brandy butter, rich fruit cake, cheese and biscuits, nuts, champagne, beer, cocktails, a schooner of sherry and a drop of port to wash it all down. Sounds a treat – but can it all be British?
Let's give it a jolly good go.
Where British is bountiful and best…
Turkey and goose
All across Britain, poultry producers rear quality birds to the highest welfare standards for every budget and every size of family. As well as whole birds, turkey crowns and breast roasts are readily available, doing away with some of the fiddliness of cooking. Black and Bronze turkeys continue to make a storming comeback against their white counterparts after teetering on the edge of extinction, while goose is having a slow-but-sure Christmas renaissance.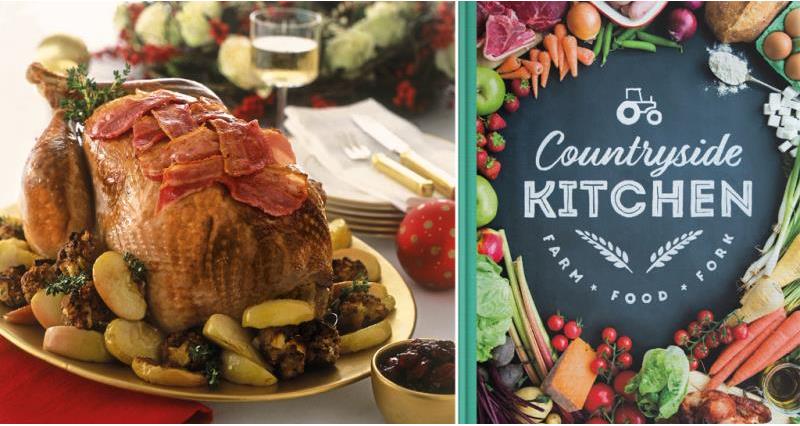 Though the east of England is the long-standing heartland of poultry production, small producers throughout the country now offer slow-grown, free-range birds and are competing with the supermarkets with online sales, delivering the very freshest birds direct to your door just in time for Christmas day.
Recipe: Roast Turkey with Cumberland Sausage, Apple and Herb Stuffing
Find out where to buy your farm fresh local turkey and enjoy the best of British produce this Christmas.
For Kelly Bronze turkeys visit: kellyturkeys.co.uk
For Norfolk Black turkeys visit: freerangeturkeys.co.uk
For turkey recipes and cooking tips visit: britishturkey.co.uk and ukturkeys.co.uk
Pork and ham
It wouldn't be Christmas without a honey-glazed, clove-studded ham as a splendid centrepiece or on hand for those between-meals peckish moments. And with pork also playing a central role in the stuffing, as chipolatas and in the bacon wrapping the bird it's lucky Britain has such a proud pig-farming heritage.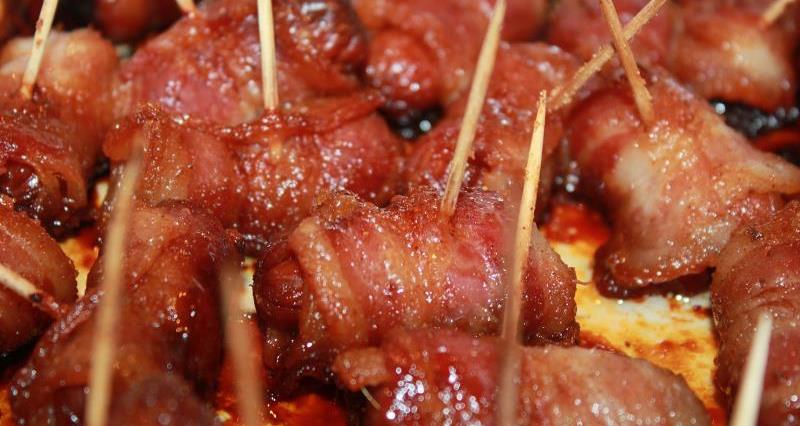 Traditional British breeds such as Tamworth, Gloucester Old Spot and Saddleback make for tasty ham joints that are dry or wet cured in salt or brine then either smoked or left 'green' (unsmoked). For a delicious alternative certain to get your guests talking, push the boat out with some tasty and unusual wild boar charcuterie.
For Tamworth pork, visit: paddock.fm
For Gloucester Old Spot pork, visit: moonbeamsland.co.uk
For Saddleback pork, visit: hallsfordonline.co.uk
For wild boar charcuterie, visit: therealboar.co.uk
Dairy and cheese
From the legendary dairies of the West Country to the lush pastures of Scotland's southwest, British milk, cream, butter and cheese are of world-beating quality and in no short supply. The enduringly tough conditions for dairy farmers have encouraged no end of innovation and diversification – with products such as premium clotted cream, ice cream and farmhouse butter allowing producers to add value on the farm. Perhaps most impressive of all is the ever-changing array of British cheeses available.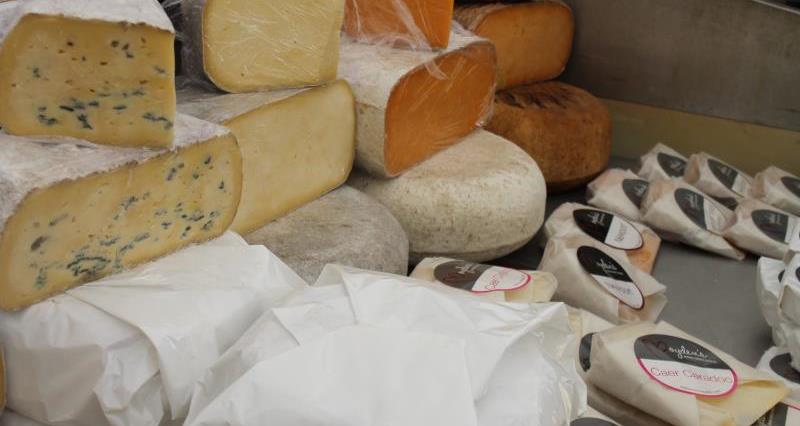 Every region has its own specialities reflecting the local terrain, breed of cow, sheep or goat and individual production methods. Try Barkham Blue from Two Hoots Cheese in Berkshire (twohootscheese.co.uk), Clava Brie from Connage Highland Dairy in Invernesshire (connage.co.uk) or oak smoked goat's milk cheese from Quicke's in Devon (quickes.co.uk). Perfect for a divine Christmas cheeseboard. Brie, Camembert or Gorgonzola? Who needs them…
Vegetables
Seasonality is the key to Christmas vegetables, with roots of all sorts taking centre stage. Carrots and parsnips are almost year-round croppers in Britain so importing is wholly unnecessary. Parsnips harvested for Christmas will have had longer in the ground to intensify in flavour and while the familiar orange carrot reigns supreme, many producers are now diversifying into old-fashioned red, purple and yellow varieties to add a splash of colour to your plate.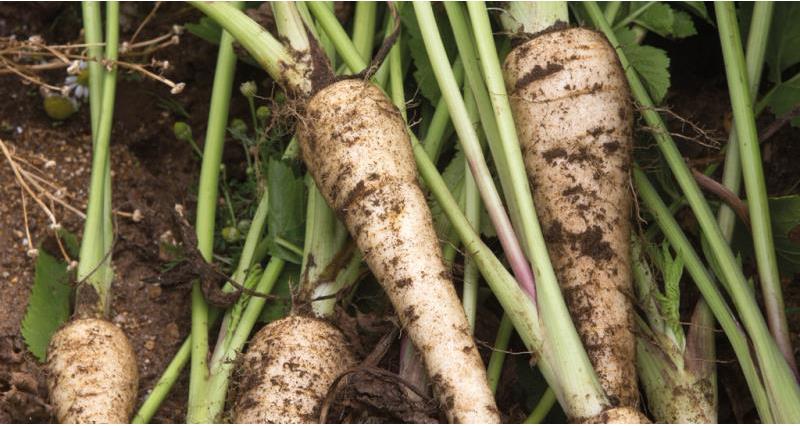 Love it or loathe it, the sprout – a British staple guaranteed to divide opinion – is central to Christmas dinner and is now found in red as well as green varieties. Fluffy maincrop potatoes such as Maris Piper, King Edwards or the more unusual Shetland Black are best for crisp, goose-fatty roasties.
Fish and seafood
As an island nation, fish and seafood are central to our collective culinary heritage. For a Christmas morning treat of smoked salmon and scrambled eggs we've got some of the best producers in the world, with every smokery producing a unique flavour depending on their fish and the process they use. Summer Isles Foods (summerislesfoods.co.uk) offers a whisky-cured smoked salmon, H. Forman and Son (formanandfield.com) have their unique 'London Cure' and Dorset's Chesil Smokery (chesilsmokery.com) have created an extra smokey cold-smoked salmon.
All are available via mail order. For a decadent Christmas lunch starter, splash out on some native British oysters or lobster which are at their prime in December.
whitstablenativeoysterstore.co.uk
Beer and spirits
With a centuries-old brewing heritage, British ales and lagers are innovative, imaginative and ever-developing, with all tastes catered for by brewers large and small. The Society of Independent Brewers (www.siba.co.uk) has a useful directory to help you find your local craft brewery, of which there will inevitably be one, enthusiasm for small-scale craft brewing being at an all-time high.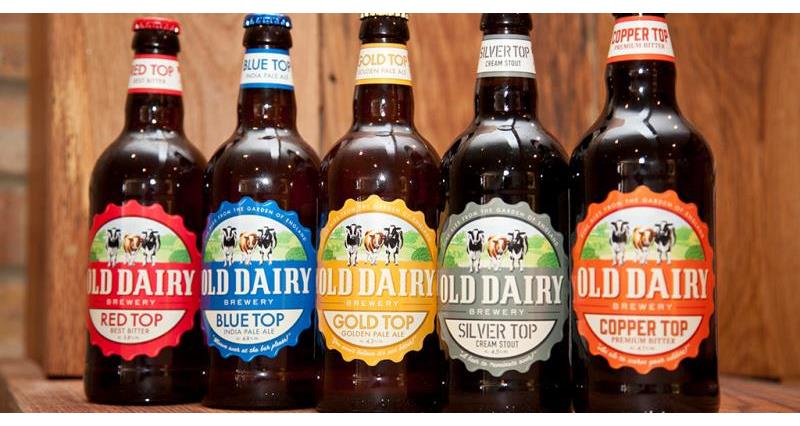 British gin has also been undergoing something of a revitalisation, with well-known names such as Plymouth, Hendricks and Sipsmith having their heels snapped by the likes of Williams (chasedistillery.co.uk), Warner Edwards (warneredwards.com) and The Botanist (bruichladdich.com). Refined distilling techniques, imaginative recipes and the inclusion of varied botanicals are all working together to ensure Britain is having a gin-drinking heyday.
Despite international pretenders, Scotland's whisky is still the original and the best, although it's experiencing some rather too-close-for-comfort competition from its English neighbours. (englishwhisky.co.uk)
Christmas classics done the British way…
Champagne
Traditionally the crème de la crème of sparkling wine, Champagne has been taking a bit of a battering in recent years from quality, affordable Italian Prosecco and Spanish Cava. But our continental neighbours shouldn't rest on their laurels – English sparkling wine has hit the mainstream and is punching above its weight.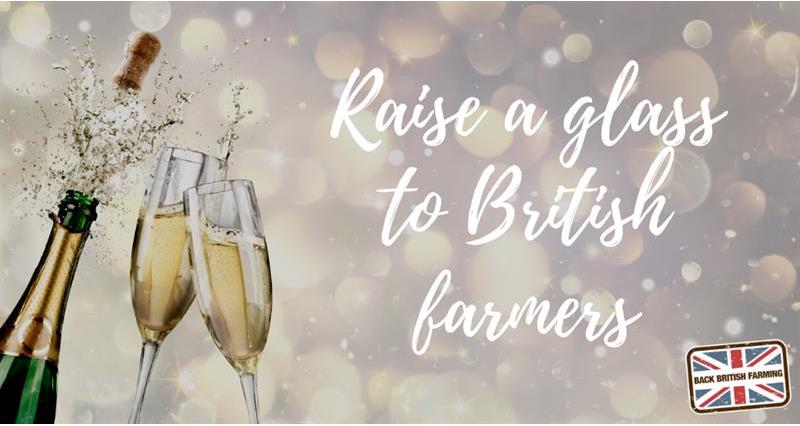 From Kent to Cornwall, the English wine industry is winning international acclaim for ambitious producers and fantastic wines. If you've been waiting for an excuse to try some, there's no better time than Christmas to crack it open.
Brandy
Whether sipped after the meal, soaked into the cake, flambéing the pud or making an appearance in butter or sauce, brandy sneaks into a lot of the boozy treats we have at Christmas. But forget about Armagnac, Calvados or Cognac – Somerset cider makers have revived the art of distilling apples. Their five- to- twenty-year-old cider apple brandy certainly gives its continental counterparts a run for their money.
Aperitifs and digestifs
Intended to whet the appetite, a traditional aperitif could be a glass of sherry or vermouth, or a cocktail. For many people, Christmas is the only time of year they'd contemplate drinking sherry, so instead why not try an English vodka cocktail? Chase's English potato vodka (chasedistillery.co.uk) is highly regarded amongst experts and could be just the thing to set you up for turkey and all the trimmings. Fortified wines or sweet liqueurs are traditional after eating, to aid digestion, so instead of a snifter of port try one of Gibson's Organic Fruit Liquers (gibsonsorganic.co.uk). Made in the Cotswolds and zinging with fruit flavours, consider your palate well and truly cleansed.
Dried Fruit
Without dried fruit – sultanas, raisins and currants – there would be no Christmas cake, Christmas pudding or mince pies. Or would there? British-grown figs, plums, apples and pears – used fresh, from frozen or dried – all make excellent stand-ins in mincemeat. With the addition of carrot or beetroot, these fruits will produce a delicious moist cake with the added benefit of being just a bit lighter than the traditional version.
With British figs in season until late October (if we're lucky), it's possible to make a traditional figgy pudding and store it as you would a regular Christmas pudding, dousing it regularly with brandy.
Cranberries
Like pumpkins at Hallowe'en, cranberries have snuck over from the US taking up residence on our Christmas plates and pretending they're traditional. They're not. For a kick of tart fruit with turkey opt for redcurrant sauce or quince jelly. Goose lends itself to the richness of blackberries or plums, both of which can be found frozen and made into a simple compote.
Nuts
For many households, it's only at Christmas that the nutcracker sees the light of day. But it's a tradition we love, sitting round the fire or whilst watching the Queen's speech. Instead of imported nut selections, opt for British walnuts, chestnuts or cobnuts. Potash Farm (kentishcobnuts.com) sells its Kent-cultivated cobnuts and walnuts all year round, along with numerous other nut-related products. British chestnuts are in season from October to January so go foraging for some to roast at home.