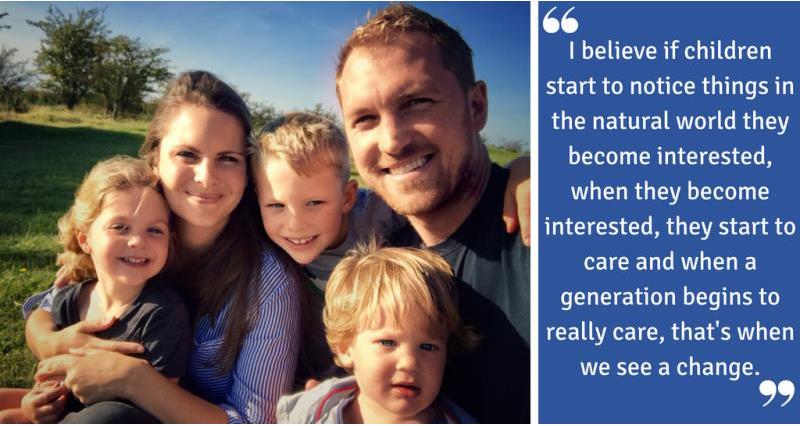 Naturalists, TV presenters and authors are backing The Wildlife Trusts' national nature challenge to do something 'wild' every day during June.
Author Abi Elphinstone, TV presenter Gillian Burke, Olympian Alex Gregory, and chart-topping James McVey from The Vamps have all put their weight behind the campaign to reconnect people with wildlife in a fun and inspirational way. 54,500 people, schools and workplaces have signed up to 30 Days Wild which started on 1 June.
This June's 30 Days Wild challenge from The Wildlife Trusts will encourage thousands of people across the UK to make their neighbourhoods wilder – to help wildlife and get communities sharing the joy of the wild. Academics at the University of Derby who have monitored the challenge since it began in 2015 have discovered that spending time in nature makes us feel good. 30 Days Wild encourages people to notice nature on their doorsteps every single day and gives them a multitude of exciting and fun ways of doing it.
Alex Gregory, double Olympic Champion, multiple World Champion rower, and author of Dadventures said:
"It's all too easy to fall into the habit of walking into the house and shutting the door. There are too many things indoors that are attractive to our children and us adults alike, mostly revolving around a screen. I think technology is great, I love it, as long as there is something else. Often the best memories are made quickly for free! This is what the outdoors gives us. Taking the first step outside is the biggest challenge, after that, with a willing mind and a spot of enthusiasm, bonding moments and lasting memories can easily be made together. What is it that we remember from our childhoods? That afternoon watching TV? Or the time mum climbed a tree with us after school?"
"As a family our free time is spent outdoors, exploring, investigating and being active. I want my children to notice things. I believe if they start to notice things in the natural world they become interested, when they become interested, they start to care and when a generation begins to really care, that's when we see a change."
30 Days Wild pack
Sign-up to 30 Days Wild and you'll get a free pack with a booklet of inspirational ideas for Random Acts of Wildness, a recipe for wild strawberry and thyme ice cream, wildflower-seeded paper to sow, a wall chart to record your activities and wild stickers. There are special online packs for schools with outdoor lesson plans and giant Random Act of Wildness cards. Workplaces can join in too, with tailored download packs to bring the 'wild' to work
30 Days Wild 2018 neighbourhood theme
This year's theme is all about helping wildlife in your neighbourhood and our pack has inspiring ideas for sharing the
challenge locally. See great ways to green-up your street - from carving hedgehog holes in fences to putting up bird
and bat boxes and doing a local litter pick.