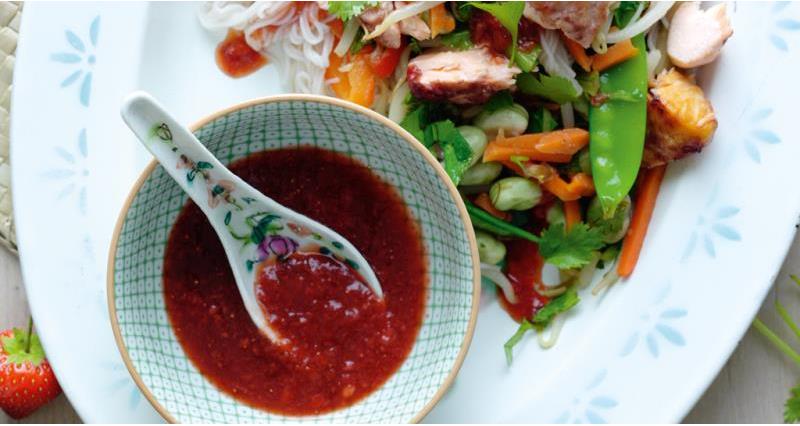 The prospect of tucking into a dish of lovely, fresh British strawberries is something to set tastebuds tingling.
These three great recipes show how to make the best of this British berry - whether it's in a sweet or savoury dish.
Recipes courtesy of Seasonal Berries.
Strawberry and Summer Leaf Salad with Vanilla Salt | Strawberry Trifle with Pimms | Seared Salmon with Thai Strawberry Sauce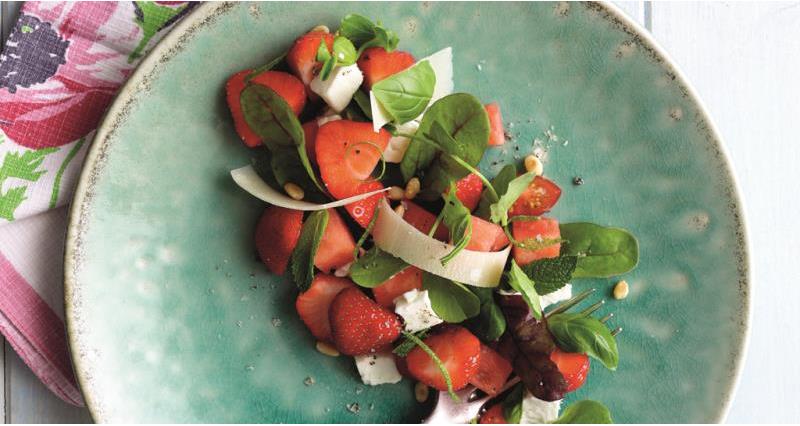 SERVES: 4
INGREDIENTS:
350g strawberries, hulled, halved or quartered if large
400g watermelon, peeled, deseeded, cut into 1cm dice
150g cherry tomatoes, quartered
100g mixed baby salad leaves to include pea shoots and lambs lettuce
Small handful of Thai basil/ordinary basil leaves, stripped from stems
16 mint leaves
Finely grated zest of 1 lime
100g feta cheese, drained, crumbled into small pieces
40g piece of parmesan, cut into shavings with a vegetable peeler
2tbsp toasted pine nuts
1tsp sea salt flakes
1 vanilla pod, slit lengthways, seeds scraped from pod
Dressing:
2tbsp white balsamic vinegar
4tbsp extra virgin olive oil
Little freshly ground black pepper
Method:
Add the strawberries, diced watermelon and tomatoes to a bowl. Add the salad leaves, tearing any larger pieces into bite size, basil and mint leaves. Sprinkle over the lime zest, feta, parmesan and pine nuts.
Mix the salt flakes with the vanilla in a small bowl. Whisk the balsamic vinegar and oil with a little pepper together for the dressing then add vanilla salt and dressing to the salad to taste and toss together. Serve immediately.
Cook's tip:
Vanilla salt also tastes great sprinkled over grilled seabass fillets, steak or for the more adventurous types add a little sprinkle of this to vanilla ice cream. Don't throw away the scraped vanilla pod, add it to a jam jar and top up the jar with caster sugar, screw on the lid and leave for a week for the vanilla to flavour the sugar then sprinkle over hulled strawberries, add to homemade strawberry jelly, meringue or shortbread.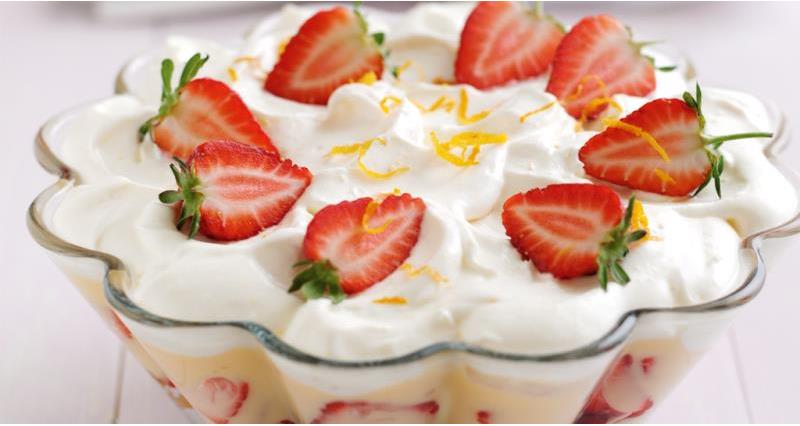 PREPARATION TIME: 25 minutes
CHILLING TIME: 2 hours
SERVES: 6
INGREDIENTS:
4 trifle sponges, about 100g in total
350g strawberries, sliced
4tbsp caster sugar
4tbsp Pimms, undiluted
425g can of reduced fat custard
200ml double cream
150g low fat natural yoghurt
Grated rind of half an orange
Grated rind of half a lemon
To decorate:
3 strawberries, halved and a few tiny pansy flowers or lemon and orange rind curls
Method:
Break the trifle sponges into pieces and arrange in a single layer in the base of a 1.2 litre glass dish. Arrange the strawberries on top, sprinkle with 2tbsp sugar then spoon over the Pimms.
Spoon the custard over the top of the fruit and spread the top into an even layer.
Whip the cream in a bowl until it just forms soft swirls then fold in the yoghurt and fruit rinds. Spoon over the custard and chill until required. Decorate with halved strawberries and pansy flowers or lemon and orange rind curls made with a zester just before serving.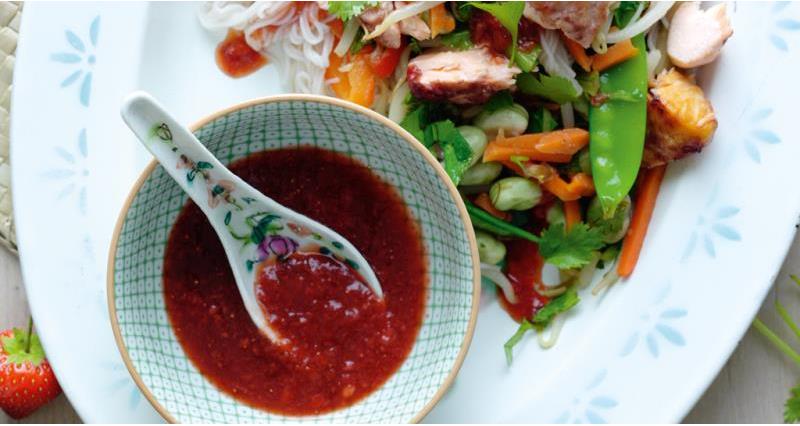 Incredibly versatile, strawberries taste great added to sweet chilli dipping sauce with extra chilli and ginger for an oriental twist:
PREPARATION TIME: 20 minutes
COOKING TIME: 8-10 minutes
SERVES: 4
INGREDIENTS:
250g strawberries, hulled
Half-1 red chilli, halved, deseeded, finely chopped
2.5cm piece root ginger, peeled, grated
1tbsp sweet chilli dipping sauce
1tbsp soy sauce
1tsp fish sauce
4 salmon steaks, each about 150g
200g thin rice noodles
1tbsp sunflower oil
300g stirfry vegetables with bamboo shoots and water chestnuts
150g frozen edamame beans
Small handful fresh coriander, roughly chopped
Lime wedges to serve
Method:
Mash the strawberries in a bowl then mix with the chilli and ginger then stir in the dipping sauce, soy and fish sauces.
Line the grill rack with foil then put the salmon steaks on top and spoon about 1tbsp of the strawberry sauce over each salmon steak. Grill for 8-10 minutes, turning over once until browned and the strawberries have made a deep coloured glaze.
Meanwhile, add the rice noodles to a saucepan of boiling water and cook for 2-3 minutes until just tender, then drain.
Heat the oil in a wok or frying pan, add the stirfry vegetables and frozen edamame beans, stirfry for 2-3 minutes. Stir in half of the strawberry sauce then add the noodles and cook for 1 minute.
Add the remaining strawberry sauce to a small bowl, set this on a large platter, stir half the coriander into the noodles then spoon on to the platter. Break the salmon into large flakes, scatter over the noodles with the remaining coriander. Serve with line wedges, if liked.
Cook's tip:
For steak fans, cut a grilled steak into thin slices and add to the noodles instead of the salmon flakes.