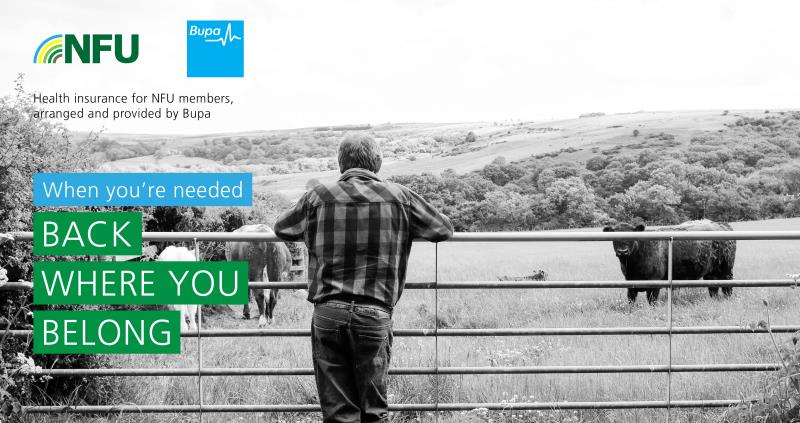 With Bupa, you can get the help you need sooner so you can be back on track doing what you love most, with those you love most.
As an NFU member, you could save 20%* on Bupa health insurance, with access to the Bupa Instant GP app. Terms and conditions apply.
Bupa health insurance provides the reassurance of cover from diagnosis through to treatment for eligible conditions covered by your policy. It's designed to complement the NHS rather than replace it and it's used for planned, not emergency, treatment.
The NFU Bupa Affinity Scheme offers:
Fast access to treatment, scans and results.

Access to an extensive network of specialist consultants.

Simple, helpful claims process. For some issues you can call directly for advice and treatment**.
**Direct Access telephone services are available as long as the symptoms are covered under the policy. If your cover excludes conditions you had before your policy started, Bupa will ask you to provide evidence from your GP that your symptoms are not pre-existing for a period of up to two years from policy start date (or five years in the case of mental health) before they can refer you to a consultant. Always call Bupa first to check your eligibility.
Specialist support teams, helping you make informed decisions that are right for you. Trained to support in key areas including cancer, heart, mental health and muscle, joint and bone conditions.

24/7 Anytime HealthLine – expertise and health advice just a phone call away.

Specialist support at every stage for cancer care. You'll be in expert hands, and have access to eligible breakthrough drugs and treatments*** with the option of chemotherapy treatment delivered by a specialist nurse in the comfort of your own home if approved by your consultant.
***Applies to eligible cancer drugs and treatment covered by your policy.
Back up that works for you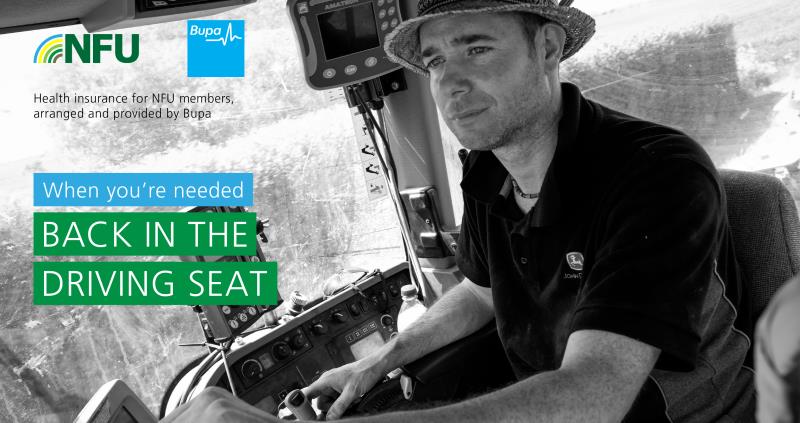 As part of the Bupa health insurance offer for NFU members, you will also get free access to the Bupa Instant GP app and free consultations. This service enables video (via Smartphone or desktop/laptop) and voice (via phone) consultations with a GP, meaning appropriate health advice can be accessed sooner and without leaving the farm. Terms and conditions apply.
We understand that buying health insurance is a big decision. As an NFU member, you will receive 20% discount* and the choice of two levels of cover – comprehensive or treatment and care – which you can adapt to help build the most suitable cover for you.
Comprehensive - this covers your medical costs for private diagnosis, treatment and aftercare for all your eligible medical needs.
Treatment and care - an option for people who are happy to be diagnosed by the NHS but would like to receive treatment privately.
For back up when you need it, phone NFU CallFirst on 0370 845 8458 for details on how you could save on Bupa health insurance as an NFU member.
NFU Countryside members should call the Countryside helpline on 0370 840 2030.
*Applies to eligible NFU members, employees and NFU Countryside members on quotes for new Bupa policies. Discounts will be reviewed on 1 September 2018 and any changes will then apply to renewals and new quotes taken out after that date. This offer may be withdrawn at any time and cannot be used in conjunction with any other offer, promotion or discount on the same product. Quotes are valid for 14 days. Terms and conditions apply.
Anytime HealthLine and Bupa Instant GP are not regulated by the Financial Conduct Authority.
Bupa health insurance is provided by Bupa Insurance Limited. Bupa Insurance Limited is authorised by the Prudential Regulation Authority and regulated by the Financial Conduct Authority and the Prudential Regulation Authority. Arranged and administered by Bupa Insurance Services Limited, which is authorised and regulated by the Financial Conduct Authority. The National Farmers' Union (NFU) is an Introducer Appointed Representative of Bupa Insurance Services Limited.