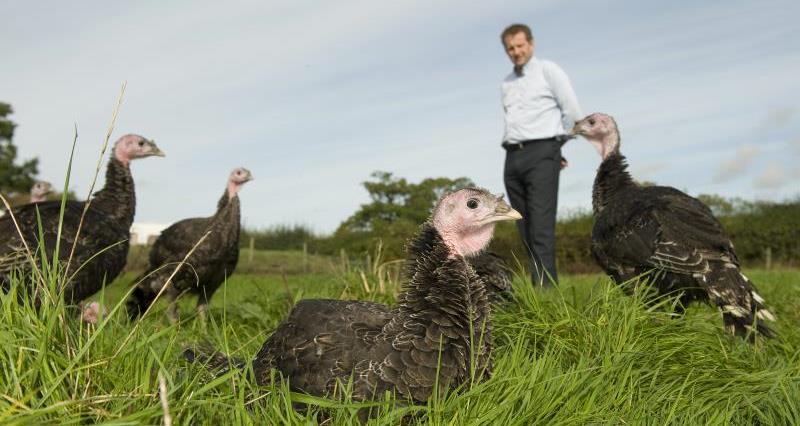 Why buy local?
Buy buying local not only will you have a delicious bird for the table but you will be supporting the local economy and the environment too.
Whether you buy direct from a nearby farm, or from a resident butcher, your purchase makes a direct contribution to the local economy; it creates jobs and is kind to the environment.
Travelling from farm to table, your turkey collects just a few food miles so buying locally is better for both the bird and for your community.
And it's worth remembering that British farmers are renowned for producing food to a world-leading standard, but that's not all they do. Our farmers carefully manage the beautiful British countryside, maintaining a landscape that is home to a diverse range of wildlife and flora. By buying local, you're helping them to do that.
Meet our great British turkey farmers:
Sally Lee and her traditional Wirral Turkeys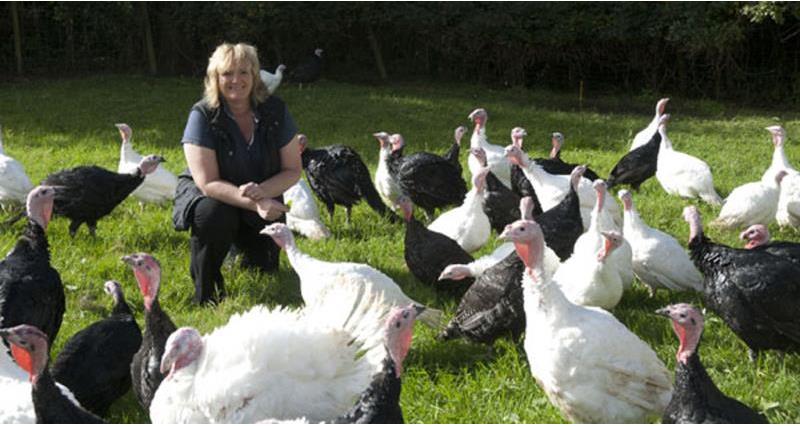 A holiday job in 1979 changed my life forever. Forced into earning money before taking up a place at Leeds University to study textile design I got a job at British United Turkeys in Cheshire. No university and no 9-5pm life from that point on!
Rearing traditional turkeys at home led to breeding and hatching traditional turkeys until 2006. I now concentrate on producing the very best traditional Christmas turkeys locally and selling Hockenhull poults for other like-minded farmers across the country.
I give my turkeys the best attention I possibly can – a large barn with fresh clean straw, access to roam, forage and climb, natural feed free from additives, a safe and happy environment in which to grow and mature.
Every year I strive to make the Christmas turkey buying experience better than the last. I try and do the things that I would appreciate and enjoy as a wife and mother who is passionate about the protection of the local community and British farming.
Through the year I try hard to follow my heart on buying food and cooking meals for my family but have been known to use a variety of excuses – too busy, too tired, too lazy, too much wine etc. However Christmas has been and always will be SPECIAL!
Every Christmas I want my customers to drive out of the yard happier than ever with their purchase. Special things do come at a cost but when you know that every effort has been put into making that purchase as perfect as possible it is money well spent. Value for money should not always mean cheap.
I grow white, bronze and black traditional turkeys. In 2012 I launched a line of delicious genuinely homemade stuffings, cranberry sauce and gravy. 2013 will see the addition of Gloucester Old Spot gammons, bacon and sausage.
All my turkeys are prepared on the farm and sold within a 20 mile radius. I believe very strongly that a bird which has been beautifully prepared deserves a decent send off.
So my Turkeys are placed in branded boxes with a pop up timer, greaseproof, rosemary and recipe leaflet. Customers leave the farm to the sound of Christmas carols, filled with mince pies, sherry and a big fat smile at having just purchased something very special for a traditional family Christmas.
Visit the Traditional Wirral Turkeys website here
Paul Kelly and the KellyBronze Story

It all began back in 1981 when Derek Kelly supplied a local Essex butcher with a few Bronze and Black Christmas turkeys from the farm s rare breeding collection.
Customers raved over the delicious flavour and the following year the family collected together the few remaining flocks of traditional Bronze turkeys. These small flocks were all slow growing strains that had retained the original flavour of turkey.

Today's KellyBronze is a mixture of all these bloodlines blended to give the ultimate in eating quality. The exact combination is a closely kept secret. The best traditional farming methods are key to the KellyBronze story and, again, the pursuit of excellence is continual.

Milestones have included using no hormones, antibiotics, additives or animal protein. Care for the environment and care for the welfare of the birds.
It goes without saying that KellyBronze turkeys are free range. Now at the helm, Paul Kelly says: Everyone who works for us gets huge satisfaction from our turkey breeding and farming programme and it shows in the turkeys we produce.
Turkeys in trees?

Paul has re-introduced his famous turkeys to the wild. The birds spend their days foraging in bluebell woods and sunning themselves in open pasture. They shelter from the rain under bushes and fly into trees to roost at night.
They are free to wander where they want, when they want.
Paul said: "Our philosophy is always: What can we do to make it better? Not: What can we do to make it cheaper? It's all because we are passionate about our turkeys - and we believe it really makes a difference in the birds we give our customers."
Visit the Kelly Bronze website here
Frenchbeer Farm Turkeys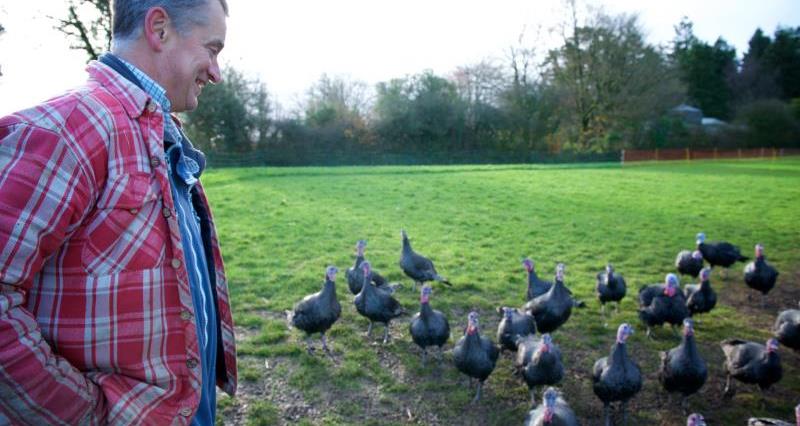 Frenchbeer farm have been producing traditional turkeys for more than 30 years. Their farm is situated in the Dartmoor National Park as tenants of the Duchy of Cornwall.
After introducing turkeys onto the farm in 1986 to help give the business a boost alongside their hill beef and lamb, they have grown their production from just 70 turkeys to 3,500 this year.
Mike and Christine Malseed produce white barn-reared, free-range bronze and a flock of organic turkeys, selling them direct from the farm to the Christmas table via farm shops and butchers all over Devon.
"We're a family run traditional farm and we take a passion in what we do. It's an exciting time now that we're really selling that many Christmas dinners," Christine Malseed, of Frenchbeer farm, said.
"Our turkeys are self-basting because they have the layer of fat as they're reared for six months. The customer wants them slow-reared and they need that time really.
"If Mrs Brown wants a turkey, she'll get a turkey."
The farm has complete control over their process from putting the day-old poults on the farm when they hatch in early summer, all the way to handing it over to you days before Christmas.
The birds on the farm have all the fields and meadows they could want. They are all able to range and forage on grass, herbs and berries. They're grown to full maturity, are dry-plucked by hand and game-hung for 10 days – all to enhance the flavour.
Frenchbeer farm go the extra mile for their suppliers and provide them all with turkey crib-sheets so the staff are as clued up as they can be when they're selling great British turkeys to the public.
The detailed process the Malseed family use to produce their turkeys mean that all the flavour is locked into the whole bird to make sure that Mrs Brown and all of the British shoppers get the best turkey for their Christmas dinner they can.
Visit the Frenchbeer farm website here.
John Wright, Free Range Bronze Turkeys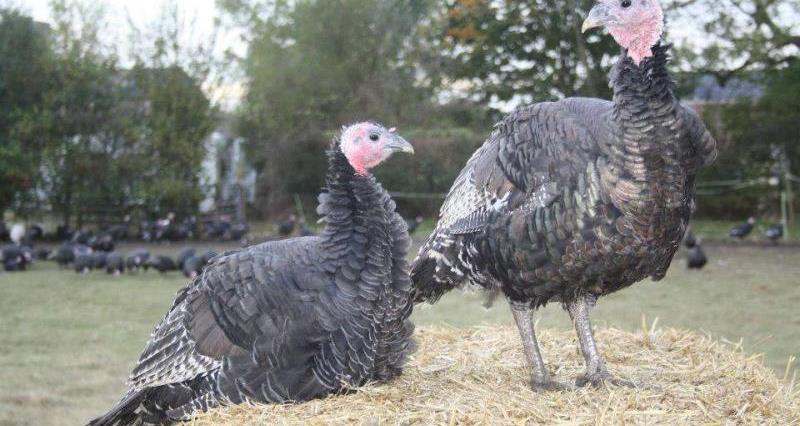 Half the job is getting the word out there, and that's why John Wright will take the time out of his daily life on farm to hit food festivals, markets, anywhere that will sell food to get the public interested in turkey.
Armed with a little BBQ and different cuts of turkey, John is on his own mission to educate the public about the nation's favourite Christmas meat and get them trying different parts of the bird they may not normally try.
And the orders swiftly follow, according to John.
"When I do the sampling they all say it's so succulent. I am so glad I'm converting people. It only takes half an hour to cook so I have a continuing line for turkey sandwiches and I give them away," says John Wright, farmer and owner of John Wright Turkeys.
"They absolutely pile it down and I take about 10 orders just there. It's really kicking off now with the orders."
The farm produces traditional bronze turkeys that mature slowly on grass to develop their full and succulent flavour. They are hand-plucked and game-hung to get a bird that is tender, juicy and ensures only the best turkey will grace your table this Christmas.
The farm prides itself on the environment the turkeys can enjoy and they have wild nectar and pollen mixes, as well as a proper meadow so they can forage.
They don't just produce turkeys for Christmas dinner – they even give them away as 'backyard turkeys' for families as pets.
According to the farm, some families are so enamoured with the birds they just want to take them home, and John says they make "great pets".
You can visit John Wright Turkeys online here.
Chris Rumming, Lydiard Turkeys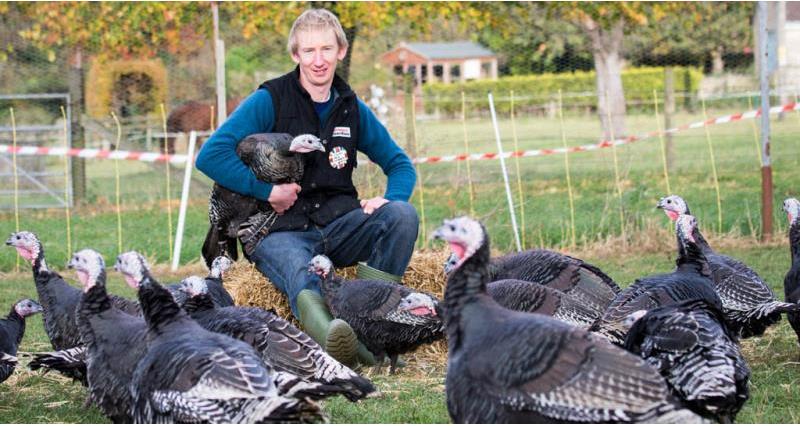 Quality over quantity is the motto of Chris Rumming at Lydiard Turkeys.
They believe that their small-scale production allows them to pay that extra attention to detail needed in order to produce an exceptional turkey.
The Swindon-based producers raise their birds in the highest-possible welfare conditions with double the paddock space of free-range birds and they are grown to twice the age of fast-growing strains.
They recently invited the public down on to the farm to experience what really goes into bringing a turkey onto their plate at Christmas.
"I was pleasantly surprised that so many people wanted to come and learn more about farming but people should want to know about how their food is produced and it was a pleasure to give them the opportunity," Mr Rumming, owner of Lydiard Turkeys, said.
"The focus was on the turkeys and we explained the benefits of our small-scale production. Visitors got to see the birds out and about, pecking in the paddock, and had a tour of our butchery, packing room and fridge."
"I don't think we can afford not to have an open day every year. If you're proud of what you do you must show people."
The farm are able to carry out every part of the processing on farm which gives them complete control of every facet and complete traceability for their product.
The Rumming's have been on the farm since 1914, so they are no strangers to the ever-changing world of agriculture.
They produced milk on the farm until 2002 when they moved into beef production, as well as reintroducing sheep on the farm. It wasn't until 2008 that they introduced turkeys on the farm, slowly growing in numbers and transforming their paddock into a full fruit-orchard.
Much like their farm, the turkey business has evolved in those eight years to become a highly-respected and quality producer of Christmas turkeys.
Visit the Lydiard Turkeys website here.
Rob Caldecott, Caldecott Farms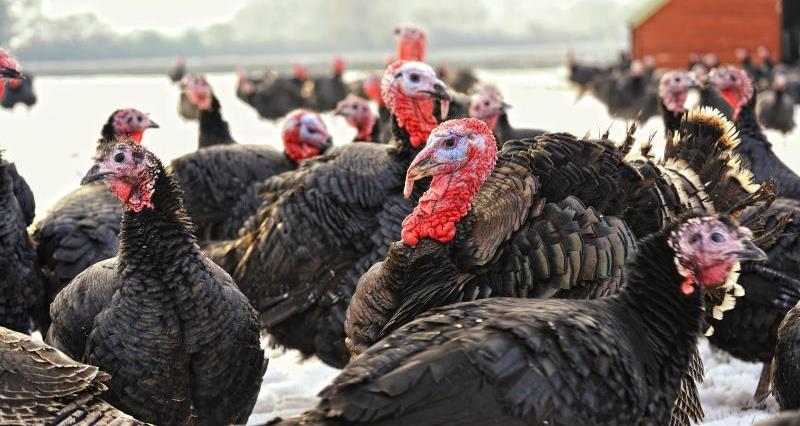 Since Rob Caldecott re-established his Christmas poultry businesses back in 1989 with 1000 geese, he has gone on to experience 27 years of success.
From starting with nothing, he slowly built up the business. He was rearing 50 turkeys a week by 1991 and onto 150 a week by 1992 with another 2000 being produced for Christmas.
With a dedicated pastureland at their 40 acre farm in Worcestershire, they're producing a whopping 60,000 turkeys in 2015 and they're looking to build on that success in 2016 with an even bigger number.
However, it's not just poultry they're passionate about. The farm has converted a whole four acre field to a conservation area complete with countless species of birds and wildlife, all thriving in the environment set aside by the Caldecott's.
Their growth can be put down to the hard work and passion that the Caldecott's possess and they've worked hard not to outgrow themselves, only using profits to pursue carefully selected expansion.
"We have made sure that we knew where the ceiling was. Caldecott's produce a niche product for a discerning client, we are not a commodity," Rob Caldecott said.
"The biggest buzz that I get is that when I first began, packing eggs, it was all about price because your product was a commodity like everyone else's.
"I get fulfilment from the fact that we are now producing a high quality for a higher end clientele, it's a niche product."
His passion stemmed from collecting eggs at the tender age of 14 for 30p an hour on a neighbouring farm and that developed into entering the poultry career full-time when he left school at 16.
Rob hasn't looked back since and his free-range bronze turkeys and barn-reared white turkeys still take pride of place on the dinner table at Christmas 27 years later.