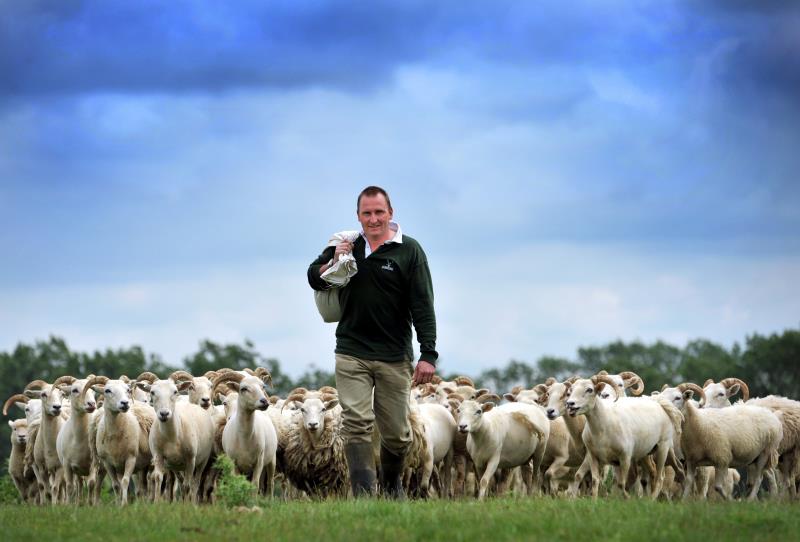 FOOD | ENVIRONMENT | ANIMAL WELFARE | ECONOMY | ENERGY | JOBS

British farmers are proud to produce quality food while investing time, energy and resources into high standards of animal health and welfare.
When caring for animals, British farmers consider a wide array of factors to meet the health and welfare needs of their animals, providing suitable housing, bedding and correct nutrition, as well as using medicines responsibly. Find about RUMA - the Responsible Use of Medicines in Agriculture Alliance.
Farmers work closely with a wide range of experts to ensure their animals are kept healthy. For example, nutritionists to advise on diets and vets to advise on health as well as the responsible use of medicines and vaccines when required.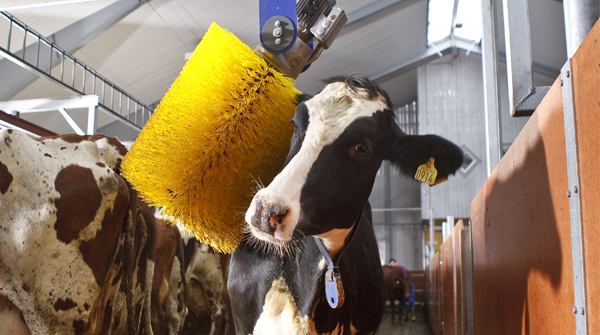 Many dairies have robotic cow brushes. The cows love the way they feel and they keep the cows clean

Over the years, British farmers have taken a leading role in developing and upholding high standards of animal welfare, establishing a global reputation for producing quality food while making animal health and welfare an absolute priority.
Here are a couple examples of how British farmers have pushed animal welfare forward in recent years:
In 1999, the UK declared an outright ban on sow stall housing (metal cages). A full 13 years later, the EU introduced a partial ban however, a number of countries are yet to comply.
In 2012, egg farmers invested £400m to convert old-style 'conventional cages' into enriched colony cages to meet new standards. These enriched environments give chickens perches, nesting areas, a scratch pad and more space.
Food standard schemes provide third party assurance on animal welfare, food safety, traceability and environmental protection, and are regularly checked by independent experts.
With 88,000 farmer members, Red Tractor is the largest food standards scheme in the UK, representing some of the most comprehensive and respected standards in the world.

What does the Red Tractor animal welfare standard mean?
Red Tractor standards ensure that farmers are competent to look after animals, understand their needs and that the animals' health and welfare is regularly checked.
The Red Tractor logo means that animals have adequate space, and safe and comfortable housing or shelter.
Animals, like people, need a nutritious diet to stay healthy. That's why Red Tractor standards require that all animals have unlimited access to fresh, clean drinking water and are provided with well-balanced diets.
Watch the video below about British dairy farmer James Scarr and the high animal welfare standards on his Red Tractor assured farm:
What's the key to poultry welfare?
British egg farmer Duncan Priestner explains how farmers and shoppers are now in a new era since the last of the battery cage systems were scrapped in the UK in 2012. He writes: "The egg industry has spent an estimated £400 million on enriched cages - new welfare systems of production giving birds access to perches, nesting areas, a scratch area and more space."
Find out more about poultry welfare here.
What's a British dairy like?
Rachel Hibberd, NFU graduate trainee visited a large dairy with 1,400 dairy cows and explains what she saw: "I turned the corner of the surprisingly clean yard and breathed a huge sigh of relief. The sheds were spacious, open and bright. The cows were happily mooching about, some snoozing, some eating and some walking around visiting their mates. They had plenty of room.
"It helps me see both sides of the argument. I am an animal lover and I understand that consumers want to buy products that come from happy cows. It must be considered, that just because a farm has more than 700 cows it does not mean the animal welfare is worse."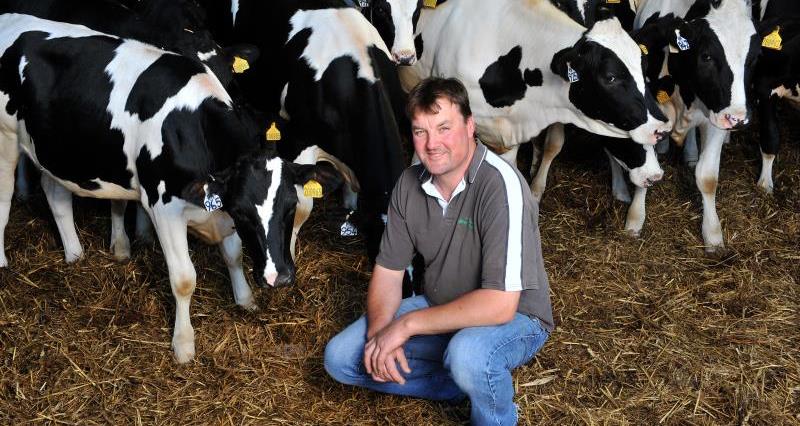 Dairy farmers monitor the health of each of their cows through working closely with them every day
To make sure their animals are in top health, British farmers follow best practice guidelines determined by experts and based on science. British farmers are commited to using medicines and treatments as little as possible but as much as is necessary so animals stay healthy, and in turn, our food is safe to eat.
Medicines are highly regulated and the rules for how they are used in farming are strict – they have to go through rigorous testing to ensure they are safe, before they become available and can be prescribed by vets.
But medicines are just one tool that British farmers employ to maintain the health of their animals –other methods include optimum feed, good quality water and decisions around bedding and housing. Some animals have special requirements; for example sheep need regular shearing in order to stay healthy. Though farmers may sell the wool, it's not usually worth enough to cover the cost of shearing – rather, it is done for the benefit of the flock.
All farmers that farm to RT standards and other accredited schemes must maintain a written health plan and medicine records so they can monitor the health of their animals and help prevent them from becoming unwell. This also helps the farmer know when to call the vet for expert advice.
What is RUMA?
RUMA (Responsible Use of Medicines in Agriculture) is an organisation that produces scientifically-based guidelines for farmers, vets and advisers to help promote the highest standards of food safety, animal health and animal welfare in the British livestock industry.
It is a unique, independent non-profit group involving organisations that represent all stages of the food chain, from farm to fork.
RUMA aims to produce a co-ordinated and integrated approach to best practice in animal medicine use. It has an established communications network with government departments and many non-governmental organisations.

What does RUMA strive for?
The main aims of RUMA are to:
Identify issues of scientific and public concern in the areas of public health, animal health, animal welfare and the environment which relate to animal medicine use.
Provide an informed consensus view on identified issues, developed by discussion and consultation.
Establish and communicate guidelines which describe "best practice" in the use of animal medicines.
Advise industry on the implementation of "best practice", especially in the development of codes of practice and assurance schemes.
Communicate and consult on:

The effective use of animal medicines.
The regulation of livestock production and use of animal medicines.

Promote the appropriate use of authorised medicines for disease prevention and control.
Liaise with National Authorities, including DEFRA, Veterinary Medicines Directorate (VMD) and Food Standards Agency (FSA).
Identify practical strategies to sustain the responsible use of medicines.
Find out more about RUMA here.
How do farmers use medicines to manage animal health?
NFU animal health and welfare adviser Rebecca Veale explains how veterinary medicines are used to prevent, treat and control disease in animals.
She writes: "Farmers are legally responsible for the health and welfare of their stock so, while veterinary medicines are expensive, they are a key tool in ensuring this is not compromised. "They never replace good husbandry and management and many of our standards, such as Red Tractor, which a high proportion of UK farmers adhere to, incorporate all these elements."
Is animal health and welfare important to you?
Support British farmers by joining our community and you'll receive our monthly back British farming newsletter packed with the latest countryside news, food tips and competition opportunities. Sign up here!