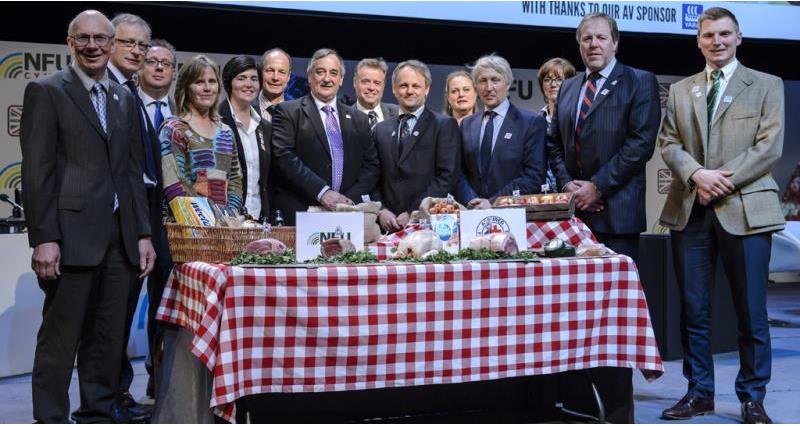 Why is farming important? | The great British hamper | How to play your part
A delicious hamper filled with quality British produce has marked an important time for British farming, but how and why?
Brexit has lots of implications for British farming, but one that's really been in the spotlight is that new trade deals will need to be agreed now that we are leaving the EU. UK food and non-alcoholic drinks exports are worth a whopping £12.3billion so it's vital that British farming is protected and isn't traded off against other sectors.
What's more, new imports could have wide ranging implications for British farming – an industry that is the bedrock of food and farming manufacturing, which is worth £108billion to the economy and provides jobs to around 3.9 million people. British farming is renowned for the quality and traceability of its produce, with some of the highest animal welfare standards in the world. It's perhaps little wonder then that in a recent poll by YouGov, 85% of those surveyed agreed that it's important for Britain to have a productive and resilient farming industry,
In charge of negotiating these trade deals and identifying opportunities for exports on behalf of British farmers is Liam Fox MP – Secretary of State for International Trade.
To highlight the vital role that British farming can play, a group of leading British farmers joined forces to collate a hamper of delicious, quality British food – with the finished product hand delivered to the Department for International Trade.
Hailing from across England and Wales, the farmers took to the stage at the annual National Farmers Union conference to collate the hamper, with each representing a different sector of farming produce.
Designed to fly the flag for both British quality and traceability, the hamper included the finest British beef and lamb, Red Tractor assured beer and Weetabix, quality British pork and chicken, Lion stamped British eggs, a selection of delicious British cheese, a bottle of cold pressed rapeseed oil, home-brew British hops, fresh British apples, carrots and potatoes, a bag of British breakfast oats, a tin of British mustard and British grown sugar.
NFU President Meurig Raymond said the hamper will send a clear message that the high standards of British produce must be promoted, and urged policy makers to not undersell British farmers.
The 13 NFU members onstage included:
beef farmer Rachel Hallos from Ripponden, Yorkshire
vegetable grower Guy Poskitt, from Goole, Yorkshire
egg producer Duncan Priestner from Lymm, Cheshire
potato grower David Armstrong from Bardney, Lincoln
pig farmer Andy Baugh from Wellow, Nottinghamshire
beef and cereals farmer Richard Bower from Penkridge, Staffordshire
apples and hops grower Ali Capper from Suckley, Worcestershire
dairy farmer Abi Reader from Wenvoe, Glamorgan
sheep farmer Kate Beavan from Llanvetherine, Wales
fruit grower Richard Pascall from Maidstone, Kent
arable farmer Mike Hambly from Callington, Cornwall
arable farmer Andrew Blenkiron from Euston, Suffolk
sugar beet and mustard grower Michael Sly from Thorney, Peterborough.
There are lots of simple ways you can play your part to Back British Farming. From buying British produce, to taking a closer look at food labels, choosing seasonal produce, or being a responsible countryside custodian. To help you do this you'll find supermarket guides, our fruit and veg seasonality guide and many more suggestions on how you can Back Britishg Farming here.