Rural crime is up and it's a big worry for farmers. Rural crime costs the UK £42.5 million a year.
The NFU's Rural Crime Report was launched in July 2017. It calls for MPs to ask police forces to prioritise rural crime and encourage greater reporting of the issue. Read it here.
We can all play a part keeping our eyes and ears open to prevent instances of rural crime, reduce opportunist theft and ensure the countryside remains an attractive and safe place to be. Farms are often targeted with machinery, livestock and even diesel oil being stolen, farmers can feel vulnerable and any theft can really impact on their ability to produce food and keep the countryside beautiful. It is not only theft though, instances of fly-tipping and illegal animal activity such as hare coursing is also on the increase.
If you're out and about in the countryside here's what you can do to help:
Be observant, report anything that seems odd and unusual
Do not intervene if you see something suspicious, but take photos as evidence
Fly-tipping – contact local authority
Hare coursing – remember this is illegal, report to police
Fly-tipping has affected two thirds of farmers; it blights our countryside and provides a huge problem for landowners as it's their responsibility to pay for the costly removal. Rupert, a farmer from the West Midlands experiences fly-tipping on his land on a weekly basis. Instances have ranged from a few bags of domestic waste through to lorry loads of commercial waste.
A lorry load of industrial waste cost £800 to remove and despite Rupert locking gates he's still experiencing the horrors of fly-tipping on a regular basis. Greater vigilance by all of us will reduce opportunities but as many farmers who have been victims say even when gates are locked criminals are organised and come prepared to force entry.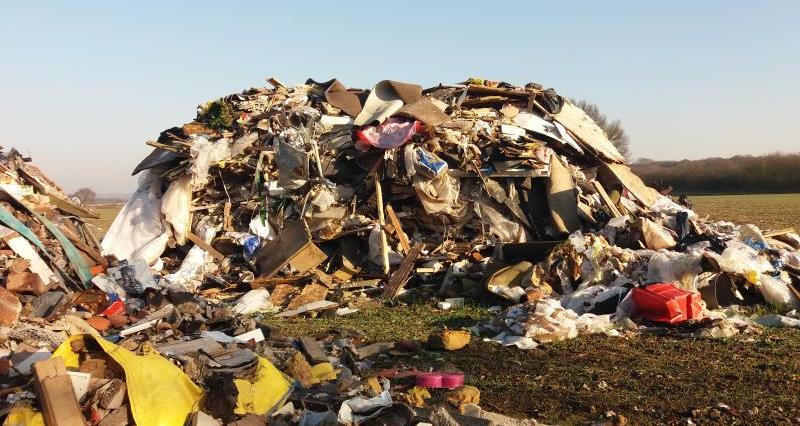 Hare coursing is barbaric and illegal but instances are on the increase, especially as we come towards late summer and fields have been harvested. Hare coursing activity can be conducted by gangs driven by gambling, who are intimidating to farmers who often work alone in fields. They not only trespass and cause damage to property and land but also impact wildlife and instances of violence have been reported. A farmer who for obvious reasons didn't wish to be identified says he fears for the safety of his family as the criminal gangs who hare course on his land use violence and intimidation. He cites without police support the instances are increasing and his land is being damaged by the ongoing illegal activity.
Theft in the countryside is also on the increase and it's not just machinery being stolen. Even farmers who've invested in additional security suffer on-going attacks. The Scott's who have an arable farm in the South East spent £15,000 on additional security after a violent robbery, but only six months later they were again victims with several vehicles being stolen and Mr Scott requiring hospital treatment. Animal theft is also increasing with sheep rustling a particular problem. Each week, at least one farmer falls victim, losing hundreds of livestock, which are rarely traced. The financial and emotional cost of livestock theft is huge, imagine loosing animals you've nurtured since birth, it's a cruel business. With many farms being isolated and communications sometimes poor, organised and opportunist thieves are increasingly targeting them, sometimes with violent consequences.
The costs to the industry and individual are huge. Crime is so often associated with urban areas but the NFU are highlighting how instances of rural crime are on the increase with devastating impacts for individual farmers and their businesses and of course the wider countryside. We need to build up a true picture of rural crime and we need your help. Have you been affected by rural crime? If you have photos or a story, contact us at Y2FtcGFpZ25zQG5mdS5vcmcudWs=
The message is clear, we all need to be alert and report criminal activity to accurately reflect the impact crime is having on the countryside and raise it up the political agenda.