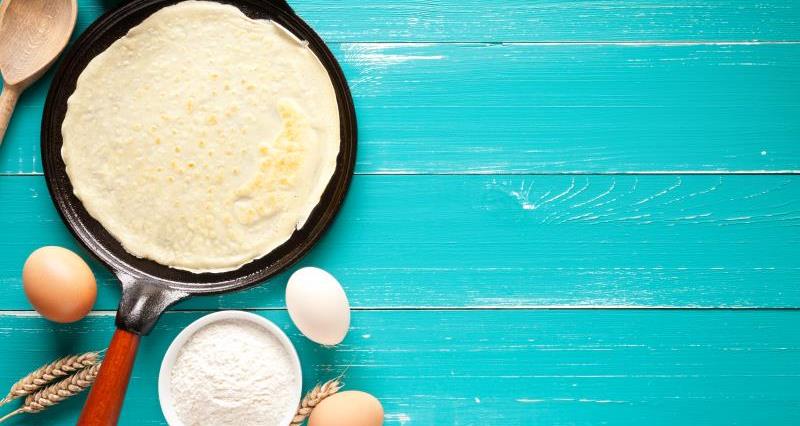 Are you coming unstuck with your choice of pancake toppings? Do you dream of having something different to dress your pancakes with? Well you've come to the right place!
What to look for | Find your topping | Competition
From rhubarb compote to smoked bacon, we know you'll be keen to try these ideas – which have the added benefit of making your Pancake Day extra British!
You can celebrate beautiful British produce when you're making the mix for your pancakes in three easy ways:
Look for the lion: Look for British Lion Quality Mark eggs, which have been produced to the highest safety standards
Choose British flour: Buying British flour means you're supporting the thousands of farmers who grow wheat right here at home
The white stuff: Check to make sure the milk you're buying comes from British dairy farms
Whether it's an old classic or uniquely modern, we've got the best of British pancake toppings to choose from.
Whatever you choose, always look for the Red Tractor logo – it's your guarantee that produce can be traced back to a British farm, run to stringent standards.
Savoury toppings to savour:
Bacon and eggs
Mushrooms and cheese (try frying the mushrooms first to make them nice and juicy)
Sweet and indulgent:
A light dusting of granulated sugar
Blackberries, raspberries and strawberries from the freezer
When you're choosing sugar, be sure to go with Red Tractor assured Silver Spoon, made from British-grown sugar beet.
We'd love to hear your suggestions for delicious pancake toppings, made from British ingredients.
Please comment below, or post on our Facebook page for a chance to win a specialist pancake frying pan in our pancake prize draw!
Read the full terms and conditions here.
See also: Recipe for Crepes Suzette