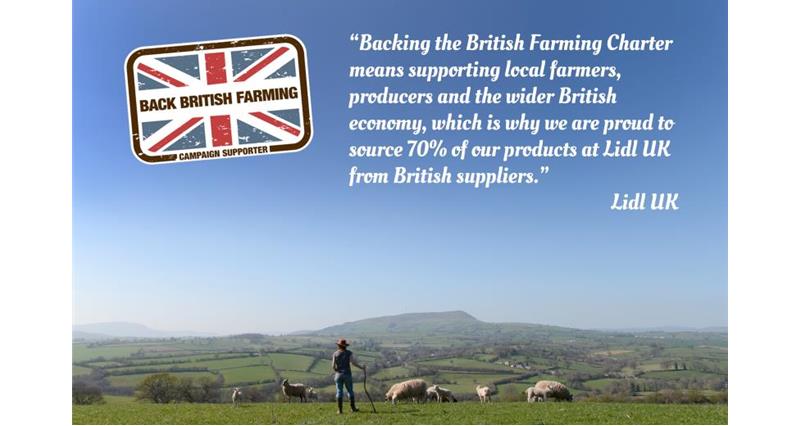 Lidl UK has recently announced its commitment to support British food and farming.
The supermarket, which has more than 630 stores across Britain, has signed up to the NFU's Back British Farming Charter.
The Charter, launched four years ago, is at the centre of the NFU's Back British Farming campaign that calls on a commitment from retailers, the food manufacturing industry, consumers and politicians to put farming at the heart of food production policies¹..
The announcement is good news for shoppers like you. A staggering 86 per cent of you have told us you want to buy more British food. Check out our supermarket guide before you next head to the shops to see the sourcing policies for your regular supermarket and make it easier for you to choose British produce.
NFU President Meurig Raymond said: "We are delighted that Lidl UK has pledged its support to the NFU's Back British Farming Charter, highlighting a commitment to the future of the British farming industry.
"Today's pledge by Lidl UK shows customers that they are committed to providing high quality products which are associated with British agriculture.
"Our farmers and growers invest huge amounts of time, effort and resource to produce quality food which complies with leading animal health and welfare and environmental standards. To produce more food farmers and growers need the support of retailers like Lidl UK to allow them to do their job. Our Charter calls for a commitment to put British farming at the heart of food production policies and decision making.
"We thank Lidl UK for its commitment and wish to see other food processors and manufacturers, and politicians taking the Back British Farming message seriously."
Did you know that British farming is the bedrock of the nation's food and drink industry? For every £1 invested in farming, it gives £7.40 back to the nation. British farming is also the largest manufacturing sector in the UK – worth £108 billion and providing jobs for nearly 4 million people.