It's a bumper year for English wine! It appears that 2018 is shaping up to be a record-breaking year for Britain's wine growers. They're anticipating both large volumes and great quality and one of the earliest harvests in living memory.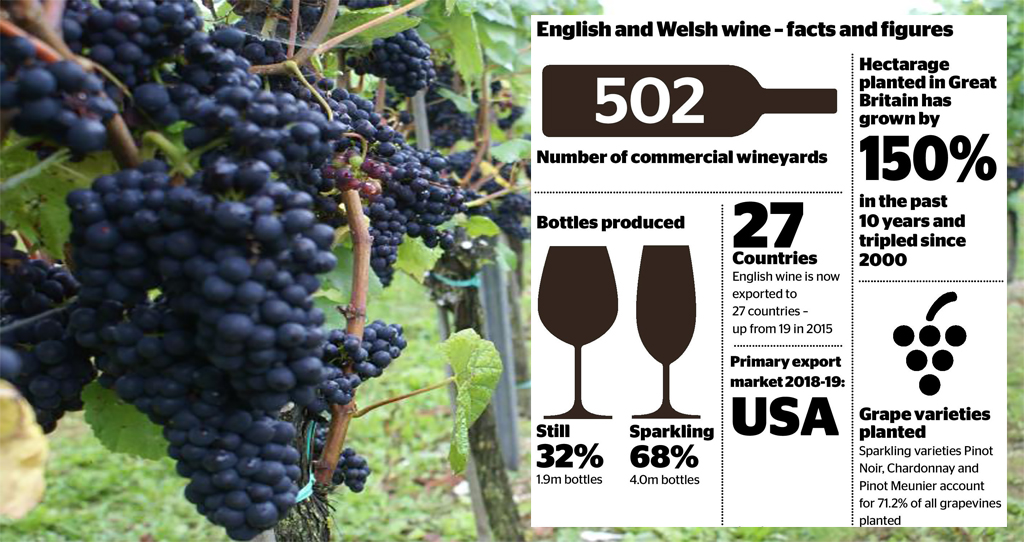 It's been a dream growing season and a far cry from last year when many vineyards were devastated by late April frosts, meaning yields were down.
But the unpredictability of growing vines isn't stopping people investing in land suitable for wine growing, and in the South East, in particular, even some of the top French Champagne houses are looking for suitable sites as England's reputation for having great 'terroir' is becoming better known.
The predicted healthy harvest will help to cement the UK's place as one of the up-and-coming wine growing regions of the world.
"The whole wine industry is excited about the potential this harvest brings, which will probably lead to the highest level of production ever," says Simon Robinson, chairman of the industry's national body, Wines of Great Britain (WineGB) and owner of Hampshire-based Hattingley Valley.

"Growing conditions across the country have been ideal and this shows in both excellent quality and high yield. This is very welcome as sales of wine continue to rise rapidly, both domestically and overseas.

"The wine industry is a bright star in the UK agricultural sector which is concerned about the post-Brexit world. The wine producers of Great Britain are looking forward to the future with increasing confidence. This year looks to be a very welcome harvest, although as many have commented, nobody counts on anything until the grapes are safely in the tank or barrel!"

There's also a positive outlook for this year's vintage amongst Welsh producers. Robb Merchant, owner of White Castle Vineyard and chairman of the Welsh Vineyards Association, predicts his largest harvest ever.

"We're expecting to start harvesting two weeks earlier than last year and a month earlier than average. The grapes are looking very clean and we're confident that the quality will be excellent," he says. "I've spoken to many Welsh vineyard owners over the past few days who are all reporting earlier harvest dates and large crops."
These sentiments are being echoed throughout the British wine growing industry.
The anticipated large harvest comes at a time of unprecedented growth for the wine industry of Great Britain, with the hectarage of vines planted doubling in the past 10 years and tripling since 2000. In the past two years alone, more than 2.5 million vines have been planted in England and Wales, with the result that 2,554 hectares (6,308 acres) are now under vine.
The majority of wine in England and Wales comes from the South East region (75%), with 11% from the South West, 5% from East Anglia, 2% from Wales and 7% elsewhere.