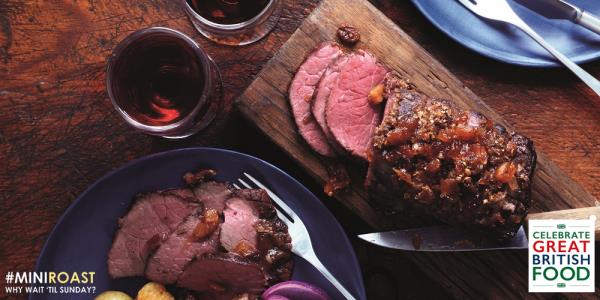 We all love a roast but have you ever thought of having one midweek?
The latest event in a year long calendar of activity as part of Celebrate Great British Food brings us to the midweek mini-roast.
The mini-roast is just like the familiar joint of British beef and lamb we all know and love, just smaller and takes less than one hour to cook. Big on taste but quick and easy to prepare and perfect to share!
From beef with a simple piri piri glaze and wedges, to lamb with red pesto, the mini roast is so versatile and delicious it'll brighten up any midweek meal.
Over the next four weeks keep your eyes peeled for adverts on ITV, SKY and Channel 4 along with a series of short, simple online recipe videos, each showing just how quick and easy mini roasts are to cook.
You might even spot some of the country's top food bloggers putting their own spin on things in your daily paper and across social media, showing that the mini roast is the perfect date night dish for couples.
To top it off there is also the chance to win a mini break with a mini roast running in conjunction with Red Tractor's competition. Head over to the Red Tractor website from Monday 24th October to be in with a chance to win.
For everything else take a look at the Simply Beef and Lamb website or Facebook page and put an end to mundane midweek meals!