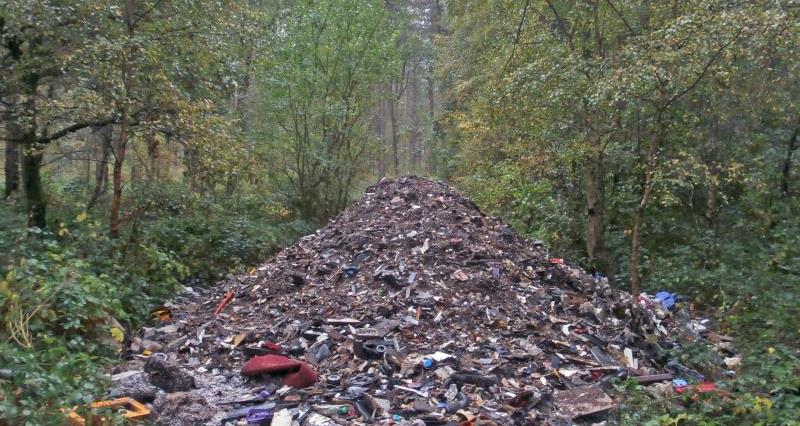 The British countryside is beautiful at this time of year – with clear, crisp days offering walkers stunning views across farm land.
What to do if you see illegal fly-tipping | How to dispose of unwanted waste
Sadly, this image of an iconic wonderland is all too often shattered by illegal fly tipping, blighting the landscape and impacting on farmers, who have to spend time and money to get rubbish removed.
Shockingly, two thirds of all farms are affected, with 900,000 incidents of fly-tipping across England last year – a five per cent increase from 2015.
Rubbish is dangerous to human health, harmful to wildlife and livestock, and in some cases, pollutes watercourses and contaminates land.
And with rural tourism contributing £130 million to the nation's economy, we believe more needs to be done to protect the countryside.
While farmers and landowners do all they can, but worryingly fly-tippers are intent on breaking the law, and think nothing of cutting padlocks, breaking gates and smashing cameras.
To help raise awareness of the issue, we joined forces with Keep Britain Tidy earlier this month by taking part in the campaign's annual conference, calling for improved partnership working on prevention, clean up and prosecution.
If you notice illegal fly-tipping, please help us by:
Reporting cases to your local authority. The more quickly cases are reported, the better the chance of catching the culprits
Calling the police using the non-emergency number, 101
For large scale or hazardous fly-tipped waste, contacting the Environment Agency on 0800 807060.
Need help to dispose of unwanted waste? Here are our top tips:
Give away what you don't need through Freecycle
Donate unwanted goods to charity or local community furniture projects. Some will even offer a collection service
Take it to your local household waste recycling centre – visit your local authority's website for details
Arrange for your council to collect large items from your house. If you use a private provider, make sure they are a registered waste carrier. Ask for their waste carrier number and a receipt which includes a business address – then phone 03708 506506 to check their status