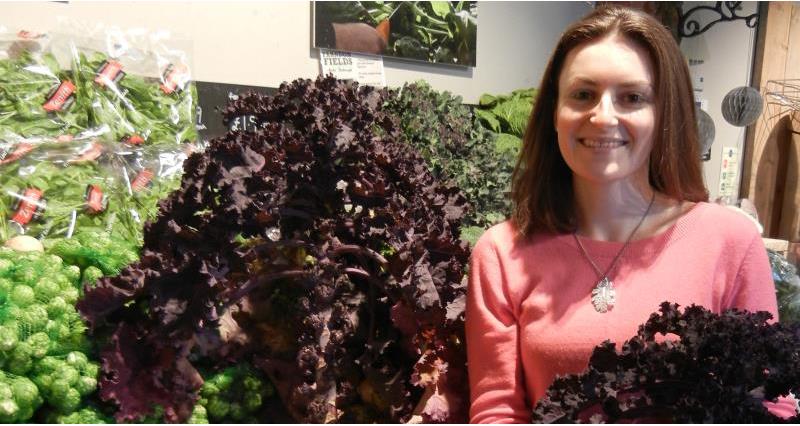 On the tenth day of Christmas….
I went to my local farm shop and bought…. flower sprouts! The new kid on the block this Christmas is the tasty, sweet and tender flower sprout. Developed from Brussels sprouts, but with a twist, these fabulous new vegetables are so versatile; you'll wonder why nobody thought about them before!
Except they did… fifteen or so years ago, this hybrid vegetable was developed: it's actually a cross between sprouts and kale, but the resulting plant is a beautiful purple-leaved, almost ornamental object, about three feet tall and, all the way up the stem are the delicious "flowers". Surrey-based firm Tozer Seeds bred the new vegetable in the late 1990s as a way of making sprouts more palatable, with a milder and sweeter taste, and they can be boiled, steamed, stir-fried or cooked in a microwave.
Amongst the national retailer outlets where flower sprouts can be found, they're also stocked at Farndon Fields Farm Shop in Market Harborough, which is run by the Stokes family. Since the mid-1980s, Kevin Stokes and his wife Milly have grown and sold potatoes and vegetables; steadily expanding over the years, their fabulous farm shop, the "Farmer's Kitchen" restaurant and farm now employ more than 60 people and the next generation, daughter Nic, is now part of the story.
Kevin began to grow flower sprouts three years ago, before that they were only licensed to one or two of the main retailers, but now are more widely available, though they still aren't a popular vegetable choice. And that's the conundrum… they're a fantastic vegetable but they're probably the farming industry's best kept vegetable secret. Shall we let everyone in on it, or shall we keep it to ourselves?
Nic Stokes says: "Our family grows about 40 different vegetables on the farm, flower sprouts are a fairly new crop for us, but they are a taste sensation. They have a sweet, nutty flavour, and a nicer texture than kale. They're bite-size, easy to cook and so versatile."
Whilst talking to Nic, a Farndon Fields regular customer overheard our conversation and added: "Flower sprouts are fantastic – we had them for Sunday lunch this week. I baked cauliflower and broccoli in the oven in rapeseed oil and a sprinkle of turmeric, then blanched some flower sprouts in boiling water, drained them then added them to the baking tray and finished them off in the oven with another sprinkling of turmeric and some salt. They're a wonderful vegetable and we love them at home!"
So, if you want to be part of Christmas's best kept vegetable secret, watch out for home-grown flower sprouts in your local farm shop, greengrocer or supermarket. They're fabulous, nutritious and when you eat them, you know you'll be backing British farming!