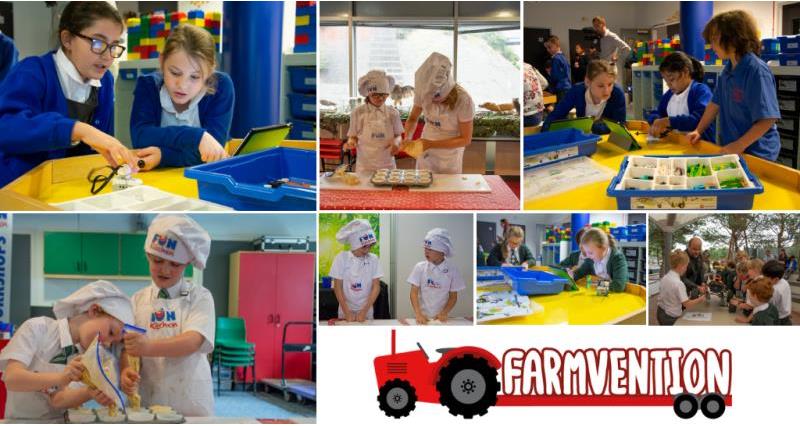 The NFU's national Farmvention competition is now officially open for entries!
This new national competition has been designed by the NFU's education team to help teach primary school children where their food comes from and the day-to-day challenges faced by farmers and growers.
Farmvention is a national STEM (science, technology, engineering and maths) competition run by the NFU. There are three exciting problem based challenges that can be entered by individual children or in teams. Designed to make children think about the day to day issues faced by farmers and growers in England and Wales, each challenge is supported by curriculum linked resources. The winning team will have the opportunity to pitch their idea at an event at the House of Commons during British Science Week 2019. Prizes include fully-funded farm visits, robotics kits and an ultimate money-can't-buy prize of having their school turned into a farm for the day.
What do the challenges look like?
Challenge 1 asks children to design a tractor of the future. They could try to address some of the real-life problems faced by farmers and growers in their design. For example: the time taken to pick some types of crops by hand; heavy machinery squashing the soil and stopping plants from growing; tractor drivers becoming tired when having to work around the clock at harvest time and farmers wanting to protect the environment.
Challenge 2 asks the children to design a living environment for a flock of 100 laying hens. For this challenge, they will need to consider what hens need to be happy and healthy in their design. For example: the right diet and access to fresh water; to be at the correct temperature – not too hot or cold; shelter from bad weather; protection from predators.
Challenge 3 asks the children to design a new snack product that uses one or more of the following four British foods: milk, beef, beetroot or oats. The product will need to be attractive for other children and young people, clear about its nutritional benefits and packaged in a way that protects the food before it's eaten and the protects environment once it's been thrown away.
Entries will be judged based on four criteria: how well you've solved the problem, creativity & innovation, the environmental impact of your design and the benefits the design will have for farmers and food producers and the closing date for the competition is 21 December 2018.
NFU President Minette Batters attended the launch event at the ThinkTank in Birmingham and said:
"Farmvention brings real life farming situations into the classroom and it's fantastic to see so many young people getting involved.
"Food and farming is inextricably linked to STEM subjects and the NFU's competition offers a rare chance for children to put this learning into practice in a new and exciting way.
"As an industry it is important to us that children know about where their food comes from. Farmvention is a fantastic opportunity to develop their problem solving skills at the same time as learning about food production and the challenges farmers face every day."
The day's events were planned to allow the children to immerse themselves in engaging practical activities linked to the science and technology behind food and farming whilst providing opportunities for them to interact with representatives from the industry.