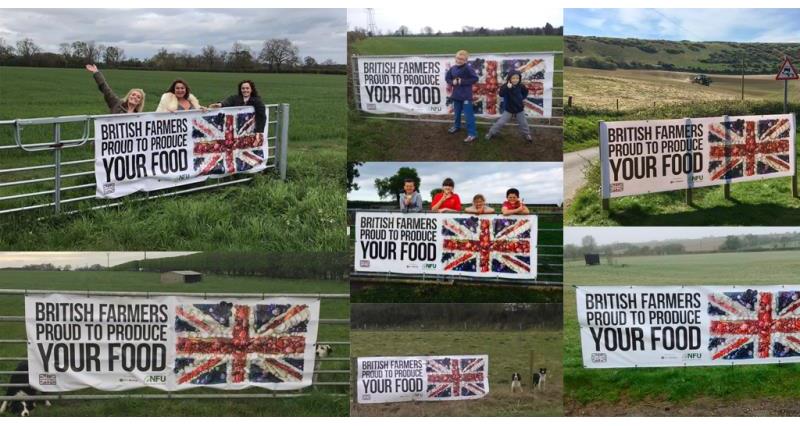 About National Walking Month | Win a £50 voucher | Do your bit for British farming
If you've been taking part in National Walking Month this May, you may have seen farmers flying the flag for British produce with one of the NFU's giant field banners.
Almost 500 farmers have put the banners up in their fields and along main routes to tell you how proud they are to produce delicious British food. Check out our interactive map to see where the banners are stationed across the country.
The food flag design on the banner is an out-and-out celebration of the wholesome food that British farmers and growers produce each and every day.
British farming is the bedrock of the nation's food and drink industry – the largest manufacturing sector in the UK, worth £108billion and providing jobs for 3.9million people. And for every £1 invested in farm support, farming delivers a staggering £7.40 back to the economy.
National Walking Month takes place during May, and aims to urge all of us to enjoy a stroll more often, no matter our level of fitness.
Walking is a simple, free activity and one of the easiest ways to be more active, lose weight and become healthier – plus it's the perfect way to take in beautiful views of the British countryside that our farmers work so hard to maintain.
To celebrate National Walking Month, we're giving you the chance to win a £50 Go Outdoors voucher so you can treat yourself to some new outdoor kit.
All you have to do it LIKE and COMMENT our Facebook post for a chance to win.
The competition closes on Monday 22 May at 11.59pm. Click here for full terms and conditions.
Do your bit for British farming
There are lots of easy ways to show your support for British farming. From buying seasonal produce and checking how much British food your regular supermarket is committed to source, to helping educate the next generation about where their food comes from and helping to look after the countryside, find out what you can do day-to-day to make a difference.