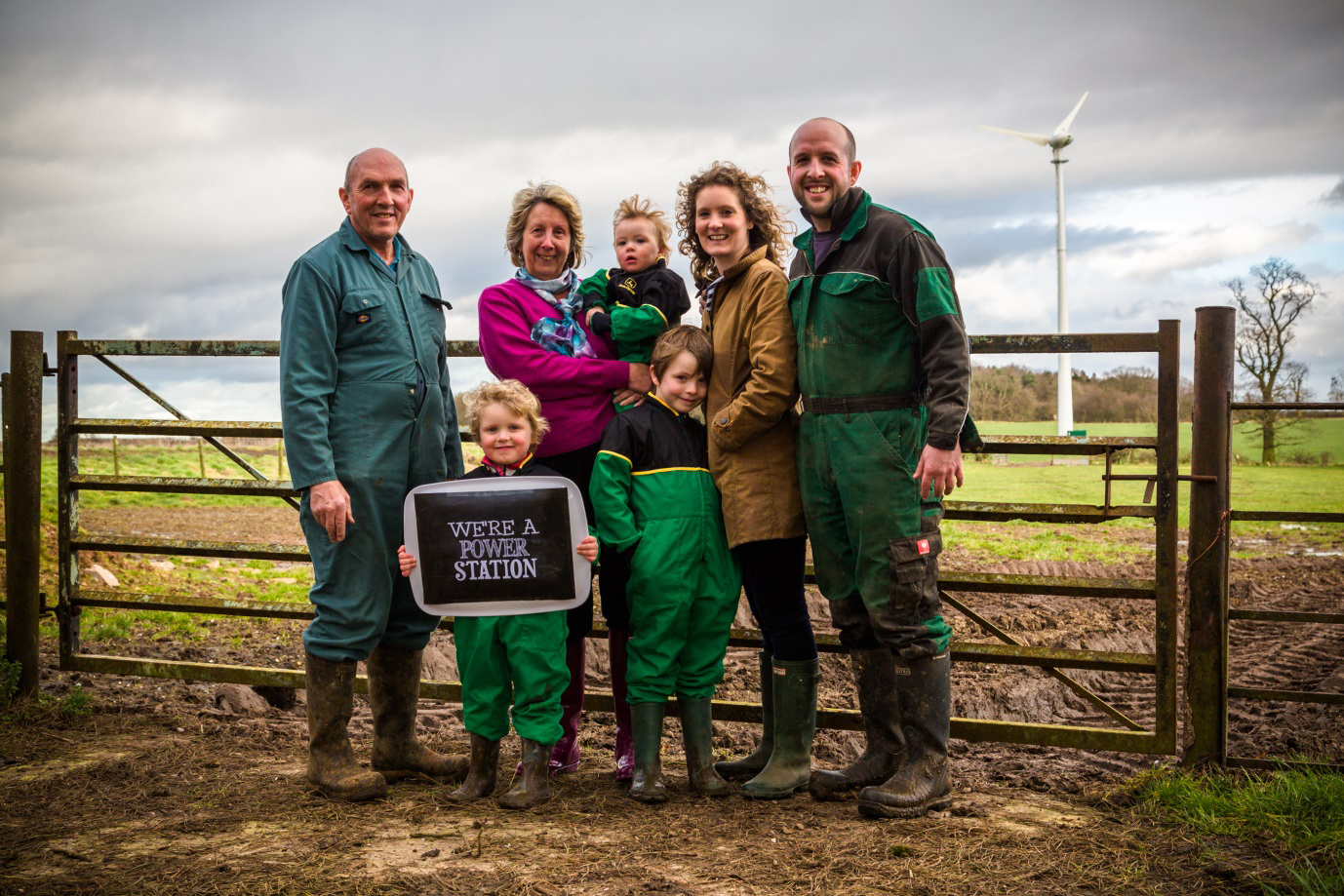 ABOVE: The Gilman family, tenant farmers near Tamworth?. Photo credit: Mease Valley Photography
Win a solar phone charger | Meet the Gilmans
We all know that British farmers grow delicious food – but as the dark nights take hold and winter's grasp grows a little tighter, our attentions are turning to the huge contribution they make to produce another essential – renewable energy.
Nearly half of renewable UK electricity is now being generated from the land, and industry experts believe that domestic land-based renewable energy can deliver up to a quarter of the nation's clean energy needs by 2020 – highlighting just how important this resource is to reducing carbon and tackling climate change.
British farmers are vital to this energy revolution, with more than a third of growers already producing low-carbon energy. Initiatives vary from solar panels and wind turbines to farm by-products used in anaerobic digestion and energy crops used for fuel.
It's further proof that a sector already essential to the vitality of the country's economy and production of home grown food has a major part to play in delivering on goals on a national and international scale.
And with the worldwide conversation on how to limit global warming continuing this month at the COP22 conference in Marrakech, never has it been more important to shine a light on the progress British farmers are making towards a change that will benefit us all.
Meet the Gilmans
Concern over the growing threat of extreme weather events, and worries about the volatility of milk producer prices, have led many dairy farmers to consider diversifying their income in order to remain in business. The Gilman family, tenant farmers near Tamworth in Staffordshire, installed a medium-sized wind turbine four years ago to meet some of their business energy needs and to provide additional income from exported electricity.
A herd of 200 dairy cattle and a small arable operation is managed on 160 hectares by three generations of the family, selling their milk through Arla Foods to a major supermarket chain. The 50-kilowatt turbine was installed in November 2012, about 300 metres from the farmhouse where it can barely be heard.
Did you know…
A modern diesel car driving a typical annual mileage could run entirely on vegetable oil or biodiesel from oilseed rape grown on 1.5 hectares (roughly the size of two and half football pitches).
Britain has nearly 1,000 solar farms, which generate enough electricity annually to run 1.5 million homes
A quarter of UK electricity is renewable today, and already about 10% of our national electricity production is from the land (wind, solar, biogas, straw).
Find out more about the great work farmers are doing to generate renewable energy and power a greener future here.