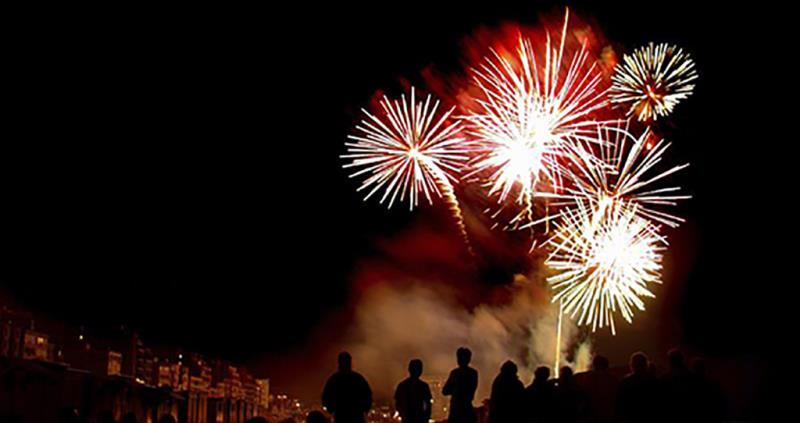 With Bonfire night fast approaching, we have been looking at ways that you can support British farmers without dulling the sparkle of your celebrations.
Five top tips to set your night off with a bang!
Find out where your local organised fireworks event is being held. By attending an organised event, you know that the area has been approved and won't disturb animals including cows or sheep
Support British sheep farmers by wrapping up from the cold in British wool
Tuck into some warming British grub! How about a traditional Cornish pasty, Pepper Pot Stew, Pot Roast Chicken Casserole or Hot Dogs with Chilli Jam Dipping Sauce?
Remember to look for the Red Tractor logo with a union flag to know you are buying quality British food for your recipes!
Steer clear of sky lanterns - once let off, they pose all kinds of dangers to people and animals alike.
As we near the 5th November, we are asking for everyone to think twice before using sky lanterns to celebrate.
A sky lantern, also known as a Chinese lantern, is a small hot air balloon made of paper, with an opening at the bottom where a small fire is suspended. When released into the air, lanterns can float for miles until extinguishing and falling to the ground.
Many people are unaware to the consequences of setting off sky lanterns which include:
Fire risks: Once lit and set off into the sky no one knows where an ignited sky lantern will land. Fields of standing crops, hay and straw stacks, farm buildings and thatched roofs are all at significant risk of being set alight.
Littering: Farmers and land owners have to clear up the remnants of sky lanterns from their fields
Suffering to animals and livestock: The frames of sky lanterns can cause suffering or even kill farm animals if they are eaten. Animals can get tangled or injured from the sharp wire frames, and bamboo framed lanterns can splinter causing serious injuries if ingested.
False alarms: The Coastguard has reported incidents of sky lanterns being mistaken for distress signals, and the Civil Aviation Authority are concerned with airborne lanterns being drawn into aircraft engines. They can also delay take-off and landing.
The NFU welcomed the introduction of a sky lanterns code of practice in 2014 and is continuing to call for an outright ban on lanterns. Sky lanterns have damaging affects for British farmers and growers, but all of us can be affected in some way or another.
Our campaign has welcomed the introduction of voluntary bans of sky lanterns at dozens of councils across the UK. Check your council has introduced a ban in your area by looking on their website. If not, please help us spread the word by getting in touch with your MP.
We want to hear from you
From bubbles to sparklers, we want to hear your tips for celebrating without sky lanterns. Email Y2FtcGFpZ25zQG5mdS5vcmcudWs= and we'll share our pick of the best on social media before the big night.