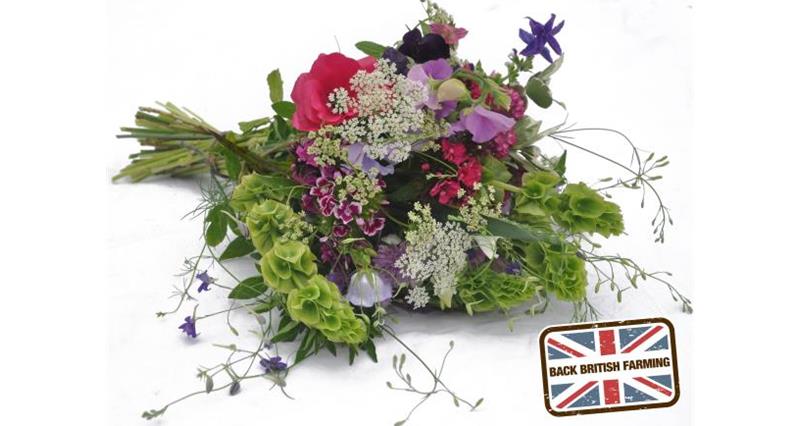 Buy British flowers | Win a British flower bundle | More from last month's winner
With spring firmly in reach, March is a month many of us look forward to. Longer days lead to warmer weather, lambs are springing up across the fields, and bright and colourful daffodils decorate our homes inside and out.
As a traditional symbol of new beginnings, it's easy to see why daffodils are a staple of the British flower market – but did you know that ever popular springtime flowers like tulips and daffodils make up half of the seasonal flower market in Britain?
And after spring, the British flower story is far from over. There are a wide range of varieties including gladioli, stocks, sunflowers, sweet Williams, peonies and asters to look forward to as the year progresses. But with just 10% of flowers sold in the UK being home grown, how do you know that you are buying British?
Buy seasonally
Buying blooms that are in season is an easy way to support British growers. To help, the world-famous New Covent Garden flower market has put together a seasonality chart for British flowers to showcase what flowers are in season throughout the year.
Be inspired by British
Some flowers (and arguably very popular ones, such as long-stem roses) have largely been outcompeted by trade from overseas, whose warmer, lighter and more predictable climates allow them to grow and import flowers at a lower price than it would cost UK growers. However, our cooler climate is perfect for many other flowers and foliage – meaning that British blooms offer an exciting opportunity to experiment and discover new favourites.
Ask your florist
Florists occupy a smaller proportion of the British flower market compared to supermarkets, but to make sure you are backing British growers, ask them if they stock British flowers.
FloraBritain is a collaboration of larger British growers that sell their blooms under one label making it easier for florists to source British flowers.
Visit Flowers from the Farm to find a local flower grower and florists that use seasonal British-grown flowers, or check out the British Florist Association directory which identifies florists that use British blooms.
The Great British Florist are proud to actively promote British flowers: #grownnotflown flowers are kinder to the environment, fresh, scented and naturally beautiful. The Great British Florist supports British growers, many of whom are small, independent businesses and of course it helps to lower flower miles.
Treat that someone special with a bouquet of beautiful British flowers. We'll even throw in a set of 3 Emma Bridgewater vases and a Simple Flower Arranging book to help you wow your friends and family with your flower arranging skills.
For your chance to win, simply tell us your favourite British bloom and why it's your favourite.
You can enter our competition by:
Hint: Take a look at the New Covent Garden seasonality chart to help you.