From the magazine...
Eat, walk, sleep... Suffolk
With a scenic coastline, historic towns and miles of gently rolling countryside, Suffolk has much to offer visitors interested in a wide range of attractions. But for foodies among you, Suffolk is also bursting with tasty treats from baked goods and beer to fruit and veg and, of course, cheese. Why not follow our trail and enjoy some of Suffolk's finest foods.
Whitegate Farm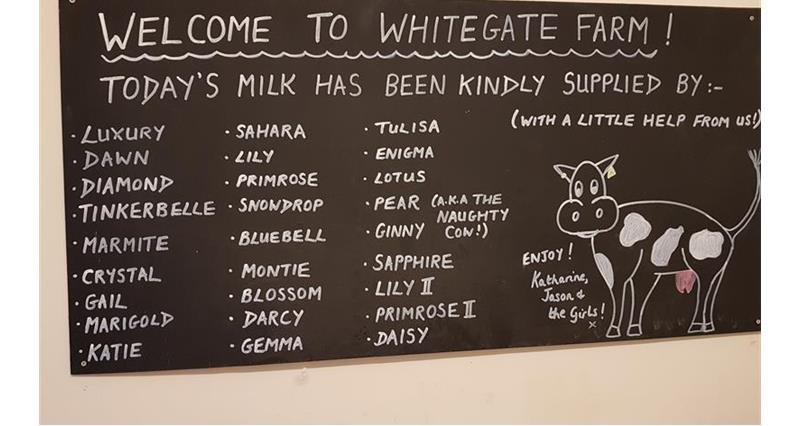 A slow drive down a long, windy road with views across the softly undulating Suffolk countryside will take you to Whitegate Farm, home to Suffolk Farmhouse Cheeses.
Run by Katharine and Jason Salisbury, the farm is home to a herd of Guernsey cows whose milk is used to make creamy Suffolk cheese which is sold from the farm shop on site.
"We also have a milk vending machine at the top of the farm which visitors can help themselves to. That's available alongside a machine that also vends cheese," says Katharine. "The shop is open three days a week on Thursday, Friday and Saturday afternoons so people can buy cheese and our home-produced meat.
"We make Suffolk Gold, Suffolk Brie and Suffolk Blue. The gold is like a soft creamy Cheddar, the brie is self-explanatory and the blue is a soft creamy blue more in line with the gorgonzola end of the spectrum.
"Jason manages the cows and I make the cheese here on site. We also sell all our own meat. I rear pigs - I have about 40 at the moment - to use up the whey, the waste from the cheese, so we sell sausages and various pork joints.
As well as buying their milk and cheese, visitors are welcome to watch the cows being milked by the automatic milking machine.
"The cows come in 24 hours a day, 7 days a week whenever they want to," says Jason. "It's great that people can see the cows being milked and then buy their milk from the machine. They can see exactly where it has come from and if I am around I will happily chat and answer questions."
Visit: Whitegate Farm, Norwich Road, Creeting St Mary, IP6 8PG
Find online: suffolkcheese.co.uk
Wyken Farmer's Market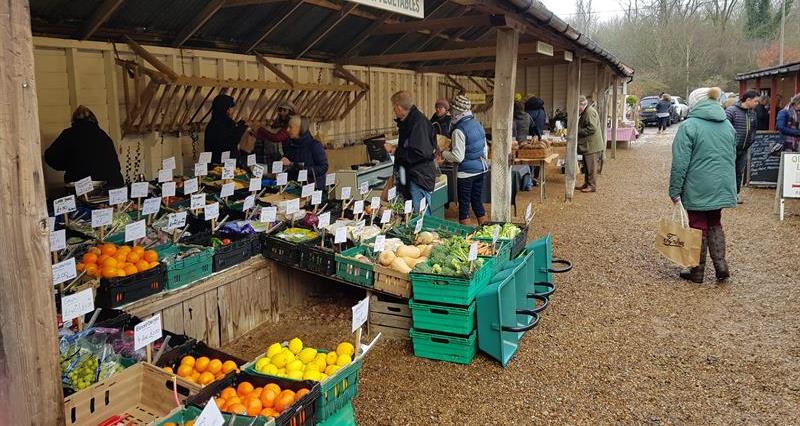 The weather may sometimes be challenging, but that doesn't put off anyone at the weekly farmers' market at Wyken Vineyard near Bury St Edmunds.
Numerous stalls selling everything from fresh fruit and vegetables, to artisan bread and rare breed pork were being well-attended by visitors keen to buy food fresh from the farm. Chalkboard signs proudly announced where the produce was from – free range chickens from Thelnathan, near Diss, quality beef from Cotton, near Stowmarket, fruit and vegetables from the Tas Valley. There were stalls selling a delicious range of cheeses, and Stowmarket and District Beekeepers were selling honey and honeycomb. One stall, Mellis Smokehouse specialises in artisan smoked food from salmon to venison, with samples of smoked duck and chicken available to taste. Great flavour; if you try you will definitely buy.
The farmers' market was the idea of Lady Carla Carlisle who established a vineyard on the site 30 years ago, and later converted an old barn into the Leaping Hare restaurant.
"When we started the market everyone said a weekly market wouldn't work," says Carla. "I said if it's a monthly farmers' market, its hobby shopping and no-one can remember which Saturday of the month it is and so you're not really changing buying patterns. It's now been running for 15 years and we have a lot of small local producers who rotate each week or share stands."
The restaurant initially opened on just Thursdays and Sundays serving good simple food, but after a couple of years it was clear this wasn't enough and Carla opened a café alongside the restaurant and also a shop where they could sell their wine and the business is now open seven days a week.
Visit: Wyken Vineyards, Wyken Road, Bury St Edmunds, Suffolk IP31 2DW
Find online: wykenvineyards.co.uk
Suffolk Food Hall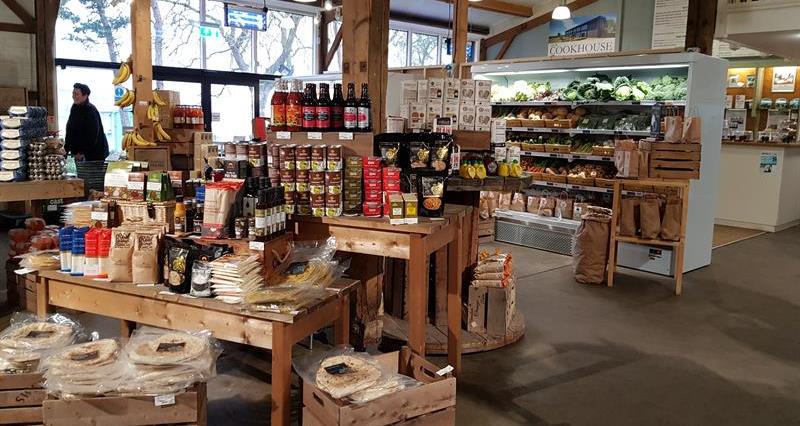 If you are looking for a bit of everything in one place, then Suffolk Food Hall is definitely worth a visit. Jam-packed full of local and artisan products, it will have you torn about what to visit first. There's the inviting cheese counter, the alluring aromas of baked breads and cakes and the huge range of meat and meat products at the butcher's counter, plus shelves laden with fresh fruit and vegetable in between.
This vast space is easy to browse. Look out for the Our Kitchen label on any of the fresh baked items as this shows they were made in the adjacent Cookhouse Restaurant. The Red Poll steak of the day comes from their own farms and don't miss out on the chef's homemade treacle tart with whipped vanilla cream – delicious. Everything is cooked from fresh, with homegrown and locally-produced ingredients, as this comment on the menu reinforces:
"Knowing that we have such amazing produce on our doorstep, we feel that it is important to do it the justice it deserves. Inspired by quality, our team of chefs treat every ingredient that goes into making this menu with the individual respect they command. Be it the hand cutting of the tartar sauce, the beefy stock that becomes our Red Poll featherblade or the absolute cooking perfection strived for in our Sunday roasts."
Visit: Suffolk Food Hall, Wherstead, Ipswich IP9 2AB
Find online: suffolkfoodhall.co.uk
Alder Carr Farm Shop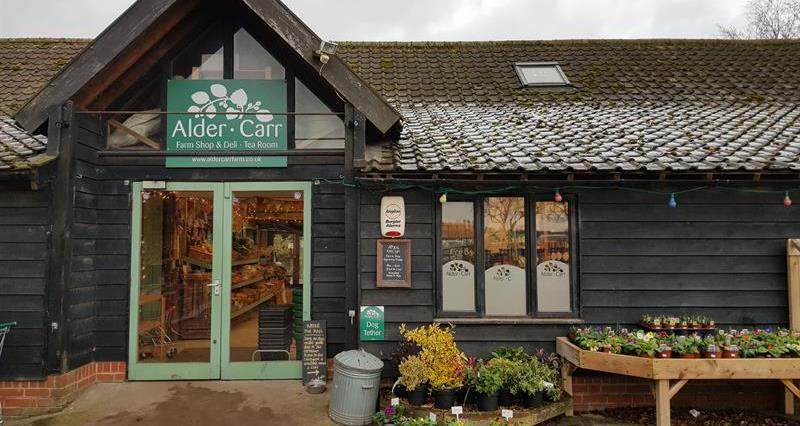 If you're looking for an alternative to ice cream, then why not try the fruit cream ice that is made at Alder Carr Farm Shop. Made by Stephany Hardingham using the finest fruit along with cream and sugar, it has a high fruit content combined with the creaminess of real dairy ice cream. It's available in a whole range of flavours and is a tasty fruit alternative to ice cream.
"It couldn't be called ice cream because of the way it's made," says the farm shop's manager Stephanie Wilson, " so they called it fruit cream ice, and it's full of fresh fruit flavours."
And while at the shop take time to browse around the fresh produce that comes from the farm and the surrounding area. The farm original grew fruit and vegetables, but is now moving more towards livestock, particularly pigs and sheep
Stephanie says: "We used to grow a lot of produce but we moved away from that and towards the meat side of farming. We have pigs and sheep and quality is very important to us. We also sell other produce in the shop; but I am careful what we sell and always look for provenance and quality.
Nicola Gouldsmith, who runs the haberdashery shop on site, also looks after the farm's pigs.
"We have 10 pigs at the moment. I started a pig club about four years ago which has gone well so we are now starting to sell sausages in the shop. We had a head to tail event last year using all parts of the pig to demonstrate to people how they can use some of the more unusual cuts of meat and that went really well."
There is also the Barn Café where dishes are made from scratch using ingredients from the farm and from local producers. The cafe is housed in a beautiful beamed barn, a reminder of the farming history behind the food venture.
And before you leave make sure you visit the animals – there's the free range chickens, the Indian runner ducks and, of course, the pigs.
Visit: Alder Carr Farm Shop, Creeting St Mary, Ipswich IP6 8LX
Find online: aldercarrfarm.co.uk