What does the future hold for the hardy fell pony? Steve and Ann Toon visited the uplands of Cumbria in search of an answer.
This hardy native breed, good tempered but tough as nails, enjoys a devoted following and can even boast royal patronage – the Queen has ridden fell ponies since a girl and breeds them too, while Prince Phillip used four fells on his competitive driving team.
Easily trained and good with people, fell ponies are great riding ponies, known for their sure-footed trot and good hock action, and for their pace and endurance. Their size and their steady temperament makes them popular animals in riding and trekking stables, and the Fell Pony Society, established in 1922 to ensure the purity of North West England's traditional breed, enjoys a membership of 1,200, with affiliated groups in North America and Europe.
But for traditionalists, it's a semi-feral life ranging the fells that signifies a true fell pony, and some fear that, as more are kept as 'pet' animals, they are losing their breed characteristics and ruggedness.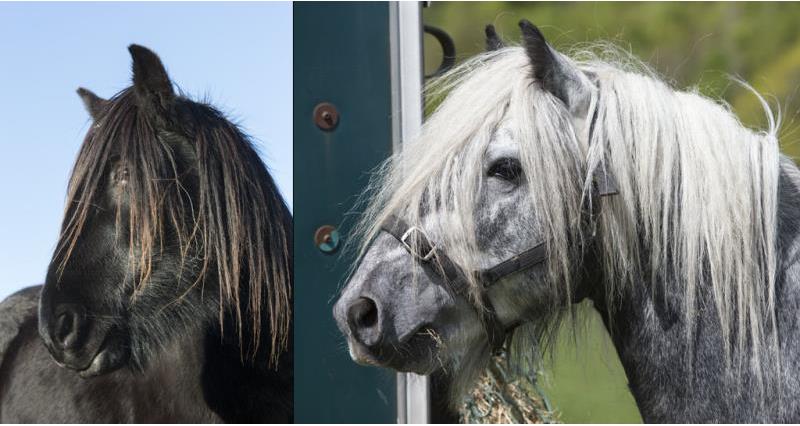 The fell pony is classed as vulnerable by the Rare Breeds Survival Trust, with fewer than 900 breeding mares, and the number of ponies running on the fells is steadily diminishing. Fewer than a dozen people keep ponies on the fells now, some with only three or four animals, and only three breeders have more than 20 mares.
Historically associated with the old counties of Cumberland and Westmorland and surrounding areas of Northumberland, Yorkshire and Galloway, the fell pony was once as characteristic of the Cumbrian landscape as the Herdwick sheep, and an essential part of the agricultural economy. Every farm had its ponies, and they were used for all manner of work: ploughing, hauling muck, delivering milk to the dairy, mowing bracken, taking the kids to school.
But by the 1950s, farmers were turning to mechanisation, and the fell pony was rapidly replaced by the tractor. Today, these sturdy, but agile animals are still used in steep areas where tractors cannot operate, for light forestry work, transporting gear for repairing footpaths, and for carrying grouse and stags off the hill. But the number of working animals has fallen to a handful.
None of the remaining ponies living a semi-feral existence on the open fells are truly wild; all are owned by someone with commoners' rights. Like the Herdwick sheep, fell ponies are 'hefted' to their area of fell, treating it as a home range from which they will not stray, and with knowledge of every patch of good grazing, every sheltered spot, every source of water. They thrive on rough grazing, and can survive a harsh winter on minimal food, losing up to one third of their body weight.
The fell pony in history
The fell pony's historic origins are unclear: it may be descended from the first ponies that migrated from Europe 100,000 years ago, before the English Channel formed, or from a similar pony reintroduced by the Celts before 500BC.
Many of Britain's early ponies were almost certainly 'improved' by larger cavalry animals brought in by the Romans, but on the northern fells, where conditions don't suit taller animals, the local fell ponies would have remained small.
By the 11th century, fell ponies were being widely used as pack animals to carry wool, clothes, food and metal ore, as well as for shepherding and hunting.
Cistercian monks, who owned large swathes of the Lake District from the 12th century onwards, used fells for riding, and it's believed they may have introduced greys (white being a signifier of monastic stock).
By the early 1800s up to 300 fell ponies a day were departing Kendal, laden with foods, cloth, hides and salt. Pack trains were eventually displaced by coaches and carts, as roads improved, and then by railways, but persisted longer in the Lake District, with its rugged terrain.
Fell ponies were used as pit animals well into the 20th century, particularly in Northumberland, where several pits had drifts big enough for the ponies. Smaller Welsh and Shetland breeds were preferred underground, but fells were widely used above ground for hauling equipment, and for delivering milk to local villages – big collieries often had a thriving sideline in farming milk herds on the pastures above the pits.
Fell pony trotting races were a popular Cumbrian sport in the 1880s at country shows, with the best animals attracting big crowds.
In the late 19th century, breeders began to record pedigrees, and by the 1890s show classes were being held for fell ponies. Riding fell ponies for pleasure took off in the 1950s, when people had more time and money for leisure activities.
The Fell Pony Society was formed in 1922 to ensure the purity of the traditional breed. Today, all semi-feral society-registered ponies have pedigrees and have their ancestry recorded in stud books dating back more than a century.