Patti Atkinson tells us about a new event taking place at Bywell, near Stocksfield in Northumberland.
Excitement, speed, danger, beauty, elegance, precision and spectacle are just some of the things that make Competition Carriage Driving a sport that will get you hooked, as it hooked me 30 years ago!
Bywell Horse Driving Trials, a new event set to take place over the weekend of 25 and 26 of August, will attract competitors from all over the UK.
Ponies and horses – singles, pairs and teams of four - will compete to be champion in their division.
By kind permission of Lord and Lady Allendale the park at Bywell will be transformed to provide colourful and exciting competition. The elegance and precision of the dressage and cones on Saturday will be followed by the excitement, speed and spectacle of the marathon on Sunday.
Spectators are very welcome with food and coffee stalls, trade stands and horses galore to keep everyone entertained. Admission is only £5 per car (including a programme) with easy access close to the action.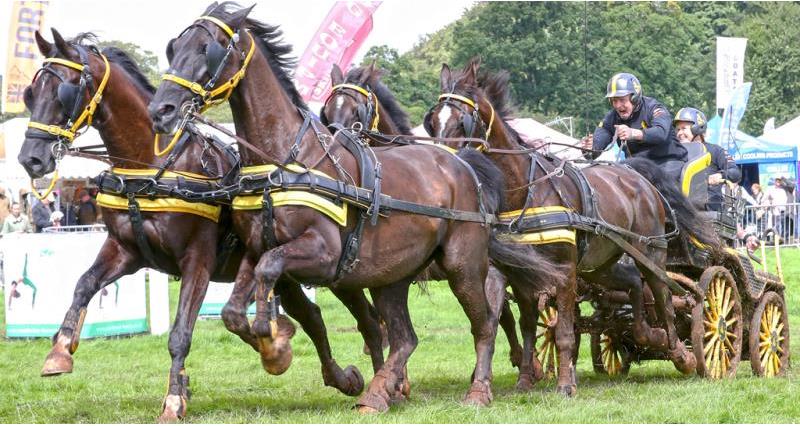 It is a steep, but very exciting, learning curve organising a new event. Having been involved with this fabulous sport for so many years I last competed in 2014 at The World Championships for single horses in Hungary. Since then I have remained very much involved by stewarding and judging at events all over the country and I was very honoured to be asked to organise this new event for 2018. Bywell is the perfect venue – lots of flat ground for the dressage and cones phases and wonderful tracks and woodland for the marathon.
The marathon on Sunday is the most exciting part of the event – the aim being to go as fast as possible in the obstacles. The faster you go the fewer penalty points you receive. Speed coupled with smoothness and accuracy make for the best times, the lowest number of penalties and the most excitement.It's a great day out for competitors and spectators.
Or how about getting involved? There's always space for willing volunteers. Get in touch with Bywell Driving by sending them a message here.