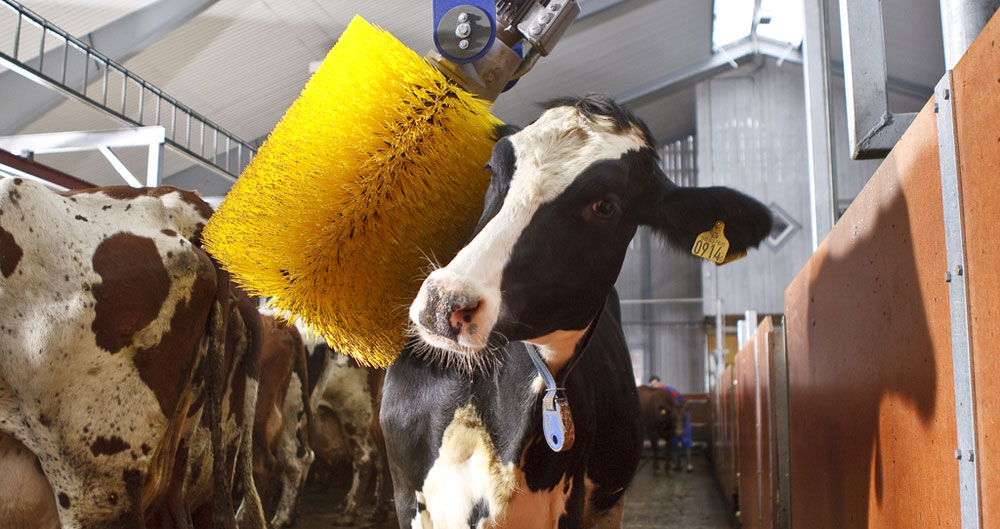 Would the British public accept chlorinated chicken masking lower welfare standards on farm or hormone-fed beef flooding supermarket shelves in exchange for a US trade deal? That is the question that the government needs to answer as it considers Britain's future trading policy post-Brexit.
One country in the spotlight for a post-Brexit trade agreement is the USA. We, along with the National Farmers' Union - which represents 47,000 British farmers and growers - believe that there could be benefits for UK farmers in a UK-US trade agreement. However, there are very significant differences between UK and US policy and approaches to food safety, notably in areas such as animal welfare, antibiotic use, hormone growth promotors and use of chemical washes, which reflect longstanding concerns of UK consumers and policy makers.
UK farmers and growers are rightly proud of their high standards of production. The government says it has no intention of allowing these standards to be undermined post-Brexit but the detail on how this will practically be done remains to be defined. A trade policy which does not respect UK standards of production risks exposing the British public to food which may be unsafe or produced in a way that does not meet their expectations. Ultimately it risks undermining UK producers leading to less Great British food on our plates.
Let's have a look at the comparison between food production standards between the UK and USA...
Eggs:
UK
In 2012 the UK introduced a new Laying Hens Directive banning the use of barren battery cages and introducing the enriched or colony cage, which is designed to hold up to 90 birds and give the hens more freedom, including increased cage height, a perch, a nest box and litter. Laying hens must also have an an indoor space allowance of 750cm2.
USA
The US has no Federal Laws governing welfare of laying hens. Voluntary guidelines suggest space allowance per bird of 432cm2.
Poultry:
UK
The UK adopts a farm-to-fork' approach to food safety and only drinking water is permitted to wash chicken carcasses post-slaughter. UK animal health and hygiene standards elsewhere in the supply-chain negate the need for the use of chemicals.
USA
Pathogen Reduction Treatments (PRTs) are used in the US order to remove harmful bacteria. These practices have caused long-running disputes between the US and the UK over imports of chlorine-treated poultry (chlorinated chicken). Although the European Food Safety Authority has concluded that residues of these PRTs do not pose a health risk to consumers, the UK maintains its ban on imports of US poultry meat. The UK argues that the use of PRTs compensates for poor hygiene standards elsewhere in the supply chain.
Beef:
UK
Growth hormones, used to boost muscle growth, have been banned in the UK since 1981.
USA
A number of synthetic growth hormones are permitted and widely used in USA beef production.
Pork:
UK
Sow stalls - metal cages that female pigs are confined to after being mated or artifically inseminated - have been banned in the UK since 1999. 40% of UK sows are housed outdoors in systems perceived as higher welfare and the remaining sows indoors are largely housed during pregnancy on solid floor straw based systems with housing in groups. Additionally in the UK, 60% of finishing pigs are housed on straw systems.
94% of UK pigs are Red Tractor assured, therefore providing farm to fork traceability and consistency of standards.
The use of Ractopamine (a growth promoting hormone) has also been banned since 1996.
USA
Sow stalls were banned in only nine of 41 states. In the remaining states, it is legally permissible to keep sows in stalls for their entire 16 week gestation period. Finishing pigs are predominantly housed on slatted accommodation in the USA.
Ractopamine is widely used as a feed additive in US pork production.
Dairy:
UK
The number of somatic cells found in raw milk, is an indicator for the presence of pathogenic bacteria and cow health. The UK's upper limit for somatic cell count is 400,000 per millilitre. Milk with an SCC of more than 400,000 is deemed unfit for human consumption by the European Union.
The UK bans the use of a growth promoter known as Bovine Somatotrophin (BST) in dairy production. The use of growth hormones in dairy production has been banned since 1990. BST can increase productivity of milk when injected into dairy cows, however the EU has found that it significantly affects animal health and welfare, leading to increases in the incidence of harmful conditions in cows, including birth disorders, hoof problems, heat stress, diarrhoea, increased somatic cell count, and mastitis.
USA
The USA upper limit for stomatic cell count is 750,000 per millilitre.
Growth hormones intended to increase milk production and productivity are widely used in the USA.
Crops:
UK
The UK bans a number of active substances on the grounds of potential risk to the environment, animal and human health.
USA
The US has access to many active substances banned in the UK and EU.
Animal transport:
UK
In the UK, animals can be transported without feed and water for a maximum of 12 hours and typically last less than 8 hours. There are further rules relating to space allowances during transport, dependent on species.
USA
In the USA, legislation permits transportation in the form of the 'Twenty Eight Hour Rule' where journeys can be a maximum of 28 hours. There are no specified space specified during transport.
Antibiotics:
UK
British farmers are committed to using medicines and treatments as little as possible but as much as is necessary so animals stay healthy, and in turn, our food is safe to eat.
USA
Despite US federal rules introduced in 2017 aimed at curbing the use of medicinal important antibiotics for production purposes, investigations have shown that antibiotics crucial to human health are still being used in "unacceptable" quantities on US livestock farms.