Wine growers in the UK are building a reputation for world-class wines. The unpredictability of the UK weather isn't stopping people investing in land suitable for wines growing. Even some of the top French Champagne houses are looking for suitable sites in the South East as England's reputation for having a great 'terrior' - the French word used to describe the combination of soil, topography and climate for a particular wine to be produced - is becoming better known.
The UK has seen unprecedented growth for the wine industry, with the hectarage of vines planted growing by 194% in the past ten years. In the past two years alone, more than 2.5 million vines have been planted in England and Wales, with the result that 2,554 hectares (6,308 acres) are now under vine.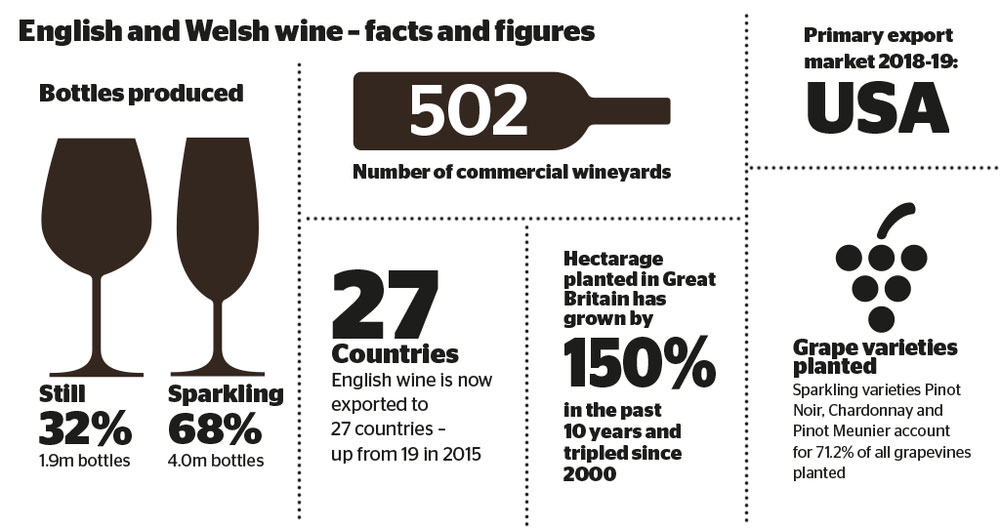 Did you know:
The majority of wine in England and Wales (75%) comes from the South East region, with 11% from the South West, 5% from East Anglia, 2% from Wales and 7% elsewhere.
Over the past decade, English and Welsh wine has become one of the UK's fastest growing agricultural sectors, with hectarage planted in the UK growing by over 180% in the last 10 years and nearly quadrupling since 2000.
There are over 800 commercial vineyards in the UK (England and Wales) and some 165 wineries
Over 8,000 acres (3,500 ha) is now under vine in Great Britain
The wine industry is one of the fastest-growing agricultural sectors in the UK, with sales of English and Welsh wines up by 31% to 9.3 million bottles in 2021.
Of the wines produced, 69% are sparkling and 31% are still
There are vineyards in England, Wales and some recent plantings in Scotland. The most densely planted region is the South East, which represents over 50% of total vineyard plantings
Currently, around 2,100 people work in the wine industry according to the WineGB Trade Survey 2018, but it estimates that by 2040, this could be as high as 24,000.
WineGB also predict that UK wine production will reach around 40 million bottles by 2040.
As well as the increase in productions, there has been a steady rise in the number of people keen to tour vineyards and there are now more than 150 open to the public in the UK. WineGB anticipates that tourism revenue in 2040 will reach around £658m or 7.8m visitor nights.
Visiting British vineyards
Don't believe the hype about British wine? Why not plan a staycation and experience British wine for yourself?
Here are four vineyards to visit across the UK.
---
Biddenden Vineyard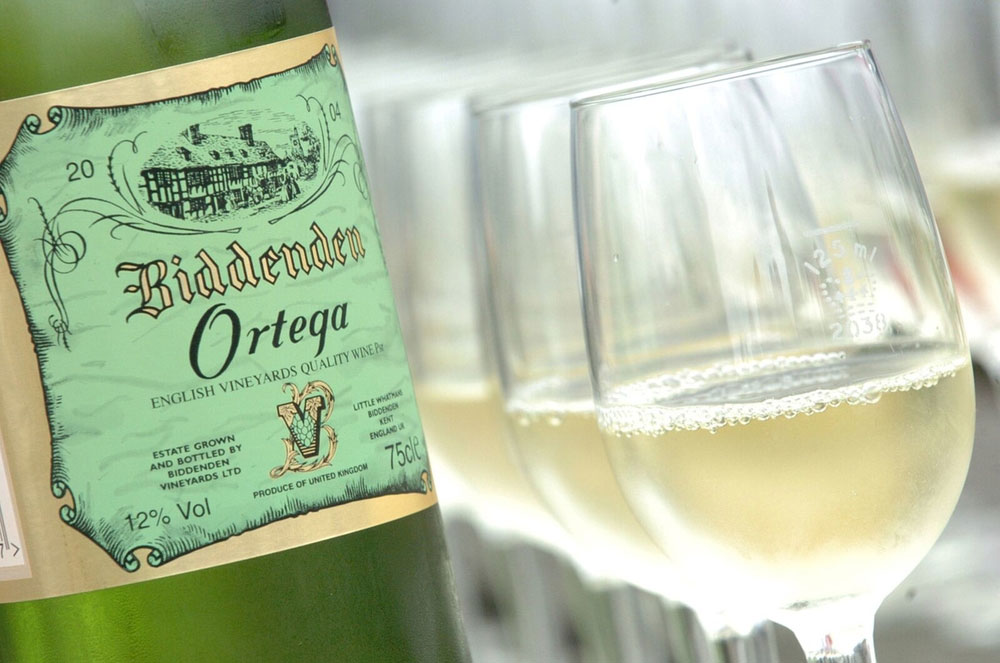 Biddenden is a small family-run operation with 23 acres of vines. Owner and third generation farmer Julian Barnes is rightly proud of the vineyard, citing its history and status as the oldest in Kent and one of the oldest continuously-running vineyards in the country. The family business used to be fruit until the marketplace changed in the late 1960s and his parents decided to look for something else to grow.
"One of the first grapes planted back in 1972 was a variety called Ortega," says Julian. "It became very obvious at tastings that this was what people liked, so in the 1980s we decided to grow a lot more of it and now half the vineyard is Ortega."
Julian explains how they grow some of their vines on a wider spacing system between rows and also to a higher height, meaning that workers don't need to keep bending when picking the grapes.
"We put in space between the rows but plant the vines twice as close together because there's some suggestion that roots in competition produce some character," he says.
It seems the Kent countryside is perfectly suited to viticulture. "It's generally milder here than in many parts of the UK."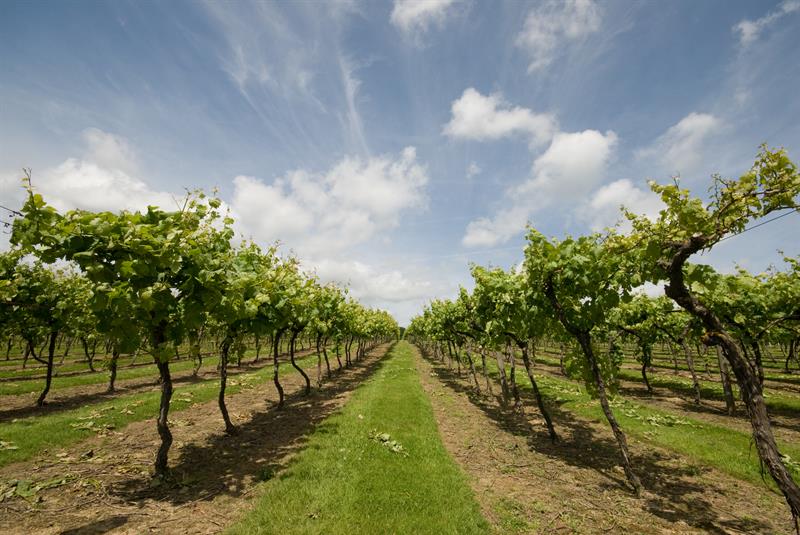 After touring the vineyards visitors can return to the shop to try some of the wines. The Ortega is an off-dry, full fruity wine with notes of apple and grapefruit, fresh on the palate. Move onto the Gribble Bridge, also produced from the Ortega grape but displaying elements of apricot and citrus fruits.
With cold meats and cheese and crackers to accompany the tasting, and a knowledgeable host to explain the nuances of flavours in the wine, the whole experience is most enjoyable.
Visit: Biddenden Vineyard, Gribble Bridge Lane, Biddenden, Kent TN27 8DF
Find online: www.biddendenvineyards.com
---
Astley Vineyard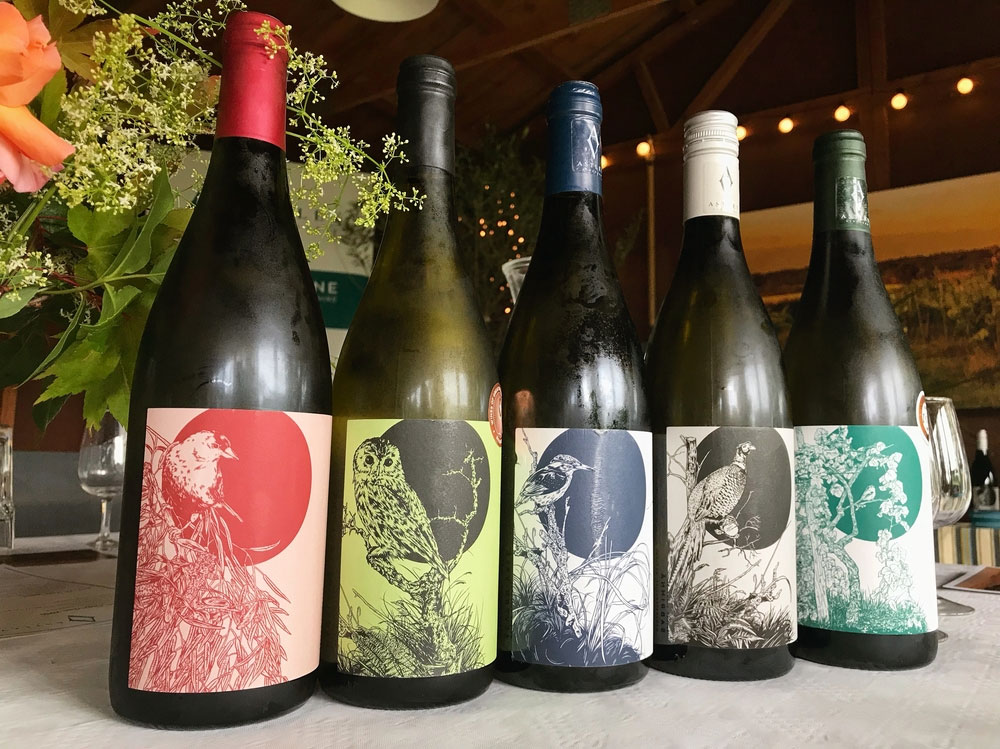 Buying a vineyard was a gamble that paid off for accountants Tim and Bev Haywood, who were looking for a new challenge that would take them away from London and enable them to work around Stourport, where they have lived for the past 25 years.
The vineyard is one of the oldest in the country, with vines growing continuously for more than 50 years. The previous owner had successfully sold the wine from the cellar at his house, which is close to the vineyard, but Bev and Tim wanted to take the business forward and so, five months ago, with the help of European funding, completed the construction of a chic, modern tasting room and shop and also built a small winery so they could make their wine on site rather than send it out to a larger vineyard.
"It gives us a lot more control of the whole process," says Tim, who proudly shows us around the new winery. "It also gives our visitors a much better story.
"We have 4,500 vines and last year produced around 12,000 bottles," says Tim.
"We are one of the only vineyards to grow the kerner grape commercially in the UK, and we also have Madeleine Angevine, Bacchus and Siegerrebe."
Astley's produces still white wines, with an occasional sparkling kerner if there are enough vines. And it's a real family affair as son Christopher and his wife, Matleena, run the sales side of the business, while daughter Daisy, a landscape architect, manages the woodlands.
As well as making the wines, Astley's is keen to encourage visitors to see what they do and immerse themselves in the wine experience. They offer guests a two to two-and-a-half hours tour that's always hosted by a member of the family.
"There's an introduction in our new building here, then 45 minutes to an hour is spent in the woods and among the wines, with a glass of wine in the vineyard where we talk about the vines and grapes," says Bev.
"Then it's back here to teach about how to taste the wine, and we also do food pairings and use local food produce all sourced within 15 minutes of here and show how wine changes flavour when combined with different foods. Tours start in Easter, so we will be welcoming visitors from April."
Visit: Hampstall Lane, Stourport-on-Severn DY13 0RU
Find online: www.astleyvineyard.co.uk
---
Harrow and Hope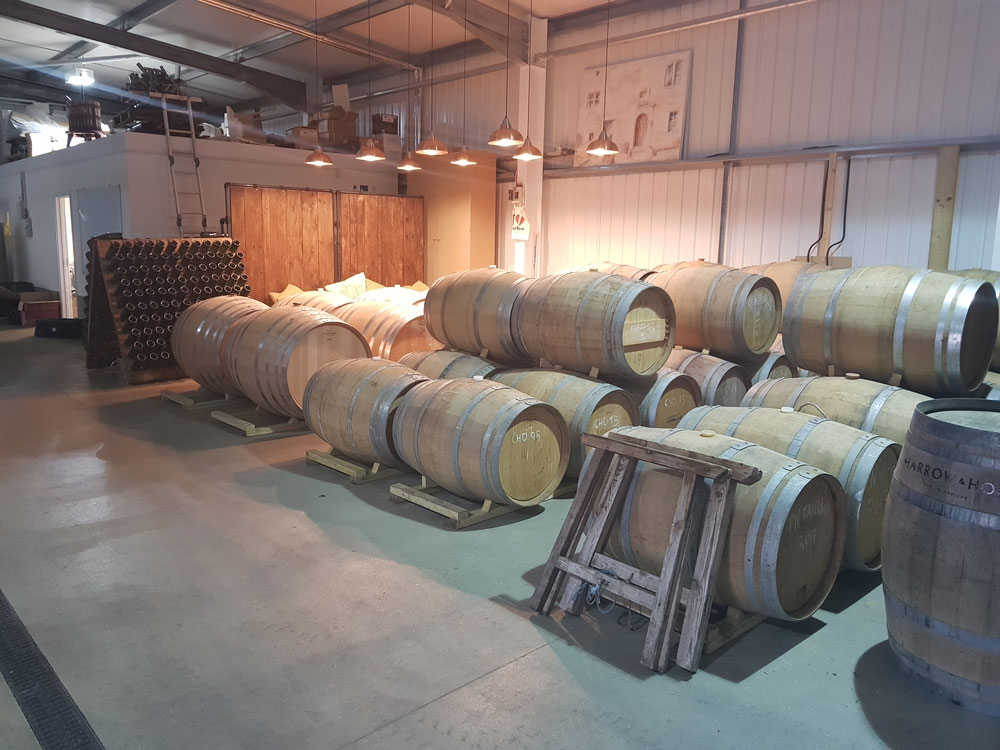 When you come from a family of wine merchants, it's no surprise that you might know a lot about wine. But Henry Lathwaite has taken his interest a big step further by planting his own vineyard in the depths of the Thame Valley.
After spending a few years making wine using other vineyard's facilities around the world, he and wife Kaye decided they wanted their own vineyard.
"Being from the Thames Valley I couldn't understand why there weren't more vineyards here; it's right in the middle of the country, it's hot in the summer, it's got chalk and slopes, but then we realised that getting the land is the biggest barrier as it doesn't come up for sale often.
"We moved to Marlow to rent while looking for a permanent place to live and this site came up randomly and looked perfect, so we jumped at it. We bought it in February 2010 and, by May that year, we put in 20,000 vines and we haven't looked back since.
"We have 16 acres of champagne varieties: chardonnay, pinot noir and pinot meunier, which is standard. All our blends are dominated by pinot noir, but we do a blanc to blanc as well, which is 100% chardonnay."
Tours are held regularly throughout the year, hosted by Henry and Kaye, who take visitors around the vines, into the wine-making area where Henry explains the more technical side of the process and then finishes off with a wine tasting. It takes about two hours and tours can be booked through the website.
Visit: Harrow and Hope, Marlow Winery, Pump Lane North, Marlow SL7 3RD
Find online: www.harrowandhope.com
---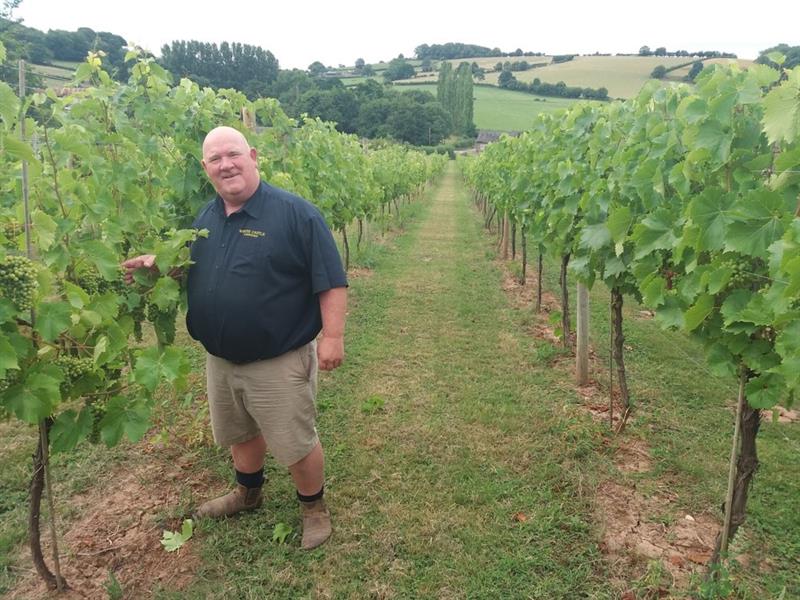 Anyone who thinks that the Welsh climate is not conducive to producing world-class wines will find they are very much mistaken. And if you need proof of the quality of viticulture in Wales, then a visit to White Castle Vineyard will set you straight.
Here, owners Robb and Nicola Merchant not only produce award-winning wines, they also grow and bottle top quality red wines, much to the surprise of almost everyone who visits.
"We get a different climate here even to Abergavenny," says Robb, "and we have a reputation for red wines. I have met Oz Clarke a few times and he has said that the pinot we make here is one of the best red wines in this country."
When Robb bought the land from the council, he was intent on farming it and turned the milking parlour into a bungalow. He worked for Royal Mail and farmed in his spare time. But wife Nicola had a dream of starting a vineyard and finally, in 2008, they bought another field from the council situated next to their existing fields and set about growing grapes.
"We thought it might be something we could do when we retire – but I realise now you don't retire when you have a vineyard!" says Robb.
The vines originally came from Germany and are hybrids designed for cooler climates.
"We have six varieties, on one side of the vineyard are the whites and the other is all reds: Pinot Noir Precoce, Regent, Rondo, Seyval Blanc, Siegerrebe, and Phoenix.
"We now have 5,000 vines over five acres and when it comes to harvesting, it's all hand-picked. I come out here a couple of days before harvest and take off everything we don't want, so the pickers who come, just pick."
Robb is passionate about his vines and loves educating people about the quality of Welsh wines, especially his reds. He runs tours of the vineyards from Fridays to Sundays and Bank Holidays and his enthusiasm for his vines shines through as he talks through the wine-making process.
"It's far exceeded anything we anticipated," he says, "but you work hard and make your luck. I am always pleasant to people. I think 'what would I want if I was paying for a vineyard tour'. I'd want to learn and to meet the individual who owns the place and does the job and see what they do. I give people what I would expect myself. If you make a fuss of them, they will return, and buy into the whole philosophy of the business."
Visit: Llanvetherine, Abergavenny NP7 8RA
Find online: www.whitecastlevineyard.com