From the magazine...
Big Farmland Bird Count – tips and hints by GWCT biodiversity adviser Pete Thompson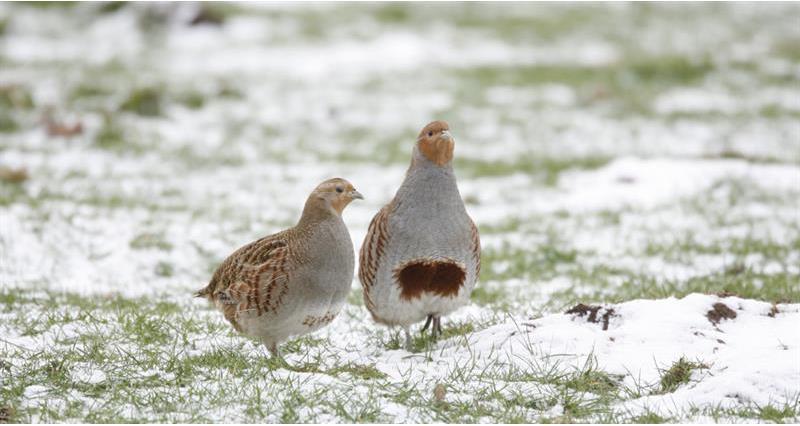 Pictured above: The Grey Partridge usually looks hunched and rounded, dark brown with no obvious pattern
When you go out onto your farm to carry out the BFBC, there are a few little things that you can do to help you identify the more difficult LBJs (little brown jobs!).
Take a reasonable pair of binoculars along with you and a small notepad and pencil (pencils are best as there is no ink to run in damp conditions).
Birders often look for the distinctive little things that individual species do that sets them apart from each other. So, for instance, does the bird bob up and down or wag its tail? Does it stand in an upright position or lean forward? Making notes of the these subtle little behavioural differences will help you hugely when you get back to the warmth of the house to look up your bird in a bird book.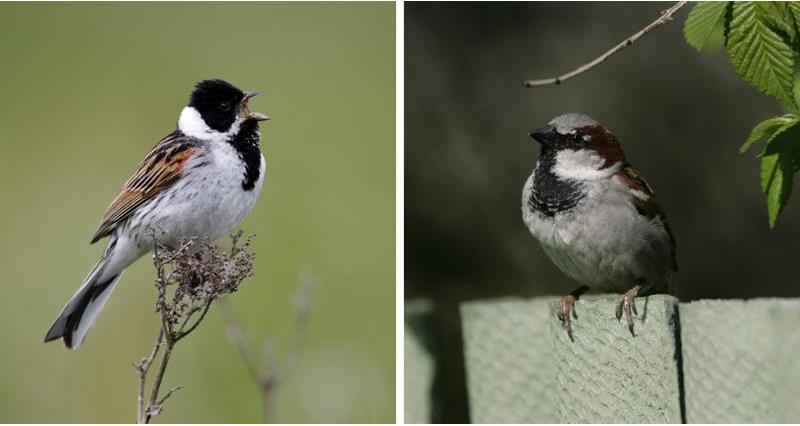 Above: Pictured left, the Reed Bunting and right, the House Sparrow. The Reed Bunting female/winter male has dark cheeks and cap, with a paler strip over eye. The female is streaked like a pipit with a red-brown back and wings. The House Sparrow is rich red-brown with a grey patch on top of the head and a black bib.
Keep in mind the sort of things that will help you identify your bird. Are there any distinctive features such as a curved bill, a bright white stripe above the eye or spots on the breast? Are they really spots, or might they be streaks?
Try to relate the size of the bird to another bird that you are familiar with. Is it about the size of a sparrow, blackbird, partridge or buzzard? Where did you see it? Was it sitting on top of a bush or was it out in the middle of a field? When on the ground, did it hop, walk or run? Was it on its own or was it part of a flock?
If and when it took to the wing, did it have a fast, straight flight or an undulating flight? Did it make any calls or did sing at all? If so, make a note of roughly what it sounded like to you, again relating it to something familiar. Corn buntings have a call to communicate with other buntings, especially when in flight, that sounds just like a shorting electric fence.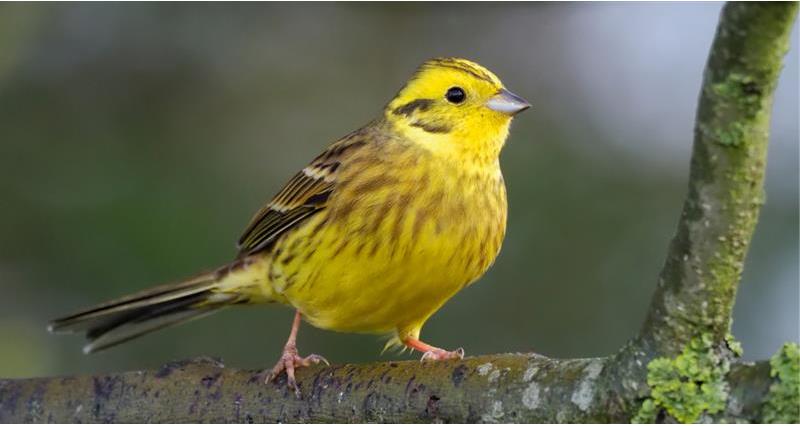 Above: The Yellowhammer. The male has a vivid yellow on head and breast with dark streaks. The female is slender, pale, yellow-buff on head and breast with thin streaks.
Believe me, if you can jot these sorts of details down, it will make identification so much easier. If you try to remember these myriad details, especially for a number of different birds, you will get in a right old muddle!
Many was the time when I first started that the book would say something like "note the distinctive red legs of this bird and the white outer tail feathers, which will immediately identify it as a …..". This would often leave me wishing that I had noted these features down, as for the life of me, I couldn't recall such facts from earlier on that day!
My main advice to you is to enjoy yourself! What could be better than spending half an hour or so watching the birds that have been attracted to your farm, probably because you have managed a small part of your land specifically for them.
Finally, please don't forget to submit your count forms to the Game & Wildlife Conservation Trust, so that we can tell everyone about the birds that you have all seen across your farms. You can do this at our new website bfbc.org.uk.