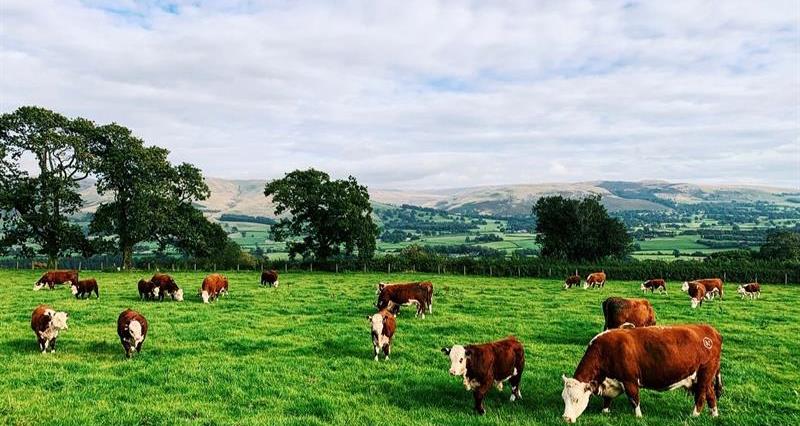 British beef is produced to some of the highest welfare and environmentally sustainable standards in the world. Shoppers are looking to buy local, sustainably produced meat and most retailers are now increasingly sourcing British beef and lamb to meet this demand.
Not all red meat production around the world is the same. British farmers are very proud of their high standards of production and aim to farm in as climate friendly a way as possible with a view to achieving net zero greenhouse gas emissions.
The question is not whether to eat meat or not. The key consideration must be where the livestock was farmed and the environmental and welfare standards of where it was produced. And this is where British beef has a great story to tell.
What are the environmental benefits to British livestock?
The UK climate is ideal for growing grass for animals to eat. Around 65% of farmland in the UK is best suited to growing grass rather than other crops. If we did not graze livestock on it, we could not use it to produce food. Grazing livestock on this land allows us to turn inedible grass into high quality, nutrient-rich beef and lamb. This land also provides a valuable habitat for many native wildlife species that need open grassland to forage, such as hedgehogs and lapwings.
British beef and lamb is among the most efficient and sustainable in the world due to our extensive, grass-based systems.
87% of UK beef is produced using predominantly forage based diets1, with only a very small amount of soya in finishing diets. This means UK beef production is not a driver of deforestation in other parts of the world.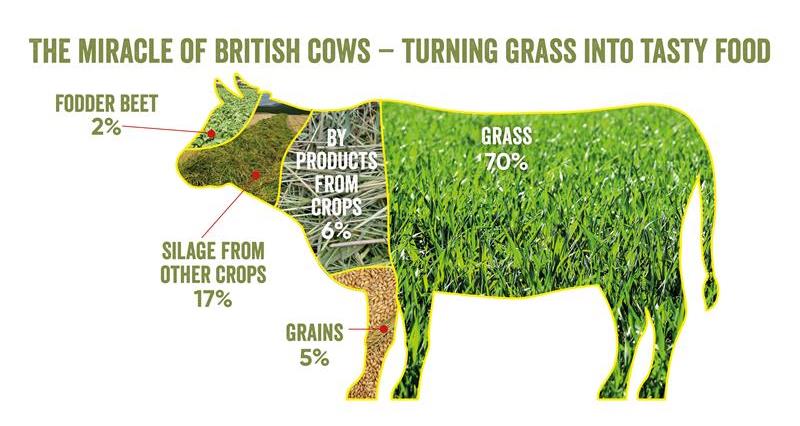 Livestock plays an important role in maintaining and enhancing the soil used to grow crops too. The introduction of grass and clover leys and livestock into arable crop rotations is beneficial to soil health and fertility2, with manure from grazing livestock helping to boost soil organic matter3.
Leicestershire arable farmer Phil Jarvis (pictured below) has introduced four-year grass and clover leys and shorter two-year herbal leys which are grazed by both his neighbour's sheep and his own Leicester Longwools. This regenerative approach helps build soil fertility, health and combat grass weeds while using some of the current agri-environment options in Countryside Stewardship.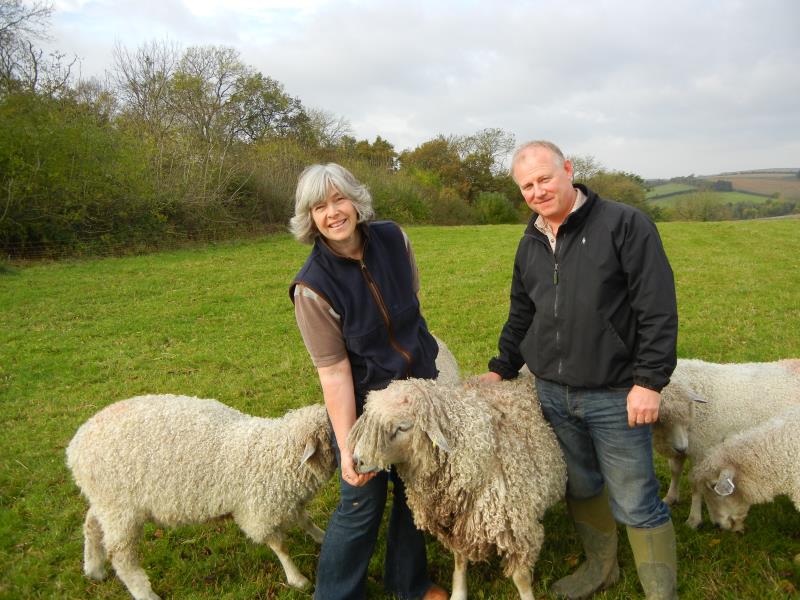 There are also several examples where livestock are critical to the lifecycle of wildlife – for instance, the Large Blue Butterfly. The Large Blue breeds in warm and well-drained unimproved grassland and livestock play a key role in producing suitable habitat conditions through grazing4.
Sheep also produce wool, which is worth £100 million to the British economy. Wool offers a range of solutions to problems we currently face. It is 100% natural, a renewable fibre source as sheep produce a new fleece every year, and is biodegradable. Wool can be used in clothing without any concerns over microplastics and microfibres, and is a natural insulator which can help reduce domestic carbon emissions when used in the home. But we only have this fantastic natural resource if we have a profitable livestock industry.
Livestock farmers in this country are striving to reduce greenhouse gas emissions. Emissions from UK livestock are estimated to be around 5% of the country's total greenhouse gas emissions, significantly lower than the estimated EU-wide figure for livestock of around 9.1% of all emissions5. This is in part due to the UK's efficient production systems.
British farming is ambitious to reach net zero greenhouse gas emissions by 20406 and the drive for further production efficiencies is a key part of this. Measures like using natural feed additives and further improving cattle and sheep health will help reduce methane emissions from livestock, while the use of sheep's wool in clothing, and as an insulation material by
the construction industry, could boost the bioeconomy.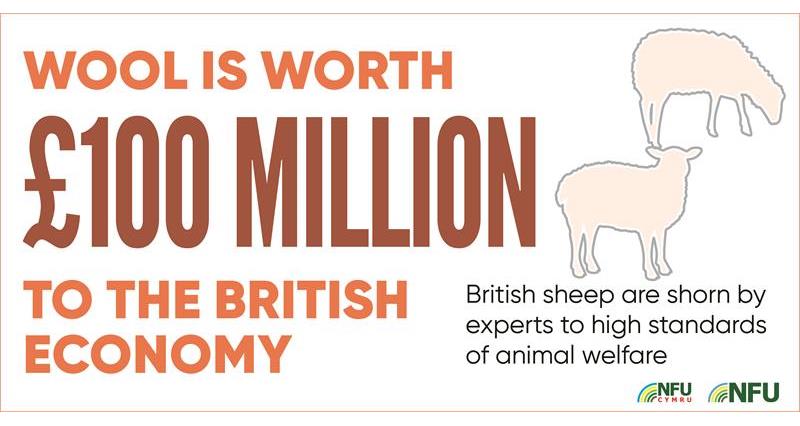 Actively managed pastures are also a good carbon sink, storing carbon which would otherwise be released into the atmosphere, as are hedgerows that separate fields. If this land was put to other uses, there is a risk that much of that carbon would be lost to the atmosphere as carbon dioxide.
Reducing greenhouse gas emissions and improving efficiency go hand in hand. Steady improvements in production efficiency have taken place over recent years, with 5% fewer prime cattle and lambs required to produce each tonne of meat in 2008 than in 19987.
Research indicates that breeding, nutrition and animal health offer opportunities to make further reductions and farmers are already making improvements in these areas8. By using better genetics and making further improvements to animal welfare we will continue to reduce our emissions.
Beef and sheep farmers across the UK are also embracing a range of practices which both reduce greenhouse gas emissions and enable them to be better prepared for the impacts of a changing climate9. For example, by using co-products like distillers' grains and by-products like bread crusts, livestock farmers help reduce the food chain's greenhouse gas footprint. Many livestock farmers are also helping deliver clean, renewable energy which contributes towards powering millions of homes10.
Nutritional benefits of red meat11
Red meat is recognised as an important part of a balanced diet. Red meat is one of the richest sources of essential nutrients such as iron, zinc and B vitamins in the diet, as well as a significant source of protein. Red meat now has much lower fat contents than it did 20 years ago, with fully trimmed lean beef containing just 5% fat. Currently 91% of UK households regularly enjoy red meat as part of a healthy, balanced diet.
Animal health and welfare
The UK offers some of the best farm animal welfare standards in the world12, with a robust and comprehensive legal framework protecting animal welfare; extremely mature and well-developed industry bodies that recognise the importance
of animal health and welfare; and a significant number of credible quality assurance and health and welfare schemes and/ or initiatives. In general, the principal producing and exporting countries located in South America, North America, Oceania
and Asia have a much less developed legal framework compared to the UK.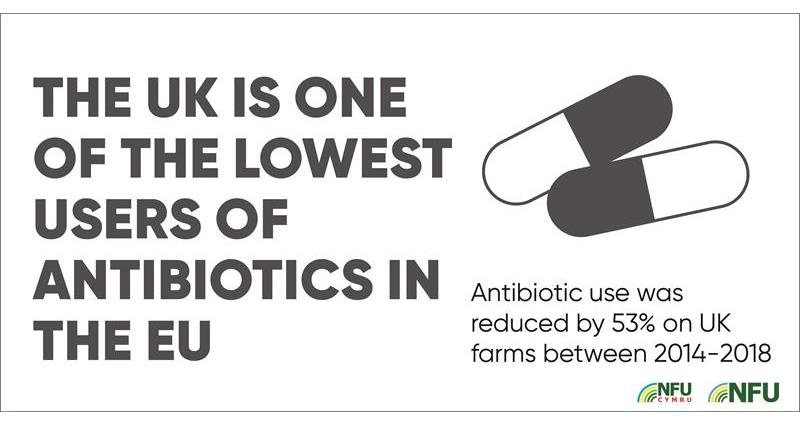 The UK is the fifth lowest user of on-farm antibiotics across 31 European countries, beaten only by the Nordic countries (Norway, Iceland, Sweden, Finland) where the dry, cold climate is a key factor in stopping bacteria breeding and therefore reducing demand. The amount of antibiotics used on UK farms has been reduced by 53% between 2014 and 201813.
The Animal Protection Index14, which ranks countries around the world for their commitments to improving animal welfare, identified the UK as one of only four countries to receive the highest grade.
In the global context, the UK's regulations set, and British livestock farmers operate to, some of the best animal health and welfare standards in the world. Voluntary codes of practice and a well-developed system of farm assurance further build on legislative standards to offer a high level of welfare protection.
---
Where did we get our information?
Cattle Farm Practices Survey 2019 - Defra
Livestock and the arable rotation - AHDB, 2018
The benefits of sheep in arable rotations - National Sheep Association, 2017
Large Blue priority species factsheet - Butterfly Conservation/Defra
Evaluation of the livestock sector's contribution to the EU greenhouse gas emissions - European Commission Joint Research Centre, 2010
Achieving net zero: Farming's 2040 goal - NFU
Change in the air: the English beef and sheep production roadmap, phase 1 - AHDB Beef and Lamb
NFU, NFU Cymru, NFUS, UFU - British Livestock and Climate Change – find out how beef and sheep farmers across the UK are embracing a diversity of practices which both reduce greenhouse gas emissions and enable them to be better prepared for the impacts of a changing climate.
NFU, NFU Cymru, NFUS, UFU - British Livestock and Climate Change
NFU, NFU Cymru, NFUS, UFU - Delivering Britain's Clean Energy From The Land – see how livestock farmers are helping deliver clean energy from the land, contributing towards renewable energy that helps power an average of ten million homes.
AHDB - Red meat and nutrition: the facts
Farm animal welfare: Global review summary report - Evidence Group/NFU, 2018
Targets Task Force: Two Years On - Responsible Use of Medicines in Agriculture Alliance (RUMA), October 2019
---