Food waste occurs throughout the whole food supply chain from the production of the food right through to our homes. Although it is a significant problem at the post-retail end of the chain (i.e. household and hospitality sector food waste), it is documented that there is a degree of wastage throughout the chain from farms through distribution, shops, supermarkets and us – the consumer.
Currently around 43,000 tonnes of surplus food is redistributed from retailers and food manufacturers every year. It is estimated a further 100,000 tonnes of food - equating to 250 million meals a year - is edible and readily available but goes uneaten. Instead, this food is currently sent away for generating energy from waste, anaerobic digestion, or animal feed.
British households throw away billions of pounds worth of food every year. According to figures from food waste charity Wrap, households in Britain dispose of £20 billion of food every year, which equates to an enormous 10 million tonnes.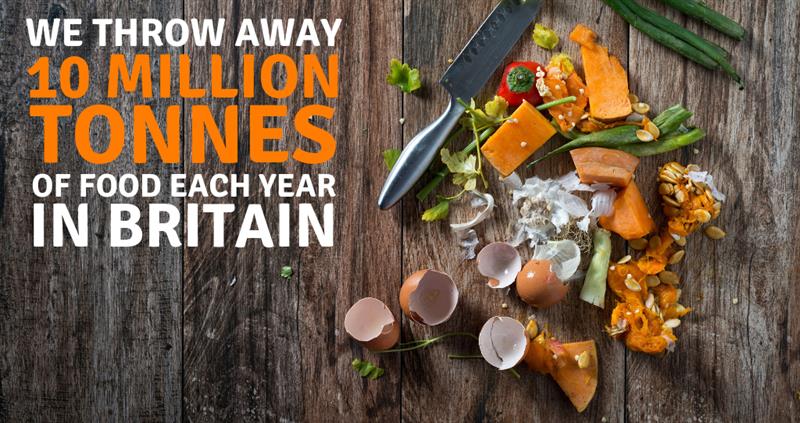 A national drive to tackle food waste
In May 2019 the government asked nearly 300 organisations and individuals across the retail and hospitality industry, along with social media influencers and chefs, to pledge to take action and halve food waste by 2030.
Speaking ahead of 'Step up to the Plate' - a major symposium held to spark action and drive awareness of the need to reduce food waste - Defra's Environment Secretary Michael Gove said:
"Together, we must end the moral, economic, and environmental scandal of food waste. The UK is showing real leadership in this area, but I urge businesses to join me in signing the pledge so we can bring about real change.

"Every year, around 100,000 tonnes of readily available and perfectly edible food goes uneaten. It's time to join together and 'Step up to the Plate' to stop good food going to waste."
The government has also launched a £15 million scheme to specifically address surplus food from retail and manufacturing. Four redistribution organisations - Fareshare, Company Shop Group, The Felix Project and Food Works Sheffield - are the first organisations to benefit from the scheme, receiving £4 million to help overcome barriers to getting food currently going to waste onto people's plates.
The rise of wonky veg
The increasing interest in reducing food waste has led to a consumer drive to buy fruit and vegetables which might otherwise go to waste (wonky veg). Wonky might not be the normal shape, they might be smaller than usual, or they might simply have an unusual crack in the skin, but they all taste the same, and shoppers love them.
Initiatives retailers use to reduce food waste:
Lidl - Lidl UK has announced that it will introduce 'Too Good to Waste' fruit and vegetable boxes, containing items that are no longer considered at their perfect best, but are still perfectly good to eat.
Aldi - Aldi's Everyday Essentials range includes wonky veg sold at a cheaper price than Aldi's other core range fruit and vegetable products.
Morrisons - Morrisons is committed to buying whole crops from farmers across the UK and introduced its Wonky range, including wonky selection boxes.
Tesco - Tesco's perfectly Imperfect' range offers customers the opportunity to buy fruit and veg that was previously outside of its specifications. They are also set to remove 'best before' dates on some fruit and veg to further help reduce perfectly edible food being thrown away.
Asda - The supermarket introduced its Wonky Veg range two years ago and has since sold 1,000 tonnes of carrots.