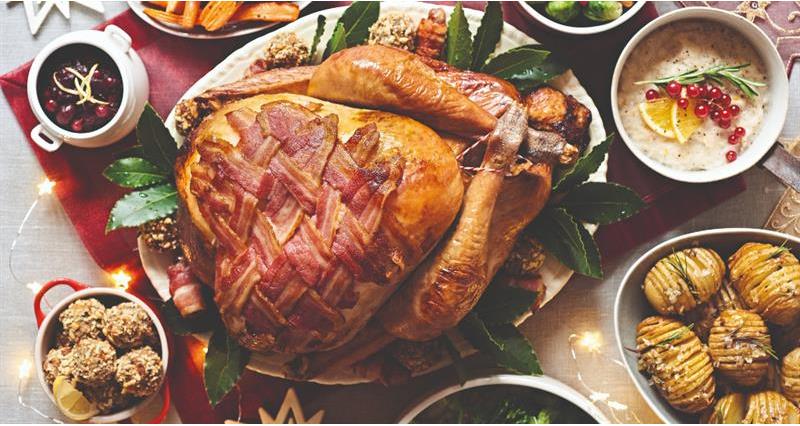 Serves: 12
Prep and cook time: 5 h 10 min
Cooking skill: easy
Ingredients
3 kg | 106 oz whole British turkey, cleaned and trimmed
4 tbsp olive oil
1 bouquet garni
2 large apples, cored and quartered
2 onions, split in half
1 garlic head, split horizontally
8 rashers British streaky bacon
8 (small) floury potatoes, e.g. Russet or Desirée
1 handful rosemary leaves
Salt
Freshly ground black pepper
Method
Preheat oven to 170°C (150° fan) | 325°F | gas 3. Place turkey in a large roasting tray.
Rub turkey with 2 tbsp olive oil. Season inside cavity with plenty of salt and pepper before stuffing with the bouquet garni, apples, onion, and garlic.
Cover crown of turkey with bacon rashers, interweaving them.
Roast until thickest part of the thigh registers at least 71°C | 160°F on a thermometer, about 4 hours.
When ready, remove from oven and transfer to a platter, covering loosely with aluminium foil. Let rest for at least 45 minutes.
In the meantime, preheat oven to 230°C (210° fan) | 450°F | gas 8. Make several cuts through the potatoes at short intervals, stopping just short of cutting all the way through; the potatoes should remain intact.
Toss potatoes with remaining 2 tbsp olive oil, rosemary, and some salt and pepper in a roasting tray, sliced sides facing up. Roast in the oven until golden-brown and crisp, about 45-55 minutes.
Remove from the oven and let rest briefly before serving with turkey.