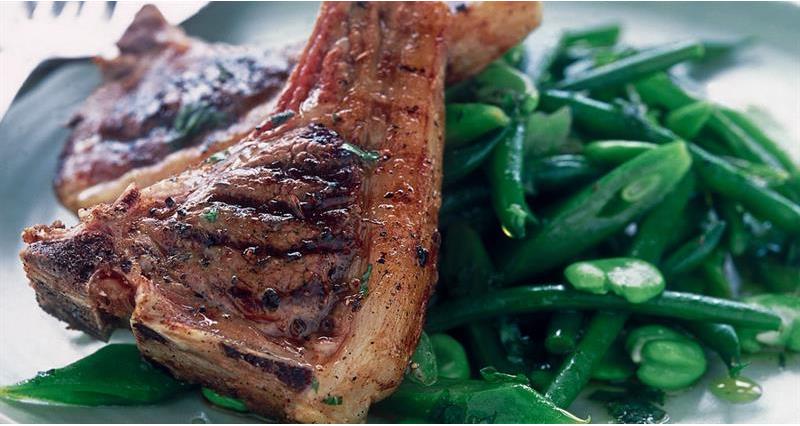 Serves: 4
Preparation time: 30 minutes
Cooking time: 6 minutes
Ingredients
8 lamb chops
1 tbsp oil
1 tsp dried oregano
2 tsp lemon juice
salt and freshly ground black pepper
175g runner beans, trimmed and sliced
175g shelled broad beans
175g green beans, trimmed
For the dressing:
6 tbsp olive oil
2 tbsp lemon juice
3 tbsp fresh mint, finely chopped
1 tsp sugar
1 tsp Dijon mustard
Method
Place the chops in a shallow dish.
Mix together the oil, oregano and lemon juice and pour over the chops. Season with salt and pepper. Cover and leave for 30 minutes.
Heat a cast-iron skillet or griddle until very hot and place the chops on the hot surface. Cook for 3–6 minutes on each side, depending on the thickness of the chops and how well done you like them.
Cook all the beans in a pan of lightly salted boiling water for 3–4 minutes or until just tender. Drain well.
Place all the dressing ingredients into a screw-top jar and shake until blended. Season to taste. Pour nearly all the dressing over the hot beans and toss.
Serve the chops and beans on warmed plates with the remaining dressing poured over the top.
---
NFU Countryside has put together a fantastic collection of recipes for our recipe book called 'Countryside Kitchen.' The book, which contains recipes and some of the stories behind the growers of the raw ingredients retails at £15.95 plus P&P. Members can buy the book for £7.95 plus P&P.
Buy your copy here