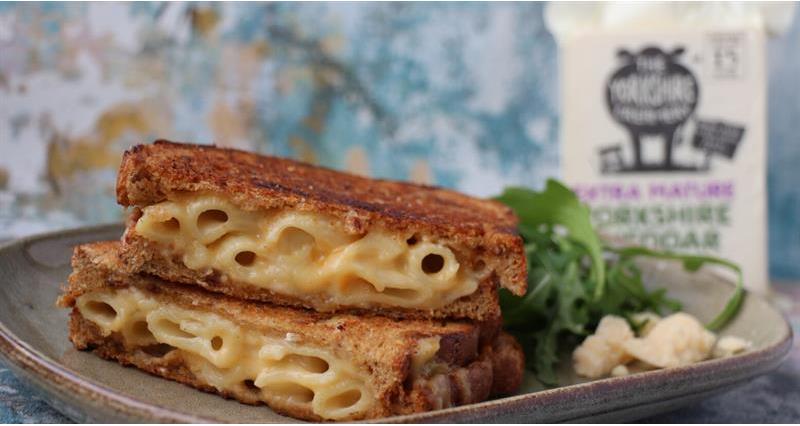 It's all about carb heaven with the mac and Yorkshire Cheddar cheese toastie.
Serves: 4
Ingredients
150g macaroni pasta
25g plain flour
25g Yorkshire Butter
300ml milk
150g grated Yorkshire Cheddar
8 slices white bread
Yorkshire Butter, for spreading
Method
Prepare the macaroni cheese:
Cook the pasta 2 minutes less than on the pack, then drain and put to one side.
In a small saucepan, add flour and Yorkshire Butter. Cook for a few minutes until golden brown.
Pour in the milk in stages, starting with a small amount, whisking vigorously each time.
Once all the milk has been incorporated, cook for 5 minutes, stirring constantly.
Add in the grated cheese and stir until it's melted and bubbly.
Add cooked pasta and stir it all together.
Making the toasties:
Heat your toastie machine or frying pan.
Butter each slice of bread on one side.
Put a slice of bread, butter side down, on the hot plate and add a large spoonful of macaroni cheese.
Top with another slice of bread – butter side up and close the toastie machine.
Cook for 3 minutes then carefully open the machine - cook for a minute or 3 longer if needed, so the bread is well cooked and golden brown.
Repeat to make as many toasties as you like - but let them rest for a few minutes before serving as the filling will be scorching hot!