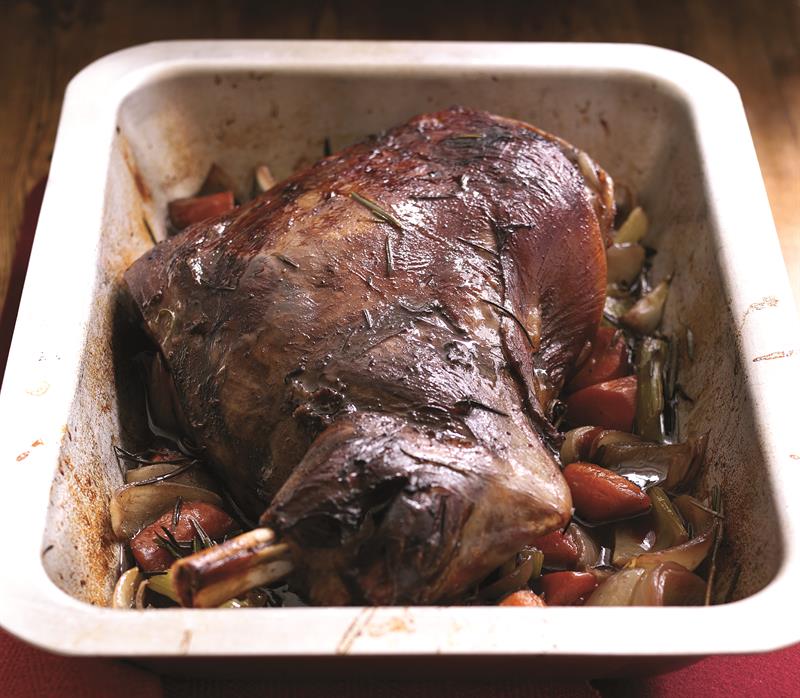 This recipe for braised shoulder of lamb used great British ingredients and is best served with creamy mashed potatoes and seasonal vegetables.
Serves: 6 people
Preparation time: 10 minutes
Cooking time: 3 hours
Ingredients
1 x 1.8kg/4lb lean shoulder of lamb
Salt and freshly milled black pepper
30ml/2tbsp sunflower oil
2 medium onions, peeled and quartered
2 large carrots, peeled and roughly chopped
2 sticks celery, roughly chopped
30ml/2tbsp runny honey
300ml/½pint good red wine
150ml/¼pint good, hot lamb stock
10 sprigs fresh rosemary
Method
Preheat the oven to Gas mark 3, 170°C, 325°F.
Place the joint on a chopping board and season on both sides. Heat the oil in a large non-stick frying pan.
Cook the lamb for 3-4 minutes on both sides until brown and transfer to a 2.8L /5pint casserole dish with a lid or a large non-stick roasting tin.
Add the vegetables to the frying pan and cook for 3-4 minutes until brown. Transfer to the casserole dish or roasting tin.
Add the honey, wine, stock and rosemary. Bring to the boil, reduce the heat, cover (with a large sheet of foil if using a roasting tin) and transfer to the oven for 2½-3 hours. Turn the lamb over half way through the cooking time.
Serve with creamy mashed potatoes and seasonal vegetables.
Tips: Use a large roasting tin if your frying pan is not large enough. If preferred halve the recipe and use 1 x 900g (2lb) lamb half shoulder joint instead.