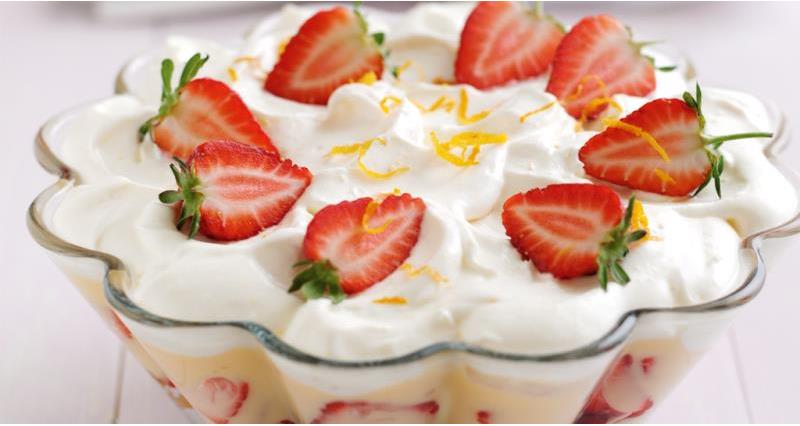 Preparation: 25 minutes
Chilling time: 2 hours
Serves: 6
Ingredients
4 trifle sponges, about 100g in total
350g strawberries, sliced
4tbsp caster sugar
4tbsp Pimms, undiluted
425g can of reduced fat custard
200ml double cream
150g low fat natural yoghurt
Grated rind of half an orange
Grated rind of half a lemon
To decorate:
3 strawberries, halved and a few tiny pansy flowers or lemon and orange rind curls
Method
Break the trifle sponges into pieces and arrange in a single layer in the base of a 1.2 litre glass dish. Arrange the strawberries on top, sprinkle with 2tbsp sugar then spoon over the Pimms.
Spoon the custard over the top of the fruit and spread the top into an even layer.
Whip the cream in a bowl until it just forms soft swirls then fold in the yoghurt and fruit rinds. Spoon over the custard and chill until required.
Decorate with halved strawberries and pansy flowers or lemon and orange rind curls made with a zester just before serving.
---
NFU Countryside has put together a fantastic collection of recipes for our recipe book called 'Countryside Kitchen.' The book, which contains recipes and some of the stories behind the growers of the raw ingredients retails at £15.95 plus P&P. Members can buy the book for £7.95 plus P&P.
Buy your copy here