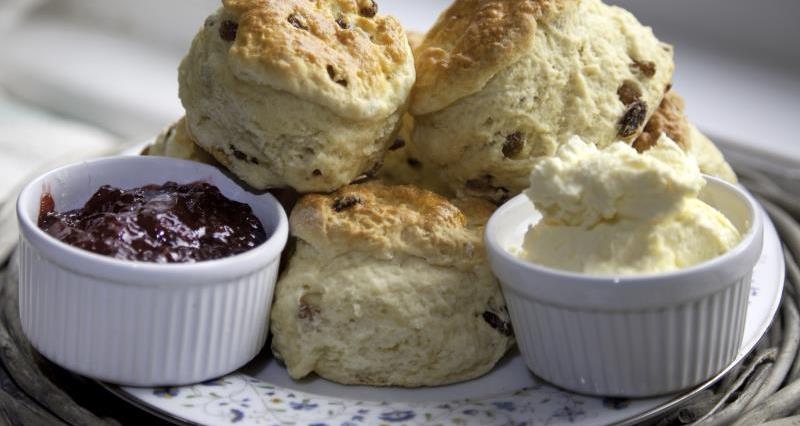 Prep time: 10-15 minutes
Baking time: 20 minutes
This recipe makes about 16 scones.
Ingredients
150g unsalted butter, hard
600g self-raising flour
1 tsp of cream of tartar
1 tsp of bicarbonate of soda
1 tsp of salt
80g caster sugar
150g sultanas
2 eggs (large)
285ml of milk mixed with 1 tablespoon of vinegar or 1 carton of buttermilk
To serve: Plenty of jam and fresh clotted cream
Method
Preheat the oven to 220°C (425°F/Gas 7) and line two baking sheets with baking paper.
Cut the butter into small cubes and put on a plate in the fridge until you are ready to use it.
Sift the flour, cream of tartar, bicarbonate of soda and salt into a large mixing bowl. Add the diced butter and rub in with your fingertips until the mixture resembles fine breadcrumbs. Alternatively, whizz in the food processor. Use a metal knife to stir in the sugar and sultanas.
Break the eggs into a measuring jug and add the milk and vingegar (or buttermilk). Beat gently with a fork to combine.
Make a well in the centre of the dry ingredients. Using a knife, gradually add the egg and milk mixture to the bowl (reserving a little to brush on top of the scones before baking) and mix to stir. Keep adding until you have a sticky mixture, you may not need it all. Bring the mixture together with your hands to make a soft dough.
Gently tip the dough onto a lightly-floured surface and carefully flatten with your hands to make a round of dough about 4cm thick. Try not to squash too much or use a rolling pin as this will knock out all the air.
Use a round metal cutter, about 5cm in diameter, dipped in flour to stop it sticking. Push straight down and do not twist or the scones will not rise properly.
Carefully lift the scones onto the lined baking sheets, spacing then well apart.
Brush the scones generously with the remaining egg mixture and place in the preheated oven. After 5 minutes, reduce the oven temperature to 180°C (350°F/Gas 4) for a further 15 minutes.
Remove from the oven and leave to cool on their trays for about 5 minutes then use a palette knife to carefully lift onto a wire rack. Dust with icing sugar before serving warm with jam and clotted cream. Scones freeze brilliantly so make plenty and have some ready to warm through when you need a speedy treat.