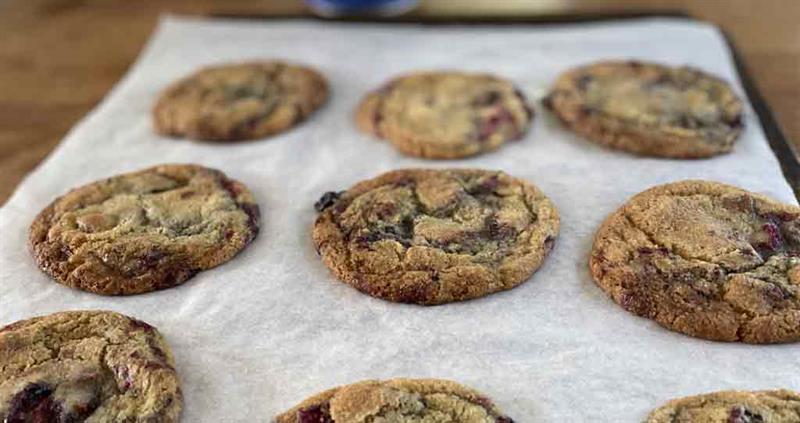 These cookies from Miranda Gore Browne make for a great treat with a cup of tea, and if you can put a few to one side, they make a great present to leave on a neighbour's doorstep, too.
Ingredients
180g butter, softened
100g light brown soft sugar
100g caster sugar
1 tsp of vanilla extract or bean paste
2 egg yolks
220g plain flour
1/2 tsp of salt
1 tsp of bicarbonate of soda
200g dark, white or milk chocolate cut into chunks (or use chocolate chips)
50g fresh or frozen summer berries
Method
Preheat the oven to 180 degrees and line a flat baking tray with non-stick baking paper.
Cream together the butter, sugar and vanilla. Add the egg yolks and cream again, until just combined.
Sieve in the flour, salt and bicarbonate of soda, add the chocolate chips and mix gently.
Gently fold in the frozen berries.
Spoon onto the lined baking tray, I use a small ice cream scoop or tablespoon measure so they are all the same size.
Put into the fridge to chill for at least four hours, or pop into the freezer if you have room.
Then put the tray of biscuits into bake for about 10-12 minutes. They will still be slightly soft, but will carry on cooking as they cool. Bake for another couple of minutes if you prefer crisper biscuits.
Leave to cool on the tray before eating, they harden as they cool and will collapse if you try to lift them off when they are still warm.
These are also great sandwiched with ice cream for pudding.