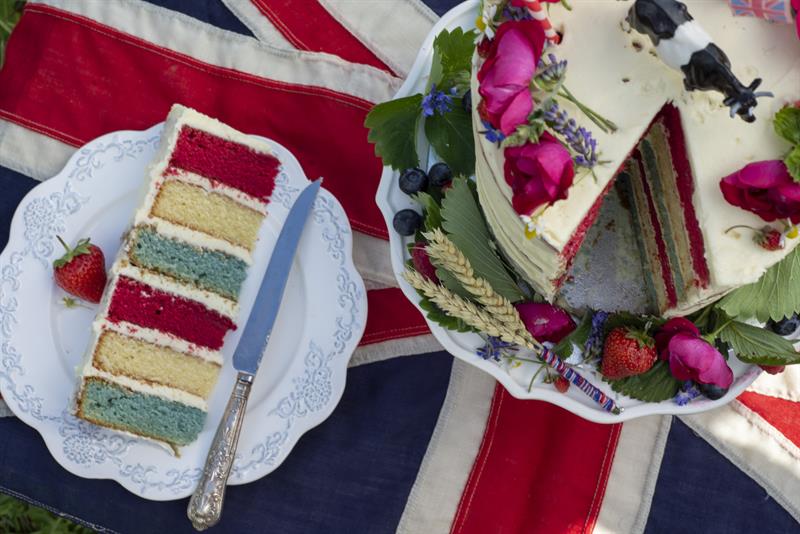 Our regular food columnist Miranda Gore Browne has made a very special 'Back British Farming' cake. With 6 different layers in red, white and blue, this cake is a real showstopper!
Have a go at making it yourself and take a look at our picture story of how the cake was made.
Ingredients
For the cake:
600g unsalted butter
600g British Silver Spoon caster sugar
12 eggs, lightly beaten
600g self-raising flour
3 tsp of baking powder
Blue and red colour gel paste (I used Squires Kitchen Professional Paste Food Colour)
3 tbsp of thick plain yogurt
2 tsp of vanilla bean paste
For the buttercream:
500g unsalted butter
1.6kg of icing sugar
160ml semi-skimmed milk
2 tsp of vanilla bean paste
To decorate:
British strawberries, blueberries, raspberries or any other seasonal berries and fruits
Equipment:
6 x 7-inch sandwich cake tins, lined with non-stick baking paper
2 x wooden skewers or cake dowels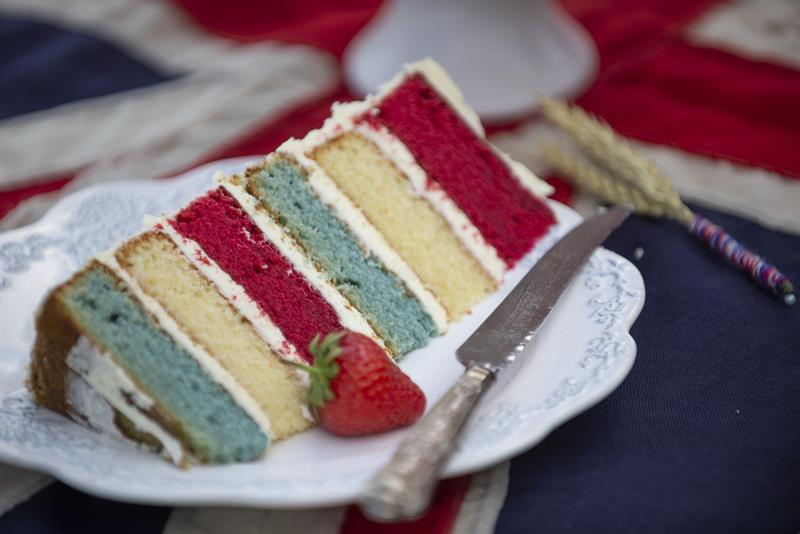 Method
Preheat oven to 180°C/ 350°F/ Gas mark 4.
Cream/ whisk the (softened) butter, sugar and vanilla bean paste until light and fluffy.
Add the eggs a little at a time, beating/ whisking well after each addition and checking they are fully incorporated before adding more to the mixture.
Sift the flour and baking powder into a large bowl.
On the lowest speed mixer setting or with a metal spoon, fold the dry ingredients into the cake mixture, adding a little at a time.
Divide the mixture equally between three bowls – add a different colouring paste to each with a cocktail stick, a little at a time, until a good colour is achieved, and a tablespoon of yogurt to each bowl and mix gently with a spatula to combine.
Line the tins and scrape the mixture into them, smoothing gently.
If you only have two tins, then bake two cakes and remove from their tins to cool on a baking rack. Run the tins under cold water and re-line with fresh baking parchment before using to bake the remaining cakes.
Bake the cakes in the middle of a preheated oven for approximately 20 to 25 minutes or until springy to touch.
Leave the cakes to settle in their tins for about 10 minutes before carefully removing them from their tins and putting them to cool on a wire rack.
The cakes will look golden on top; don't worry, the colour will be revealed when you cut them.
If the cakes are not completely flat, you may wish to level the tops a little so the layers stack neatly – wait until they have completely cooled before doing this.
To make the buttercream:
Soften the butter then put it in a mixing bowl with half of the icing sugar, the vanilla extract and the milk.
Beat very firmly – ideally with a hand mixer or in a stand mixer – or with a hand balloon whisk, then add the remaining icing sugar. You may need to make it in two batches.
Beat for 2 to 3 minutes (longer if doing by hand) until the mixture is smooth, creamy and quite fluffy.
Once the cakes are completely cold, stick the bottom cake to the cake board or plate with a dollop of buttercream. Put a layer of buttercream on top, level a little and then place on the next cake and keep layering until all cakes are stacked together. Keep checking the individual cakes sit as flat as possible as you build up the cake. It's worth pushing a couple of long wooden skewers or cake dowels from the top of the cake to the bottom to give a bit of stability.
If you prefer a more traditional Victoria sponge, add a layer of jam after the buttercream (I omitted this as we wanted the red, white and blue layers to sing out!)
Chill or leave the cake to stand to firm up a little before spreading a thin layer of buttercream over the top and sides of the cake, scraping off any excess. This is your crumb coat.
Chill or leave to stand for about an hour before adding the final layer of buttercream.
Decorate with berries and edible flowers.
I made a tiny strip of union jack bunting using flags cut from a flag design ribbon, cotton thread and stripy straws.
Don't forget to take out the skewers or dowels when you cut the cake!