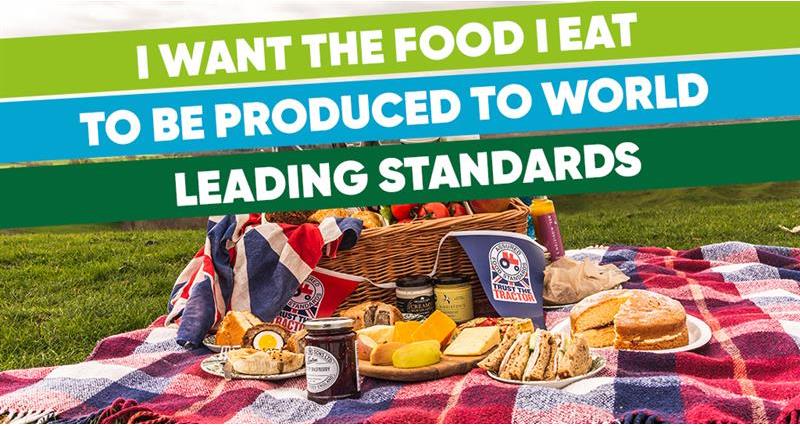 The UK is negotiating trade deals with countries from around the world. The UK Government must make sure that those trade deals do not lead to an increase in food imports that would be illegal to produce here.
Specifically, this means that any imported food we eat should have the same high production standards, environmental standards and animal welfare standards that we have here in the UK.
To help achieve this goal a group of experts should work together to advise the government on the best way it can stick to its commitment of safeguarding the UK's high standards of food production.
What does the Trade and Agriculture Commission do?
The commission is made up of food, farming and environmental experts from across the UK, who advise the government on the impact of any future trade deals to ensure our high food production standards are not undermined.
Why is this important?
The standard to which food is produced in Britain is set out in UK law, but we don't have any power over the laws in other countries. This is where the Trade and Agriculture Commission's role is so important as it can scrutinise any trade deals and make recommendations so that MPs can act before any deals are ratified.
But will the commission have any power?
Yes. Crucially, the government put the commission on a full statutory footing (ie in law), meaning that each trade deal must be subject to a report from the commission, giving British farmers a stronger voice in UK trade policy.
Does that mean it is in the Agriculture Bill?
Yes. The legislation is included in both the Agriculture Act 2020 and the Trade Act 2021.
Will this make any real difference?
Yes. The commission will make it abundantly clear where trade deals could be letting in food imports that would be produced to standards that would be illegal here. And even more importantly it offers some solutions to what is likely to be a very complex negotiating process for the UK government. The commission's findings will be made public. We must then trust the democratic process and elected representatives to back British farming.
Will the commission hamper our trade deals in any way?
No, quite the opposite. It allows parliament to properly scrutinise trade deals for both the opportunities and the risks. By defending British farmers and supply chains, it gives the UK government the opportunity to create trade deals that benefit British food producers, the public who value the food on their plates, our animals, the environment and the wider UK economy.
Is there anything more we need to do?
Yes. This issue is far from over; dozens of trade deals are set to be struck in the coming months and years.
We need you to keep highlighting the importance of high food standards and to help MPs understand how much we all care about the food on our plates and countryside we all treasure.