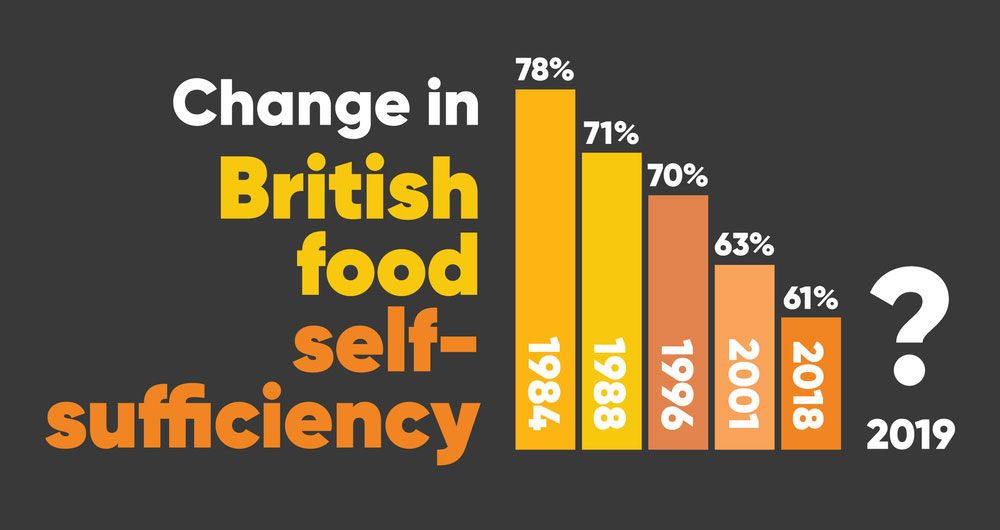 11 August 2019 was the notional day in the calendar that the country would have run out of food if we were relying solely on British produce to feed the nation. But what does this actually mean and could we be producing more?
The National Farmers' Union (NFU) used this date in the calendar to draw attention to the decline in the UK's food self-sufficiency in recent years and to call on the government to take the issue seriously, and to commit to supporting British farming through Brexit and beyond.
Economists calculate the food self-sufficiency figure based on a number of statistics, and the latest figures indicate that UK farmers and growers produced 61% of all the food eaten by people in Britain during 2018. This is 10% less than the figure was 30 years ago in 1988.
While the UK will never be able to produce everything we need and want to eat, it is vital that the government recognises the important role British farmers play in producing food for our growing population. And equally that it does not grow to rely on importing products from other parts of the world which may not have been produced to the high animal welfare and environmental standards that farmers work to in the UK.
The President of the NFU, Minette Batters, talked about the importance of the government supporting British farmers to produce more food:
"From West Country Red Tractor-assured beef to Welsh lamb, Cumbrian sausages to Kent strawberries, and Herefordshire apples to Wensleydale cheese – our farmers and growers are delivering some of the highest quality food in the world.
"But we also deliver so much more. When [you] buy British food [you] are buying into standards that protect and enhance our natural resources and iconic landscapes. [You] are buying into world-leading standards of animal welfare, and into the role farmers are playing in combatting the climate change challenge that is facing us all."
See what Mrs Batters said about the NFU's call for the government to source British food where possible to serve in schools and hospitals, and how you can play your part by buying British when you're out shopping:
Did you see our posts on social media?
The NFU used social media to spread the word about Britain's declining food self-sufficiency on Self-Sufficiency Day, and asked people to show their support for British food and farming by liking and sharing the posts on Facebook and Twitter and signing up to the Back British Farming email newsletter.
Thousands of people clicked on the posts to find out more and more than 350 people joined the Back British Farming campaign on the day - showing the level of support from the British public for British farmers and growers.