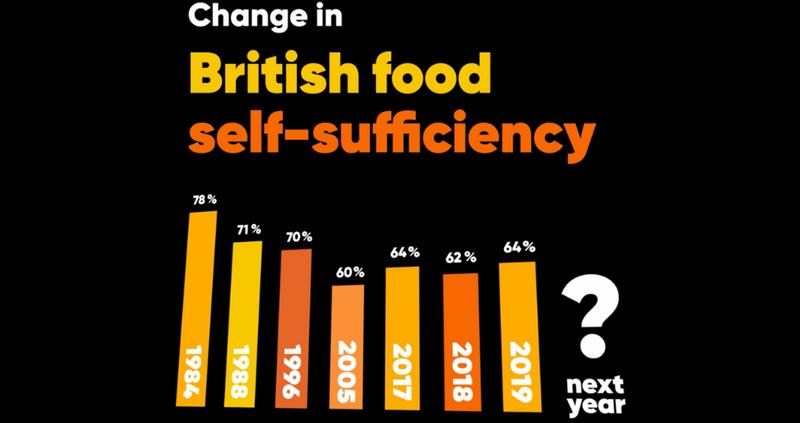 The government's ambition for a 'green recovery' from COVID-19 is a golden opportunity for British farming to become a global leader in delivering food security and set the benchmark for sustainable food production around the world.
Economists calculate the country's food self-sufficiency figure based on a number of statistics, and the latest figures indicate that UK farmers and growers produced 64% of all the food eaten by people in Britain during 2019. This compares to 78% in 1984.
In 1984, there was enough food produced in Britain to feed the nation for 306 days of the year. Today, that figure is 233 days, making 21 August 2020 the day that the country would run out of food if we were relying solely on British produce. But what does this actually mean and could we be producing more?
While the UK will never be able to produce everything we need and want to eat, it is vital that the government recognises the important role British farmers play in producing food for our growing population. And equally that it does not grow to rely on importing products from other parts of the world which may not have been produced to the high animal welfare and environmental standards that farmers work to in the UK.
---
The President of the NFU, Minette Batters, has spoken about the importance of the government supporting British farmers to produce sustainable food:
"Imports will always play a crucial role in our food system but our own self-sufficiency must be paid more attention by government. It is stagnating. We sit now at only 64% self-sufficiency, having fallen from over 75% in the mid-1980s.
"The entire economy is now aiming to build back better, to build back greener. British farming can be central to that green recovery. We have a golden opportunity to place food security at the centre of our food system and become a global leader in sustainable food production."
See what Mrs Batters said about the NFU's call for the government to source British food where possible to serve in schools and hospitals, and how you can play your part by buying British when you're out shopping:
---
Get involved in the conversation on social media
We are using social media to spread the word about Britain's declining food self-sufficiency, and asking people to show their support for British food and farming by joining in the conversation on Facebook, Instagram and Twitter.
Help us to increase public awareness of this crucial issue by sharing our Facebook post and encouraging your family and friends to become Back British Farming supporters.